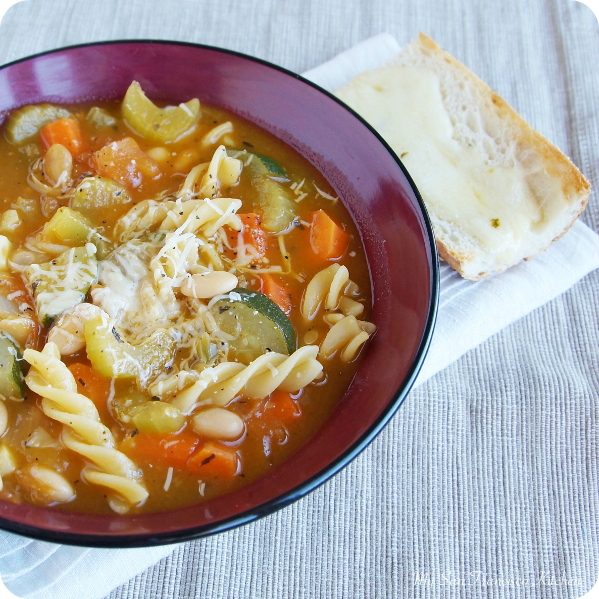 There is something about a warm vegetable soup in the winter that just hits the spot. This vegetable bean soup recipe is one of my go-to recipes during the winter to keep me warm. It is packed with healthy fresh organic vegetables, like zucchini, tomatoes, carrots and celery. I add great northern beans for extra fiber, and pasta for carbs. I make a huge batch that lasts a few days – just keep the leftover soup in the fridge. Add this vegetable soup as a side to your favorite sandwich for a fresh, healthy lunch! I usually make a large batch right after a trip to the farmers' market and pick up some fresh vegetables – yum! You can top it with Parmesan cheese, or to make it healthier you can omit it.
This weekend I am in LA visiting my family for my brother's birthday. It is always so nice to be around family – lots of good food and laughs! What are your plans for the weekend?

Vegetable Bean Soup
Ingredients
1 tbsp olive oil
4 organic celery ribs, chopped
½ onion, chopped
2 cloves garlic, finely chopped
4 organic carrots, peeled and chopped
1 large organic tomato, chopped
1 large organic zucchini squash, chopped
1 cup corn
1 cup Great Northern beans
6 cups vegetable broth
1 cup fusilli pasta
½ tsp ground black pepper
½ tsp dried oregano
Parmesan cheese for garnish
Instructions
Heat 1 tbsp olive oil in a large pot over medium heat.
Add celery, onion and garlic and simmer for 7 minutes, stirring occasionally.
Add carrots, tomato, pepper and oregano.
Add vegetable broth, cover and bring to a boil, then reduce the heat to medium and cook for 15 minutes.
At 15 minutes, add the zucchini, beans, corn and pasta.
Continue to lightly boil for 10 minutes.
Serve immediately and top with freshly grated Parmesan cheese.
Serves 4
This post is sponsored by: