Somebody stop me…!
I have been eating these peanut butter cookies ever since they first came out of the oven, and I can't stop! They are so addicting! I don't know why I do this to myself. This is what happens when I have the day off, and I am home alone with my mixer…
You probably already know that chocolate and peanut butter is one of my all-time favorite combos, and I love pretty much every dessert that combines the two together (like these peanut butter cup cupcakes). These peanut butter cookies are really soft and chewy. I don't know about you, but I don't like hard, crunchy peanut butter cookies very much. I prefer my peanut butter cookies to be warm and soft! The best part about these peanut butter cookies are the chopped up peanut butter cup pieces inside. When you take them out of the oven, the peanut butter cups are gooey and delicious!
This weekend went by so fast, but we did get to enjoy the beautiful weather in San Francisco!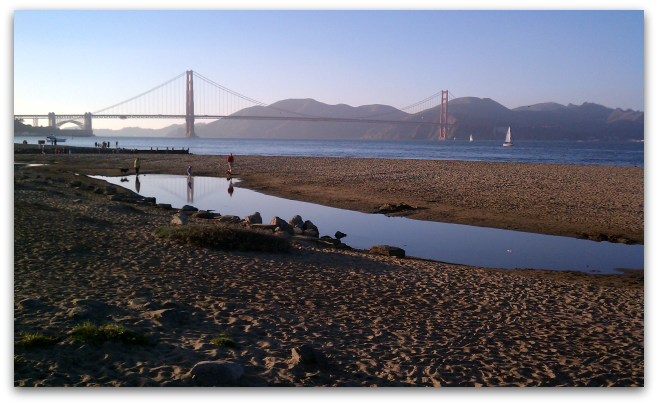 At least I have a batch of these yummy cookies to get me through the week!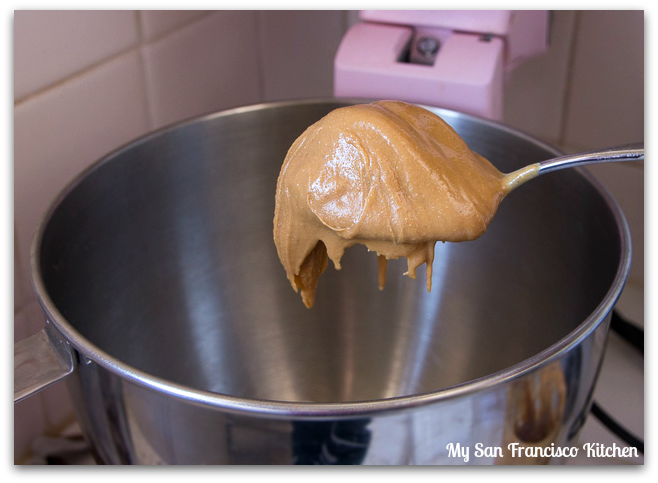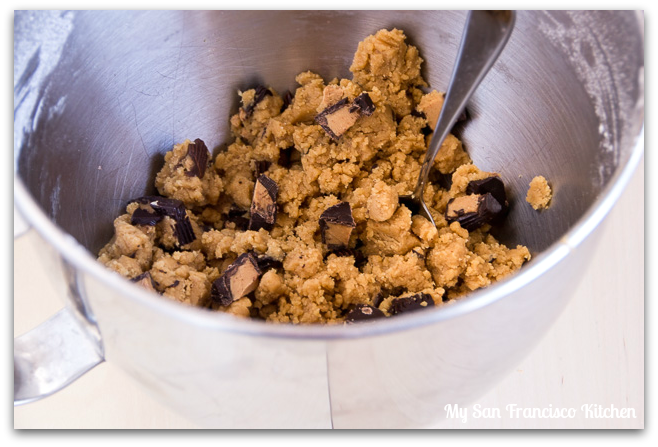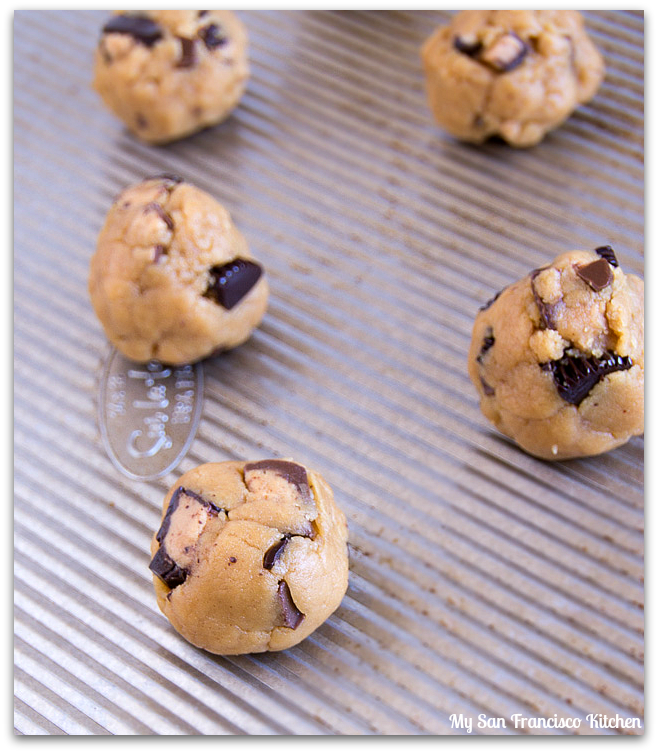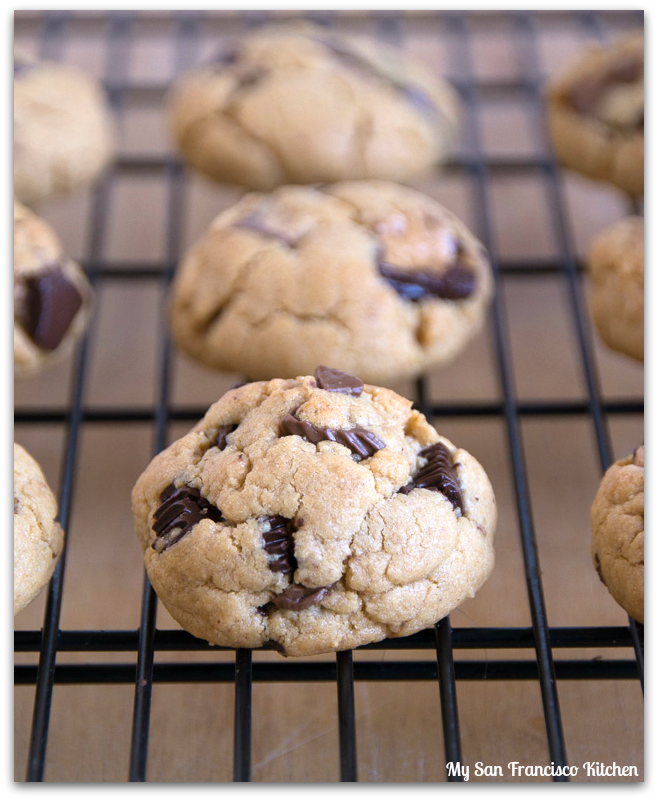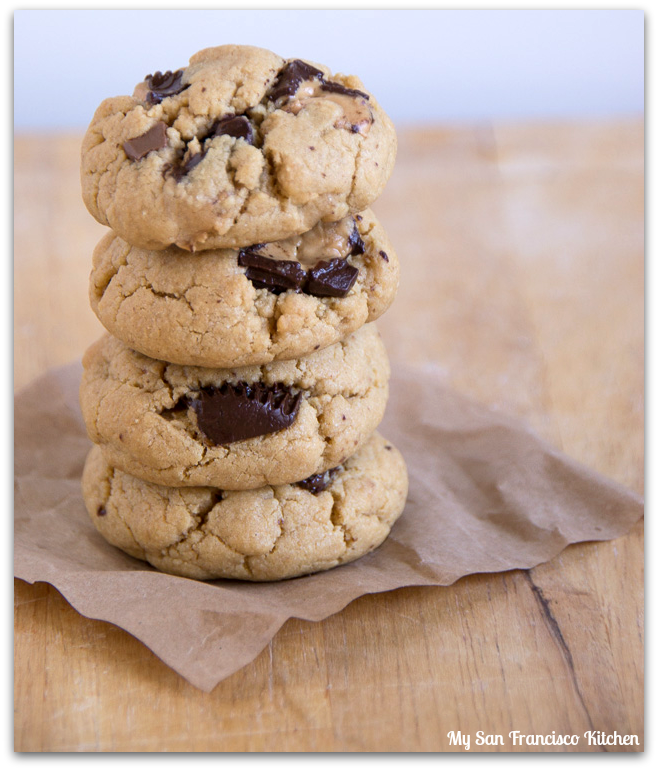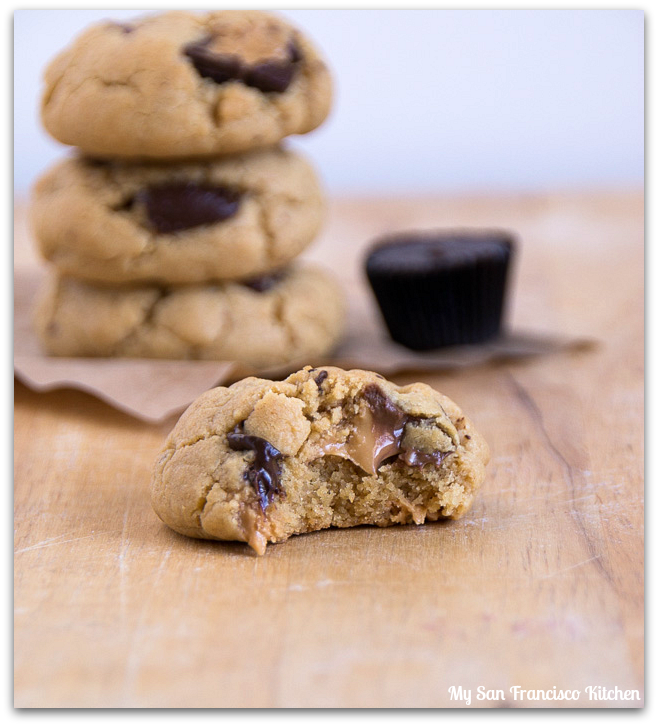 Chewy Peanut Butter Cup Cookies
Ingredients
¼ cup unsalted butter
½ cup creamy peanut butter
¼ cup granulated sugar
¼ cup brown sugar
1 tsp vanilla extract
1 egg
¾ cup all-purpose flour
½ tsp baking soda
½ tsp baking powder
¼ tsp salt
1 cup chopped peanut butter cups
Instructions
Preheat oven to 350 degrees F.
In a standmixer or with an electric mixer, cream together the butter, peanut butter, and sugars.
While beating on low speed, add the egg and vanilla.
In a separate bowl, whisk together the flour, baking soda, baking powder, and salt.
Slowly add to the peanut butter mixture while mixing on low speed.
Once blended, stir in the peanut butter cup pieces by hand with a spoon.
Roll 1-inch balls of dough in your hands and place on a baking sheet.
Bake for 12 minutes.
Transfer to a cooling rack.
Makes 16 cookies