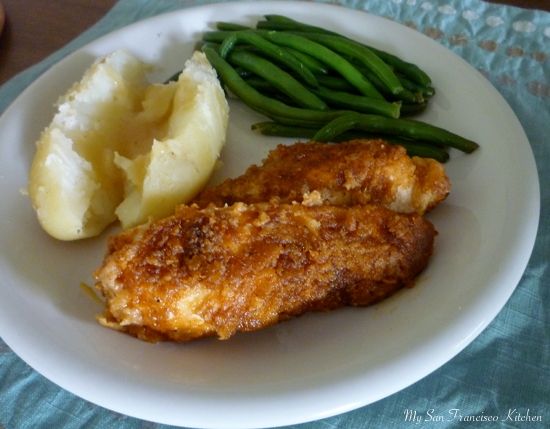 I usually don't make this dish often, because I prefer to use healthier chicken recipes, but once in a while I have to satisfy that craving for fried chicken. I modified this recipe from an old Betty Crocker cookbook. Tip: Make sure the oil is really hot before adding the chicken to make it crispy. Serve with vegetables, potatoes or biscuits and chicken gravy (see end of recipe for how to make your own gravy).

Ingredients
2 boneless skinless chicken breasts, cut in half
½ cup flour
1 egg, beaten
4 tbsp vegetable oil
¼ tsp pepper
½ tsp salt
1 tsp paprika
Instructions
Mix flour, paprika, salt, and pepper in a large bag and add chicken breasts to coat.
Remove coated chicken breasts from bag and submerge in beaten egg.
Place chicken breasts back into flour bag and coat again with the flour mixture.
Heat oil in a large skillet on medium-high.
Add chicken breasts and cook and turn for about 8 minutes (until golden brown).
*You can use the juices in the skillet to make your own chicken gravy by adding milk, flour, and poultry seasoning.
This post is participating in
recipe roundup
!