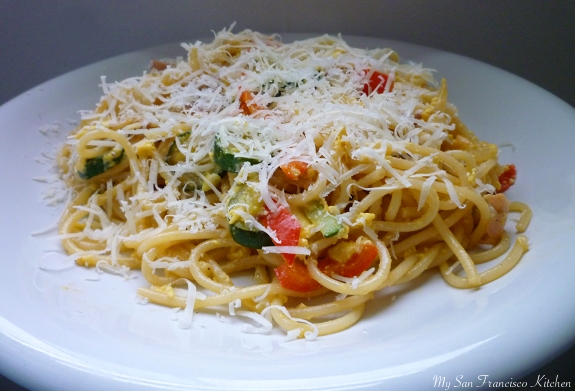 While carbonara recipes usually use bacon, I don't like all of the unhealthy grease from it so I prefer to use ham or prosciutto. I also include more vegetables in this carbonara recipe. I had zucchini that I needed to use up, but you can also use broccoli instead. Use plenty of olive oil so the noodles do not stick!

Prosciutto Spaghetti Carbonara
Ingredients
½ pound spaghetti noodles
3 tbsp olive oil
½ cup chopped prosciutto
½ onion, chopped
2 cloves garlic, minced
1 red bell pepper, sliced
1 zucchini, sliced
¼ cup dry white wine
3 eggs
½ cup Parmesan cheese
½ tsp black pepper
Instructions
Bring a pot of water to boil, and add 1 tbsp olive oil. Cook spaghetti noodles al dente. Drain, then set aside.
Heat 2 tbsp olive oil over medium heat in a skillet. Chop onion, bell pepper, and zucchini.
Add vegetables and minced garlic to heated oil in skillet. Let simmer 15 minutes, stirring occasionally.
Add prosciutto and dry white wine and stir. Let simmer 5 minutes.
Toss noodles into skillet and stir vegetables. Add extra olive oil if this is not easy. Add pepper.
Beat 3 eggs and pour over noodle mixture in skillet. Continuously toss noodles to mix egg over medium high heat.
Add Parmesan cheese in 2 half portions, mixing into noodles each time.
Stir everything together well, then serve.
This post is sponsored by: