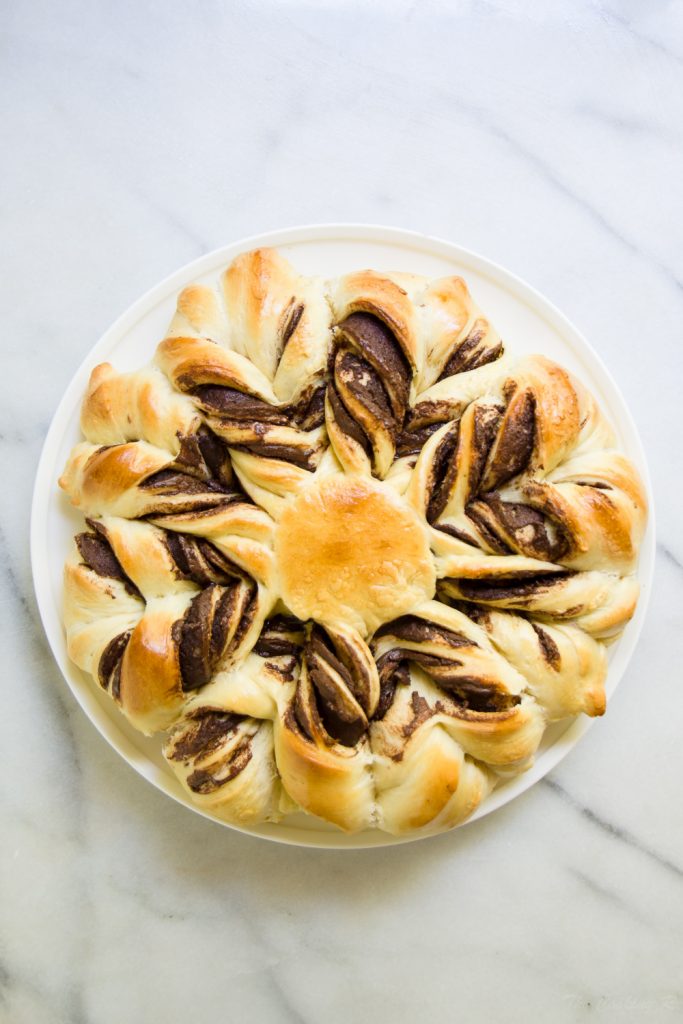 Happy Mother's Day weekend! To kick of the weekend, I made this chocolate almond butter brioche flower for our brunch. You can dust it with powdered sugar and it is best served warm. This recipe looks complicated, but it is actually very easy. If I can do it, you can do it! I will post a video tutorial because I think it is easier to watch than read, at least for me.
You can use any nut butter or even jam in this recipe! I will try it with strawberry jam next time, yum. Each section can be pulled off of the "flower," making it fun to serve on the table.
This recipe was adapted from Hazelnut Chocolate Brioche on Cookidoo®. I made the dough in my Thermomix®, which made it super easy. The Thermomix® has a kneading function, making the rise perfect. If you don;t have one, you can also make the dough in a stand mixer.
Happy Mother's Day!
Chocolate Almond Butter Brioche Flower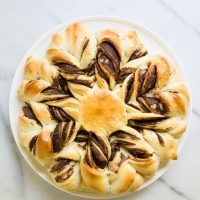 3/4 cup whole milk
1/4 cup sugar
1/4 cup unsalted butter, room temp
1 tsp active dry yeast
1 tsp salt
2 eggs
3 1/2 cups all-purpose flour
1/2 cup chocolate almond spread
1/4 cup milk
1 egg yolk
Add milk, sugar, yeast and butter to Thermomix® mixing bowl or stand mixer with hook attachment and mix on low speed for 1 minute.

Slowly mix in the flour, salt and eggs.

Knead for 4 min in the Thermomix®, or 15 min by hand.

Place in a bowl and cover. Let rise 1h.

Divide dough into 4 balls.

Roll into 22 cm circles on a floured surface.

Place one circle onto a parchment paper lined pizza pan and spread chocolate almond spread on top, leaving 1 inch edges.

Top with another dough circle and repeat until all dough is stacked, but do not spread the chocolate on the last dough on top.

Place a glass in the middle gently to mark a circle, then cut 4 pieces not into the circle.

Cut the pieces in half, and half again to create 16 pieces.

Take 2 pieces and twist outwards twice then press together to merge at the end.

Cover and let rise 20 min.

Heat the oven to 350 degrees F.

Mix egg yolk and milk and brush over brioche dough.

Bake for 25 to 30 min.
"THERMOMIX," "VORWERK," "COOKKEY," and "COOKIDOO" are a registered trademark of VORWERK (or its affiliates). VORWERK does not support, authorize or endorse this site.