One of the ways I get my 4 year old to eat her vegetables is by making this rainbow pizza. I admit, I enjoy it too. Making the rainbow made from colorful vegetables is so much fun. We switch it up every time, and use different vegetables from the different colors. I make the pizza dough in my Thermomix®, since it has a handy dough kneading function, but before I had it I made it in a stand mixer or even by hand. Let the dough rise for a couple of hours for best results.
Pick any toppings you want – remember, the rainbow has RED, ORANGE, YELLOW, GREEN, BLUE, INDIGO, VIOLET. We skipped the blue here and went with purple ("red onion"). 🙂 Bake in a pan on parchment paper, or a round pizza pan.
Rainbow Pizza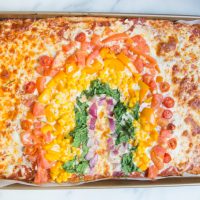 Dough
1 cup lukewarm water (100 F)
2 1/4 tsp active dry yeast
1 tsp sugar
1 tsp salt
2 tbsp olive oil
2 1/2 cups all-purpose flour
Toppings
1 red onion, chopped
1 orange bell pepper, chopped
1 cup cherry tomatoes
1/2 cup chopped spinach
1/3 cup corn
2 cups pizza sauce
2 cups shredded mozzarella cheese
Add the water, yeast and sugar to a mixer bowl and let stand for 5 minutes.

Slowly add the olive oil, flour and salt while mixing until combined.

Knead for 10 minutes, then cover and set in a warm place to rise for 2 hours.

Roll out the dough on a floured surface and transfer to a greased pizza pan.

Top the dough with pizza sauce, cheese and vegetables in the shape of a rainbow.

Bake at 425 F for 15 to 20 minutes.