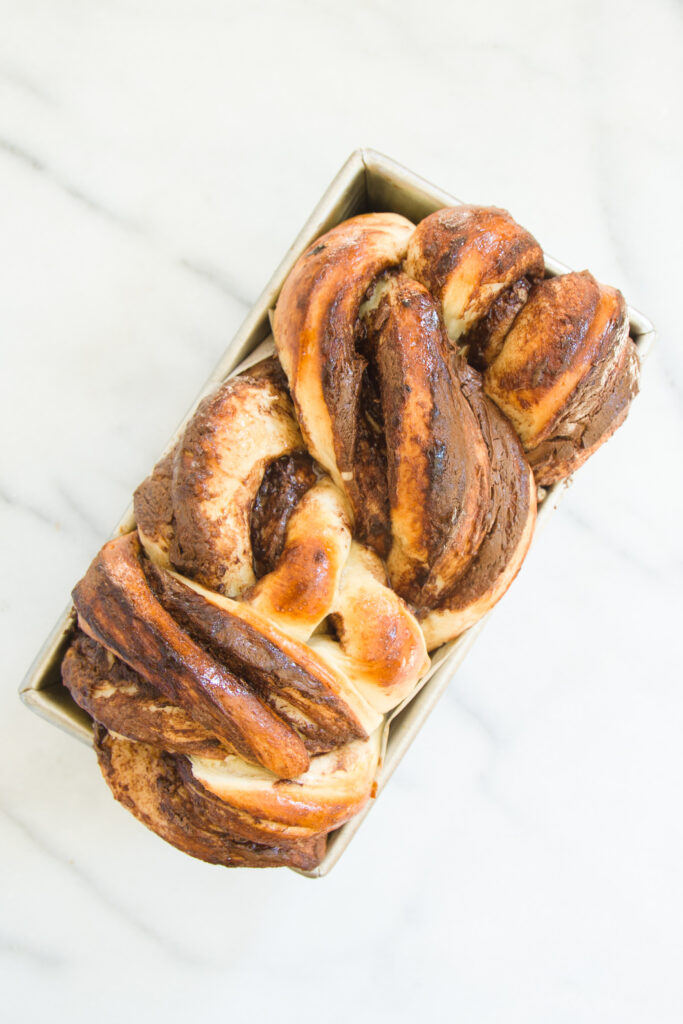 This chocolate babka is the stuff dreams are made of…ok, maybe its just the Nutella inside. I love eating a slice for breakfast with my coffee! One loaf never lasts an entire day around here, it is too delicious. I make the dough in my Thermomix® using the knead function, then spread the Nutella on top and twist it around (see my YouTube video for the tutorial below).
Babka is a sweet Jewish bread and can be made many different ways. The most popular babka recipes include chocolate babka and cinnamon babka – yum!
Print
Ingredients
3/4 cup whole milk

1/4 cup sugar

1/4 cup unsalted butter, room temp

1 tsp active dry yeast

1 tsp salt

2 eggs

3 1/2 cups all-purpose flour

1/2 cup chocolate almond spread

1 egg yolk
Print
Directions
Add milk, sugar, yeast and butter to Thermomix® mixing bowl or stand mixer with hook attachment and mix on low speed for 1 minute.
Slowly mix in the flour, salt and eggs.
Knead for 4 min in the Thermomix®, or 15 min by hand. Place in a bowl and cover. Let rise 1h.
Roll dough onto a floured surface about 1/4 inch thick and spread Nutella on top. Cut in half with a long knife and place seam side down (see video tutorial below), then twist the two pieces together and place in a loaf pan.

Heat the oven to 350 degrees F.
Mix egg yolk and milk and brush over brioche dough.
Bake for 30 minutes, or until golden brown.
Disclaimer: I am a Thermomix® consultant and sell them as an independent business. "THERMOMIX," "VORWERK," "COOKKEY," and "COOKIDOO" are a registered trademark of VORWERK (or its affiliates). VORWERK does not support, authorize or endorse this site.