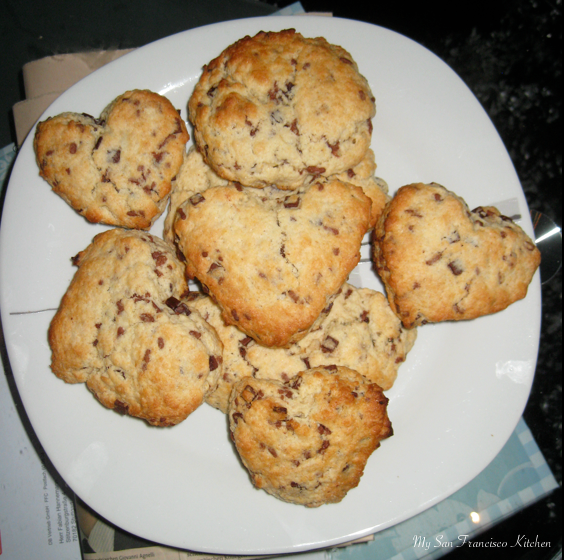 I am a coffee addict. And to make things worse, I started this thing a while ago where I have to have something with my coffee every morning, like a muffin, bagel, scone…It got expensive to buy something at school everyday, so I learned how to bake my own scones. I love chocolate, so I perfected this recipe first…but I also want to find one with fruit so stay tuned 🙂 You might find it strange that this recipe calls for orange juice, but it gives the scones a really unique, sweeter flavor that makes this recipe so delicious! Serve with butter and a cup of coffee or tea.

Ingredients
1¾ cups all-purpose flour
⅓ cup white sugar
2 tsp baking powder
½ tsp salt
5 tbsp unsalted butter, chilled
½ cup semisweet chocolate chips
6 tbsp orange juice
2 tbsp milk
Instructions
Preheat oven to 400 °F.
Whisk flour, salt, baking powder, and sugar in a large bowl until blended well.
Cut in chilled butter with a pastry blender or fork until crumbly.
Stir in chocolate chips with a fork.
Add 1 tbsp of orange juice and milk in at a time, mixing it into the dough until the dough becomes wet enough to stick together in a ball. You may need to add a little more or less for all of the dough to stick. Do not add too much or dough will be too wet and mushy.
Gather dough loosely into a ball. On a floured surface, pat dough flat about ½ inch thick.
With ~2 inch biscuit cuter or cookie cutter, cut scones out and transfer to baking sheet.
Bake about 12 minutes, or until they are golden brown.
Transfer immediately to wire racks to cool.
See this post on Mix it up Monday!