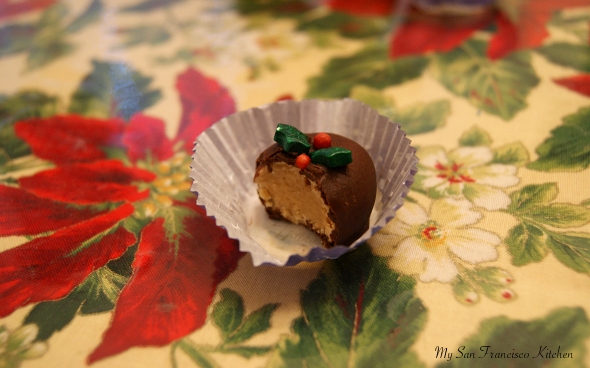 I know Christmas is now over, but we have still been enjoying all of the wonderful holiday treats! I wanted to share one last holiday recipe before the New Year. This bite-sized chocolate peanut butter ball recipe is one of my mom's classic Christmas recipes, and she puts them out every year. Smooth, fluffy peanut butter is covered in a layer of rich chocolate. The cute top decoration was her idea. Caution: these guys are really addicting!
For another chocolatey-peanut butter treat, check out my puppy chow recipe!

Chocolate Covered Peanut Butter Balls
Ingredients
1 cup powdered sugar
½ cup creamy peanut butter
3 tbsp unsalted butter, softened
1 8 oz bag semi-sweet chocolate chips
Decorations
Mini baking cups
Instructions
Mix sugar, peanut butter, and butter in a large bowl with a fork.
Make 1 inch balls with hands, and stick a tooth pick in the center.
Place on a cookie sheet lined with wax paper.
Refrigerate 1 hour.
In the meantime, melt chocolate in a Little Dipper crockpot, or over very low heat in a small saucepan on stove (if on stove, stir occasionally to avoid burning the chocolate).
Stir chocolate once melted, and keep warm until peanut butter balls are ready for dipping.
After 1 hour, remove balls from the refrigerator and one by one dip in the melted chocolate to cover.
Place back onto wax paper lined cookie sheet and decorate as desired.
Refrigerate for 20-30 minutes before eating to allow chocolate to harden.
Place in mini baking cups before serving.
Makes 24 peanut butter balls
This post is sponsored by: