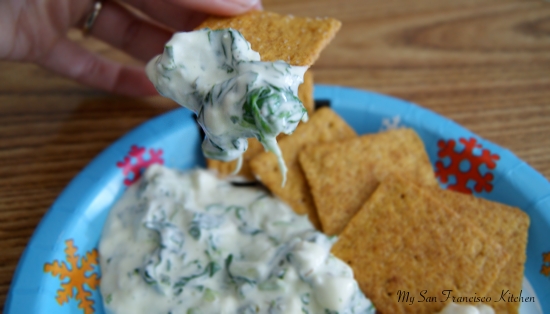 This easy creamy spinach dip recipe is a great appetizer for a dinner party. It makes 1 1/2 cups. You can serve wheat thins or cubed Hawaiian bread with it. Keep warm by making in a mini crockpot.

Creamy Spinach Dip Recipe
Ingredients
5 oz frozen chopped spinach, drained
1 8 oz package cream cheese, softened
2 tbsp Parmesan cheese
2 tsp chopped onion
½ tsp thyme
¼ cup whipping cream
1 tsp Worcestershire sauce
¼ tsp garlic salt
Instructions
Add spinach, cream cheese and whipping cream to crockpot.
Cover and heat for 30 minutes.
Add remaining ingredients.
Stir and cover and heat for another 30 minutes.
Serve with vegetables, tortilla chips, wheat thins, or cubed Hawaiian bread.
Makes 1½ cups.
This post is sponsored by: