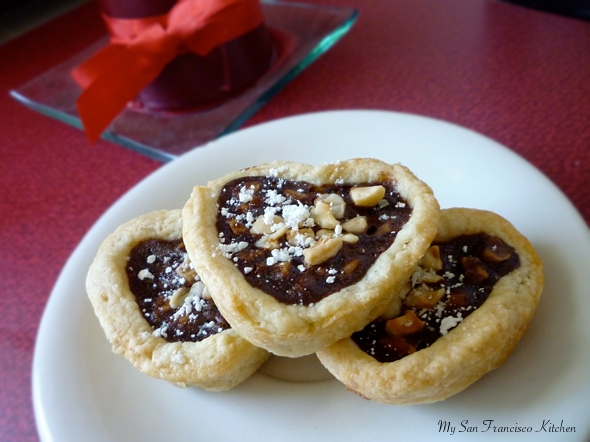 Last night I was ordering some chocolate as a Christmas present on the Lindt website, and I started browsing their recipes. I came across a chocolate tart recipe, and thought it could be easily converted into a chocolate hazelnut tartlett recipe. After getting the ingredients out this morning, I realized I didn't even have any tartlett pans! Good one :/. I was determined to make this delicious treat, so I used my heart-shaped muffin pan instead. They would make a yummy Valentine's Day treat. I used a combination of chocolate tart recipes from Mrs. Fields' Cookie Book and Tyler Florence from the Food Network and tweaked them to create these delicious tartletts.

Chocolate Hazelnut Tartletts
Ingredients
Pastry
1½ cups all-purpose flour
¼ cup granulated sugar
½ cup butter, chilled and cubed
1 egg yolk
1 tsp vanilla
pinch of salt
5 tbsp cold water
Filling
½ cup cream
¼ cup milk
1 tbsp sugar
pinch of salt
½ cup semisweet chocolate chips
¼ cup chopped hazelnuts
1 egg, beaten
Confectioners' sugar for garnish
Instructions
Blend flour, sugar, salt, and butter with a pastry blender in a medium bowl (or food processor).
Add egg yolk and vanilla a little at a time and stir with a fork.
Add water 1 tbsp at a time and stir.
Gather dough into a ball, flatten into a disk and wrap in wax paper.
Refrigerate for at least 1 hour.
Preheat oven to 350 ºF.
On a floured cutting board, roll dough to ¼ inch thickness with a floured rolling pin.
Use a cup to cut out circles, and place in greased tartlett pans or muffin pan.
Press dough against sides and bottom, and poke holes in the bottom with a fork.
Bake pastry for 20-25 minutes, then remove from oven and gently press any bubbles down with a spoon.
Reduce heat to 325 ºF.
Heat milk and cream in a small saucepan on low-medium heat.
Do not boil, but when sides begin to bubble add sugar, salt and chocolate and stir until all of the chocolate is melted.
Remove from heat and stir in egg and hazelnuts.
Spoon filling into pastries until the top, and sprinkle a few hazelnut pieces on top.
Bake for 10-12 minutes. If begin to crack/bubble, remove quickly from oven. Do not overbake.
Use a butterknife to gently remove from pan and place on a cooling rack. Cool before serving, and garnish with confectioners' sugar.
Makes 14 small tartletts
This post is participating in
Foodie Friday
! Check it out 🙂
This post is sponsored by: