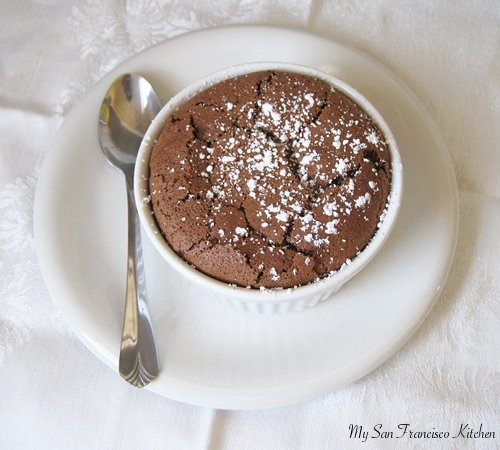 I have been terrified of making this delicate French dessert ever since I saw that scene in the movie "Because I Said So" with Mandy Moore when she is baking chocolate soufflés and when she opens the oven they collapse and are ruined. I decided if I was going to try it, I better look to the experts at The Food Network. I only changed the recipe a little. To my surprise, the soufflés came out of the oven perfectly tall and poofy and stayed that way for a few minutes (enough time to serve and dig in!). When they started to sink a few minutes after serving, my heart sank and I thought I failed. I did some reading, and soufflés always fall and don't stay up (unless you way over-bake them of course) because the bubbles in side need heat to keep the poofy shape, and once they cool they "deflate" to some extent. Here are some tips to avoid getting sinking soufflés right out of the oven (what you DON'T want): 1) Make sure you don't overbeat the egg whites-right when they become poofy, stop. 2) Do not overstir the egg whites into the chocolate…fold them in gently with a spatula until just blended. 3) Don't underbake. I got lucky with this recipe, but as always practice makes perfect!
Time to study for my pharmaceutical chemistry & pharmacology midterms…but first I think I will go for a run since its a beautiful day here in San Francisco and I need to run off that delicious soufflé I just devoured. :/
Recipe adapted from The Food Network, 2007.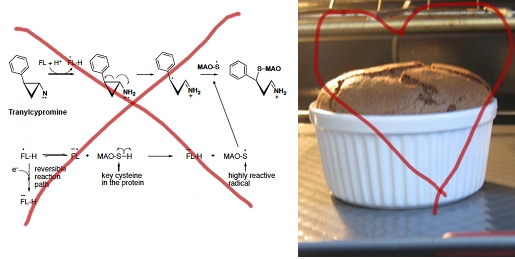 Chocolate Soufflé for Two
Ingredients
⅓ cup semisweet chocolate chips
1 tbsp unsalted butter
½ tsp vanilla extract
1 large egg yolk
1 tbsp warm water
2 tbsp and 2 tsp granulated sugar
2 large egg whites, room temperature
⅛ tsp fresh lemon juice
Pinch of salt
Pinch of cinnamon
Confectioners' sugar for garnish
Instructions
Grease 2 ramekins with soft butter, then coat with sugar.
Place ramekins in the freezer and chill for at least 30 minutes.
Remove all items you will need and set on countertop.
Place an oven rack in lower third of the oven and preheat to 400 degrees F.
Add the chocolate and butter to a Little Dipper crockpot and cover, or in a medium heatproof bowl placed over a saucepan filled with an inch of simmering water (not touching).
Stir the chocolate occasionally until melted and smooth.
Remove from heat and stir in vanilla extract and cinnamon. Set aside.
In a large bowl, add egg yolk and warm water and beat until frothy. Gradually add 2 tsp sugar, and continue beating about 5 minutes.
Gently fold the yolks into the chocolate mixture.
Remove ramekins from freezer.
Add egg whites to the bowl of a standing mixer with whisk attachment and add lemon juice and pinch of salt.
Beat on medium until frothy, then gradually add 2 tbsp of sugar and increase speed to high.
Beat until the whites hold a stiff peak then stop.
Gently fold about a third of the egg whites into the chocolate to lighten, then fold in remaining whites until just blended.
Carefully spoon the souffle mixture into the ramekins, and place on a baking sheet.
Bake until the soufflé rises and when the top is touched with your finger it springs back, about 18 to 20 minutes.
Remove from oven, dust with confectioners' sugar and serve immediately.