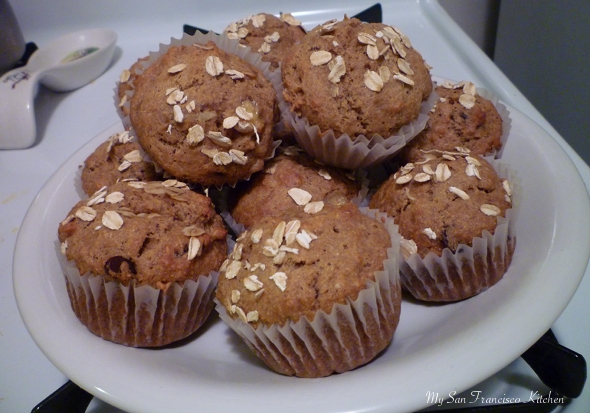 Whenever I have a few bananas that are going bad I use them up in either a banana bread or these whole wheat banana muffins. I don't like sugary muffins for breakfast, so these make a perfect addition to my coffee in the mornings. They are low in sugar and are made with whole wheat flour. You can omit the chocolate chips to make them even healthier, but the combination of walnuts and chocolate chips in these banana muffins is divine 🙂

Whole Wheat Banana Muffins with Walnuts & Chocolate Chips
Ingredients
2 cups whole wheat flour
1 tsp baking soda
¼ tsp salt
½ tsp cinnamon
¼ cup butter (1/2 of 1 stick)
½ cup unsweetened applesauce (can sub. sour cream)
½ cup brown sugar
1 tsp vanilla
2 eggs
2 tbsp milk
2 over-ripened bananas
½ cup walnuts
¼ cup semisweet chocolate chips
rolled oats to sprinkle on top if desired
Instructions
Preheat oven to 350 °F.
In a medium-sized bowl, mix flour, baking soda, salt and cinnamon with a fork until well blended.
Melt butter in microwave for 40 seconds.
In a large bowl, mix butter, brown sugar, eggs, vanilla, and applesauce.
In a separate bowl or mixing cup, mash bananas one at a time, making sure there are still some chunks left.
Add mashed bananas to large bowl by carefully stirring in.
Add flour ¼th at a time and slowly mix in. Do not overstir.
Add 2 tbsp milk to help mixing flour in. The mixture should be wet, but not runny.
When all the flour is mixed in, add walnuts and chocolate chips.
Fill muffin pan lined with paper cups ⅔ full, then sprinkle oats over the top if desired.
Bake in the center of the oven for 20-25 minutes. Check at 20 minutes by inserting a toothpick or butterknife to see if still comes out wet. If comes out dry, it is done!
Serve warm with a glass of milk or coffee.
Makes 12 muffins