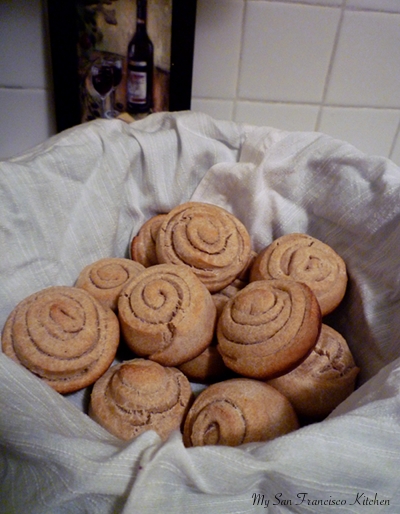 A faint taste of honey adds a little of flavor to these whole wheat rolls. These honey wheat swirl rolls are easy to make and look very appealing. They are a great addition to any dinner dish. Serve warm with butter.

Ingredients
1 package active dry yeast (2¼ tsp)
1 cup warm water
¼ cup granulated sugar
1 tsp honey
½ tsp salt
⅛ cup butter, melted
1 egg, beaten
2½ cups whole wheat flour
Extra melted butter for brushing tops
Instructions
In a large bowl, pour warm water over yeast and let stand 10 minutes.
Add sugar, salt, butter, and egg and stir with a fork.
Add flour, a little at a time, and stir.
On a floured surface, knead dough for about 10 minutes until elastic. Add as much flour as needed during kneading.
Cover and place somewhere warm and let rise for 1 hour (or until doubled).
Punch dough down, and continue to let rise for 30 minutes covered.
Preheat oven to 400 ºF.
Roll a 6x14 inch rectangle on a floured surface, and cut into 12 even strips, each about 1 inch thick.
Roll each strip and set spiral facing up in a greased muffin pan.
Brush tops with melted butter and set in a warm place uncovered for 40 minutes (or until doubled).
Bake for 12-15 minutes, or until golden brown. Do not overbake, as the whole wheat flour tends to dry out more than all-purpose flour.
Immediately remove from muffin pan and place on a cooling rack to cool, or bread roll basket and cover to keep warm if serving immediately.
Makes 12 rolls