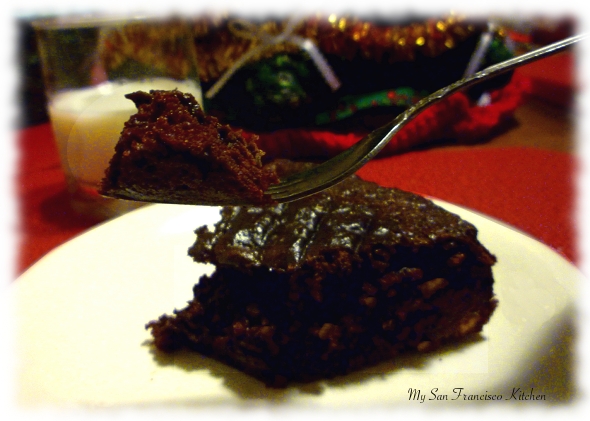 Chocolate and hazelnuts are a match made in heaven. This moist adaptation of Hershey's Perfectly Chocolate chocolate cake has chocolate ganache and hazelnuts swirled inside. There are many ways to add the ganache: as a layer in between 2 round cakes, drizzle it over a bundt cake, use it as a layer of "frosting" on top, or swirl it in with a butterknife like in this recipe. This ganache-hazelnut mixture has egg, so it needs to be baked with the cake. Note: This recipe makes enough for one 9-inch round cake; double if layering for 2 rounds.

Chocolate Hazlenut Swirl Cake
Ingredients
Hazelnut ganache
½ cup cream
¼ cup milk
1 tbsp sugar
pinch of salt
½ cup semisweet chocolate chips
¼ cup chopped hazelnuts
1 egg, beaten
Cake
1 cup sugar
1 cup all-purpose flour
⅓ cup HERSHEY'S Cocoa
¾ tsp baking powder
¾ tsp baking soda
½ teaspoon salt
1 eggs
½ cup milk
¼ cup vegetable oil
1 tsp vanilla extract
½ cup boiling water
Instructions
Hazelnut ganache
Heat milk and cream in a small saucepan on low-medium heat.
Do not boil, but when sides begin to bubble add sugar, salt and chocolate and stir until all of the chocolate is melted.
Remove from heat and stir in egg and hazelnuts.
Cake
Preheat oven to 350°F.
Grease and flour 1 9-inch round cake pan.
Sift together flour, cocoa, baking soda, baking powder, salt and sugar in a large bowl.
Mix egg, vanilla, milk and vegetable oil with a handheld mixer on medium speed for 2 minutes.
Stir in hot water to thin batter, and pour into cake pan.
Pour chocolate ganache-hazenut mixture in center, and swirl around with a butterknife.
Bake for 30 minutes (check with toothpick-if comes out dry, cake is done!).
Cool for 10 minutes before transferring to a wire rack.
Use your imagination to decorate-I recommend buttercream frosting, yum!
Makes 1 9-inch round cake; Bundt cake: bake 50 minutes.
This post is sponsored by: