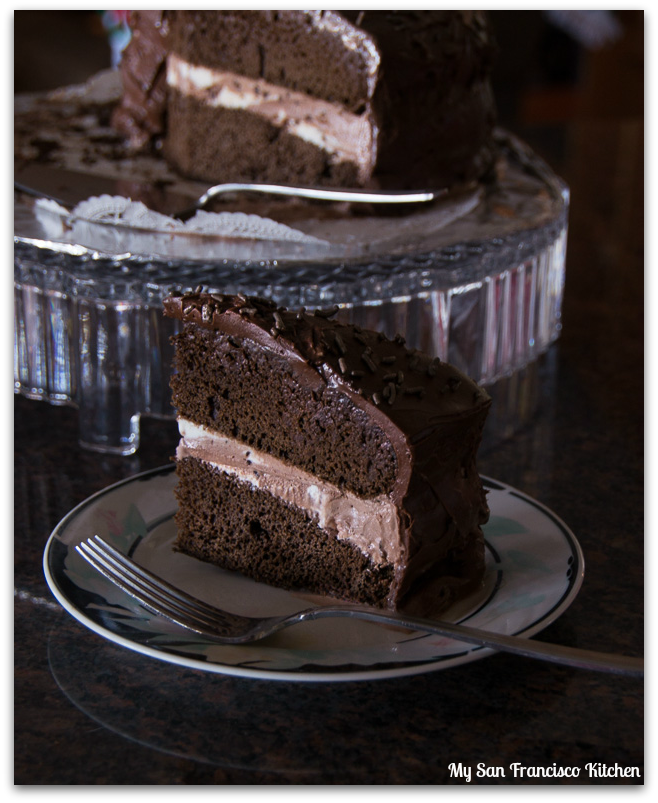 Did I ever tell you I used to work at an ice cream shop in high school? One of my favorite things to do there was making and decorating ice cream cakes. When you try to buy one at the grocery store or your favorite ice cream shop, they can run anywhere over $25 dollars. What if I told you they are actually really easy to make at home, and just as delicious?
Today is my birthday, and to celebrate I made this homemade chocolate ice cream cake. I made the chocolate cake from scratch, using this chocolate birthday cake recipe, and then filled the middle layer with my favorite Tillamook ice cream flavor, Udderly Chocolate, which has white and milk chocolate swirled together and chunks of chocolate mixed in. It is easiest if you use a springform pan, but if you don't have one a regular cake pan with parchment paper will work just fine. *NOTE* If you use a 10-inch springform pan, you will need to use the chocolate cake recipe as is, but if you use a regular 8-inch cake pan, you only need to cut the recipe in half and use one cake pan (you will cut the cake into two layers).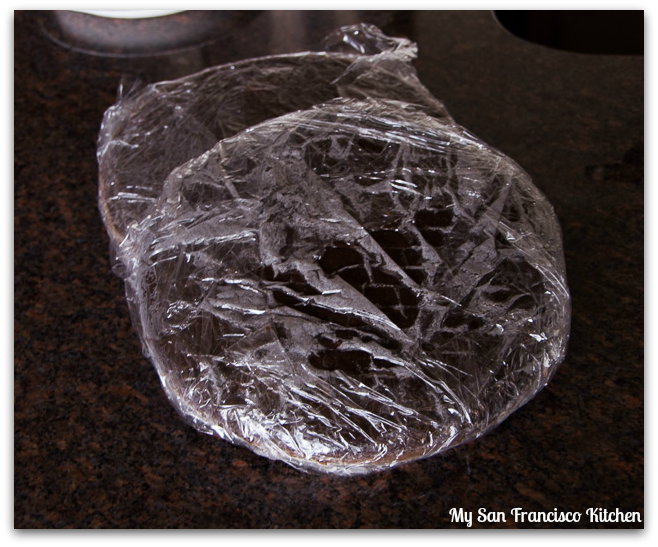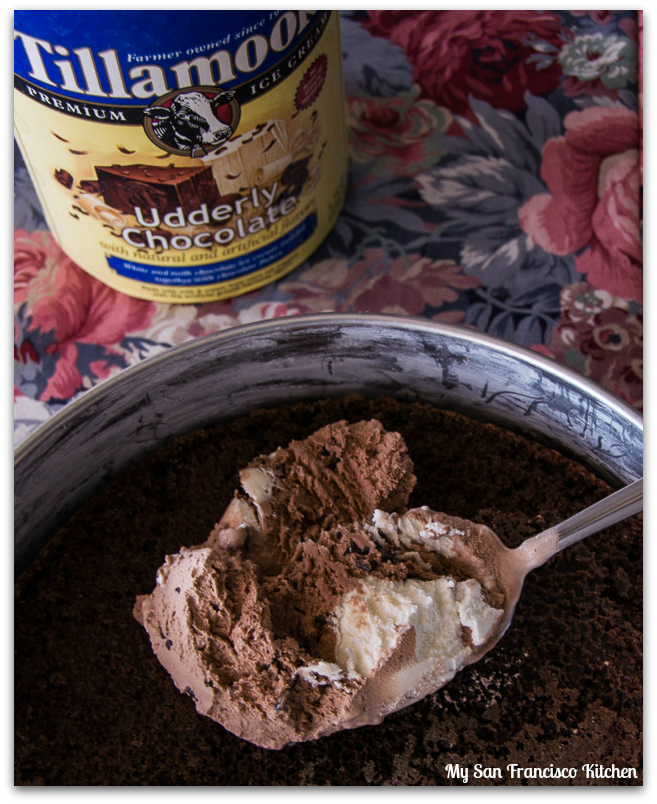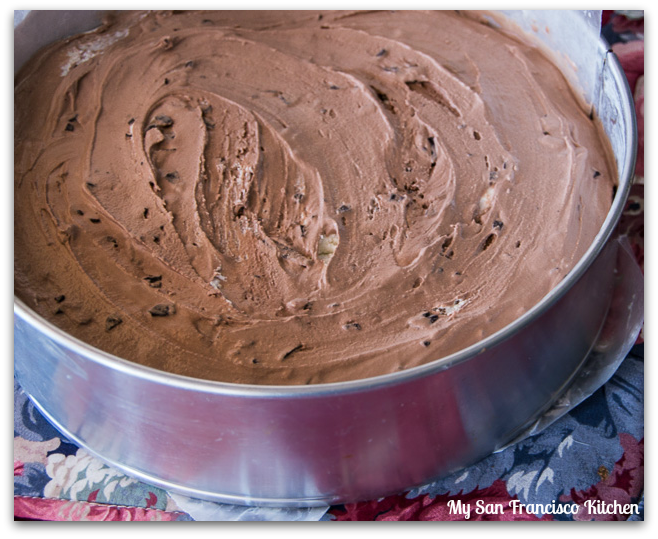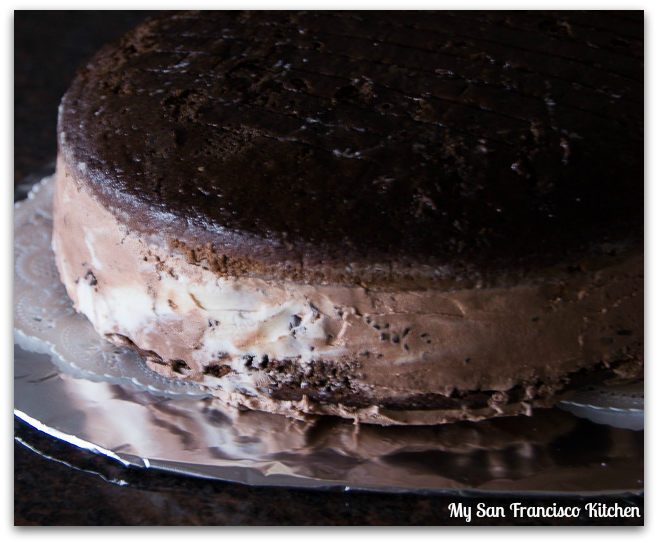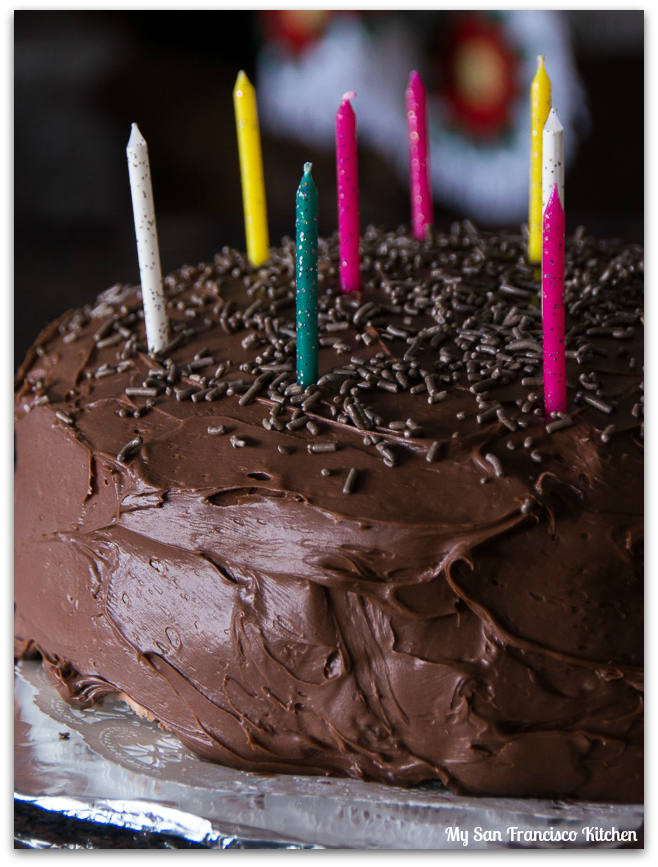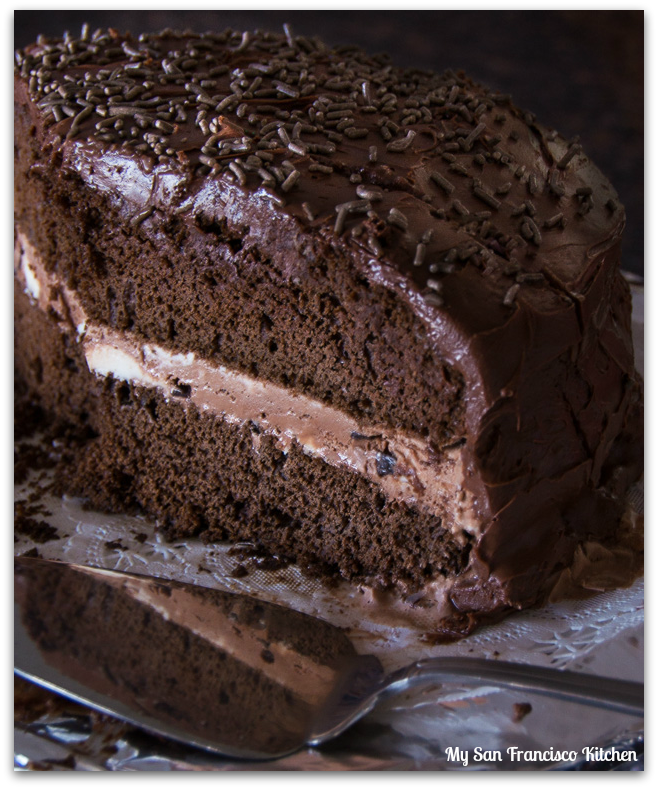 Ice Cream Cake
Ingredients
Chocolate Cake
*NOTE: use half of this recipe if using 8-inch cake pan, and full recipe for 10-inch springform pan
2 cups all-purpose flour, plus 2 tbsp for cake pan
¾ cup unsweetened cocoa powder
1¾ cups sugar
2 tsp baking powder
1 tsp baking soda
1 tsp salt
2 eggs
1 cup milk
½ cup vegetable oil
2 tsp vanilla extract
1 cup boiling water
Filling and Decoration
4 cups Tillamook Udderly Chocolate ice cream (or your favorite ice cream flavor)
2 cups chocolate frosting
Chocolate sprinkles, for decorating
Instructions
Grease one 8-inch cake pan OR one 10-inch springform pan with cooking spray or butter.
Add 2 tbsp flour to the cake/springform pan, and rotate like a steering wheel over a sink until the flour completely coats the pan. Shake out excess flour into the sink.
Preheat oven to 350 degrees F.
Add flour, cocoa powder, sugar, baking powder, baking soda, and salt to a standalone mixer bowl fitted with paddle attachment (you can also use an electric mixer and add ingredients to a large bowl).
Mix the dry ingredients on low speed for 30 seconds.
Add eggs, milk, vegetable oil and vanilla to the flour mixture and mix on medium speed about 2 minutes.
In the meantime, boil the water.
Turn off the mixer and add the boiling water.
Beat on medium speed for 1 minute.
Use a spatula to transfer the batter to the greased and floured pan.
Bake for 30 minutes, or until a toothpick inserted in the center comes out clean.
Cool for 10 minutes, then loosen carefully with a thin spatula or knife and turn over onto a wire cooling rack.
Once cool, cut into two even halves.
Wrap the cakes in plastic wrap and freeze for at least 2 hours (this can be done overnight).
Once hardened, place one layer of cake in a springform pan or if you used a cake pan, line the cake pan with parchment paper with enough edge to be able to pull the entire cake out of the pan once frozen.
Remove the ice cream from the freezer and thaw for 10 minutes. Once softened, spread the ice cream over the cake layer to desired thickness (I like about 4 cups).
Place the remaining cake layer over the top of the ice cream, and place plastic wrap over the top to seal.
Freeze the cake for at least 2 hours.
Once frozen, remove the cake and QUICKLY frost before the ice cream melts.
Add the sprinkles if desired, then wrap carefully with plastic wrap (I use 8 toothpicks on top if I don't use candles so it doesn't stick to the frosting as much) and place back in the freezer.
Remove from freezer about 10-15 minutes before serving to slightly thaw.
Makes 1 8- or 10-inch cake
Last night, to celebrate my birthday we went out to dinner at a really delicious French restaurant. It was INCREDIBLE. My favorite part was the dessert – this one was a mix of chopped fruit with pastry cream and a really thin tart – it was heavenly!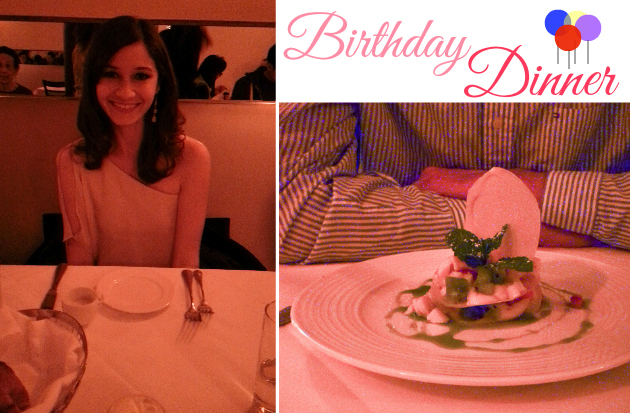 I realized I did not give anything away during the holidays! My friend over at Foodasmic and I are giving away this heart-shaped spatula and cookie cutter set! Now next year you will be prepared for the crazy baking season!! Isn't this spatula so cute? It would make a great Valentine's Day gift.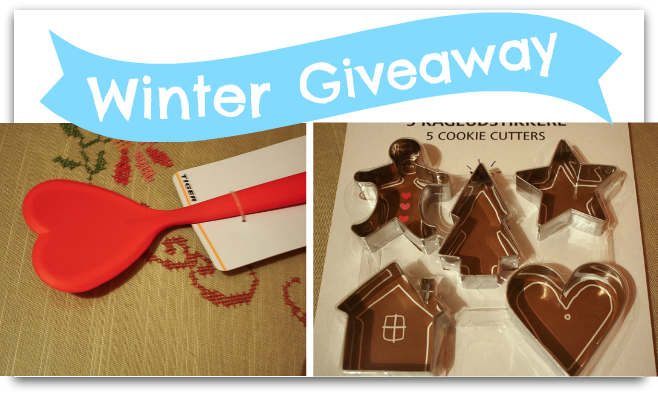 The giveaway is open to all countries and will close on January 29th. Enter using the Rafflecopter below. Good luck :o)!