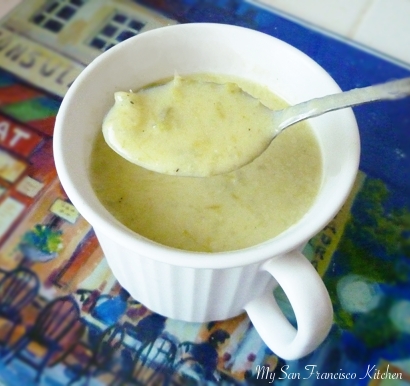 This was my first attempt at making asparagus soup, but I love asparagus and the thought of it mixed with potato and cream sounded so delicious. It came out just how I imagined, and I will be adding it to one of my fast "go-to" soup recipes because it is really easy and mess-free! I saved the leftover soup in this white ceramic container for lunch the next day, and it tasted just as fresh. This soup makes a great vegetarian dish. Serve with toasted pugliese bread drizzled in olive oil.

Ingredients
2 tbsp butter
2 tbsp olive oil
½ large onion, chopped
3 stalks celery, chopped
1 clove garlic, minced
3 tbsp all-purpose flour
4 cups water
3 tsp chicken bouillon powder
1 large potato, peeled and diced
1 lb fresh asparagus, chopped
½ cup half-and-half (or cream)
¼ tsp ground black pepper
Instructions
Chop onion, potatoes, celery and asparagus.
Melt butter and add olive oil to a heavy pot.
Add onions and chopped celery and saute about 5 minutes.
Stir in flour, mixing well.
Add and bring water to a boil, then add chicken bouillon powder and stir.
Add potatoes and asparagus, and simmer for about 20 minutes.
Puree soup in a food processor or blender in batches. I "pulse" the last round to add some nice texture to the soup.
Return to pot and stir in half and half and black pepper over medium heat.
Serve warm.
Makes 4 servings.
Get your own ceramic soup mugs:
This post is sponsored by: