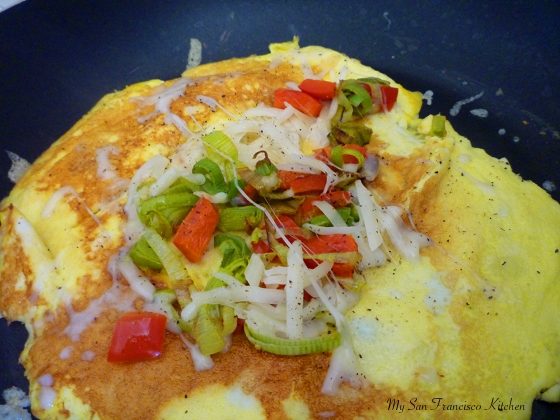 Two more days until Christmas! I finally finished all of my Christmas shopping (I know, soo last minute). I was trying to use up some veggies in my fridge today for breakfast, and noticed the leek and red bell pepper looked like Christmas colors! I love to experiment with different omelet recipes. This one is simple and healthy with vegetables sautéed in olive oil and a very light amount of gruyere & swiss cheese.

Ingredients
2 eggs
¼ cup milk
2 tbsp olive oil
½ cup red bell pepper, chopped
¼ cup leek, thinly sliced
2 tbsp swiss & gruyere cheese blend
butter to grease pan
pinch of pepper
Instructions
Heat olive oil over medium heat in a medium-sized skillet.
Chop red bell pepper and leek, and add to skillet.
Lower heat and sauté for 10 minutes.
Beat eggs and milk in a small bowl for 15 seconds.
Heat another medium-sized skillet over medium-high heat and grease with butter.
Add beaten eggs to greased skillet and cook for 5-10 minutes. Check bottom with spatula to check for doneness.
The omelet is ready to flip when the bottom is not burned, but firm, and the top is mostly cooked (if not all cooked...it depends on how brown the bottom is getting, but generally the more cooked the top is the easier to flip!).
Flip omelet over, either with a spatula or by removing skillet from heat and flipping by hand on skillet handle.
Toss vegetables onto omelet and sprinkle cheese and pepper over the top.
After cheese is mostly melted, flip omelet in half to cover vegetables and reduce heat for 1 minute.
Serve warm.
Makes 1 omelet