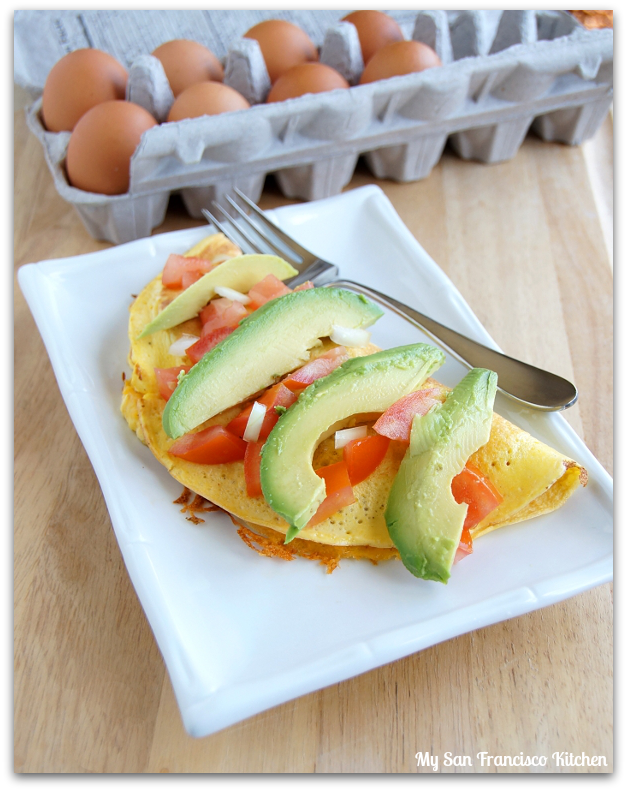 It's the weekend, it's the weekend!! One of my favorite things about the weekend is being able to take my time in the kitchen to make a big, delicious breakfast. During the week, my mornings are chaotic. For the first half I am a zombie waiting for my coffee to brew (nope, I don't have a coffee machine with an alarm…), and the second half is realizing how little time I have left to get ready for work once I am awake. My daily breakfast consists of granola + yogurt + fruit, which I love and could probably never get sick of…but on the weekends I get to cook. Pancakes, waffles, omelets…
Speaking of omelets, my all-time favorite omelet to make is the California omelet. You have heard of the California omelet, haven't you? Is it just a California thing?? Just curious… If you haven't tried one before, they are AMAZING, and really easy to make with ingredients you probably have lying around the kitchen. By cooking omelets at home instead of ordering at a restaurant, you can control how much salt and fat you add in.
If you have all the time in the world, what is your favorite breakfast to cook/eat?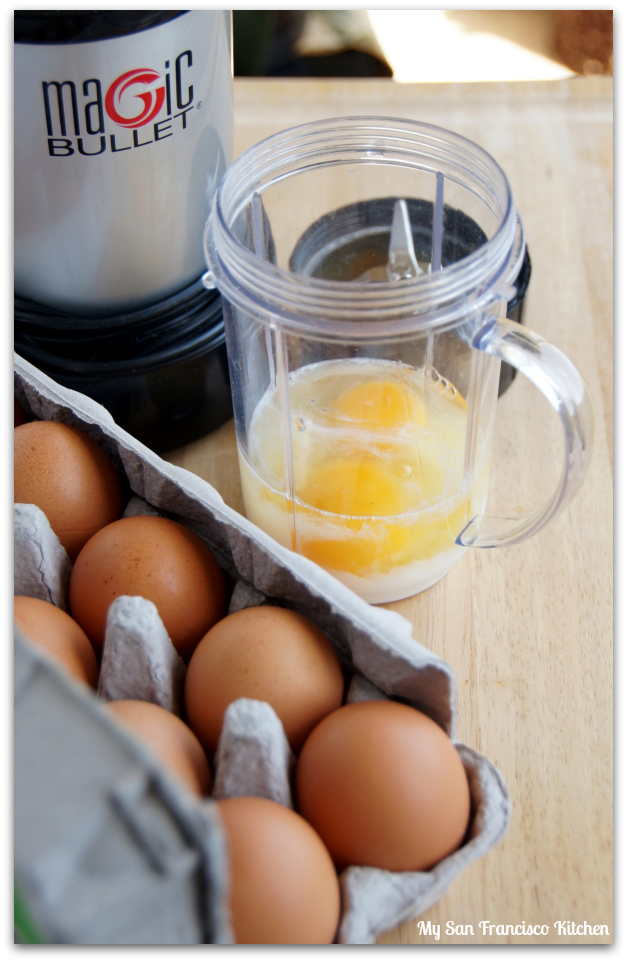 The California Omelet
Ingredients
4 eggs
¼ cup milk
⅛ tsp salt
1 avocado, pitted and sliced
½ cup diced tomatoes
¼ cup diced onion
½ cup shredded cheddar cheese (can also use Swiss or Jack)
Pepper to taste
Instructions
Grease a large skillet with cooking spray, butter or oil and heat it over medium heat.
Add eggs, milk and salt to a Magic Bullet cup or blender and blend until you get a homogenous mixture (about 30 seconds).
Dice the tomatoes and onions and slice the avocado, then set aside.
Pour ½ of the egg batter into the skillet and cook for about 5 minutes (turn over a little to peak underneath – it should be firm and slightly browned).
Once ready, flip over (let's see those omelet flipping skills!).
Sprinkle cheese, pepper, tomatoes and onion over the omelet.
Add a few slices of the avocado on top.
After a few minutes of cooking, flip half of the omelet over onto itself and transfer to a plate. Top with extra cheese, tomatoes, onion and avocado slices for a finished look!
Makes 2 omelets
See this post on the Magic Bullet Blog here!