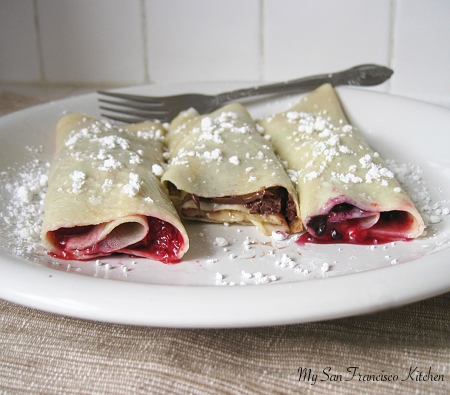 Once again it is my favorite day of the week, SUNDAY! I did all of my weekly cleaning last night, so today my plans are to study a little and hopefully go on a bike tour with Fabi across the bridge to Tiburon if the sun ever decides to come out. It is already noon, and even though the weather forecast said it would be sunny today I haven't seen the sun yet :/ It is very foggy and windy in SF today.
This morning I woke up craving crepes filled with Nutella, preserves, and fruit. The amazing thing about crepes is that you can fill them with almost anything! When I was in Paris a few years ago, the hotel I stayed at served crepes along with croissants and a baguette for breakfast, and the cutest little packets of Nutella and fruit preserves. This is my kind of breakfast!! The crepes were perfect: soft, warm, light, and not sweet. Here is a great recipe that recreates these French crêpes. Fill them with Nutella or preserves, and any fruit you like (I used bananas with the Nutella, and some strawberry preserves with raspberries and blueberries), and top with powdered sugar for a finished look! What is your favorite crepe filling??

Ingredients
1½ tbsp butter, melted
2 cups milk
3 eggs
1 cup all-purpose flour
1 tsp white sugar
¼ tsp salt
Nutella, fruit preserves, fresh fruit for filling
Powdered sugar for garnish
Instructions
Melt butter in a large glass measuring cup or bowl.
Add milk and eggs, and whip with a whisk until fluffy.
Add salt and sugar.
Whisk in the flour a little at a time until all is blended. You may also want to use an electric mixer to ensure there are no "flour clumps".
Heat a 12 inch nonstick skillet over medium heat. Do not grease.
Pour batter to fill ½ of one side of the skillet, and move in a circle all around until the batter no longer moves and set back over heat.
After 30-45 seconds, peel the edge up with your finger, careful not to burn yourself. If the crepe looks done, use a spatula to help turn it over carefully.
Cook other side for another 30-45 seconds.
Cut edges off if desired (they may get a little crispy).
Transfer to a plate and fold in half. Cover with a paper towel to keep warm.
Wipe grease off of skillet and repeat process over again until all of the batter is gone.
Spread Nutella or fruit preserves over one side of the crepe and top with fresh fruit.
Roll all the way up and top with powdered sugar.
Makes 8 large crepes
This post is sponsored by: