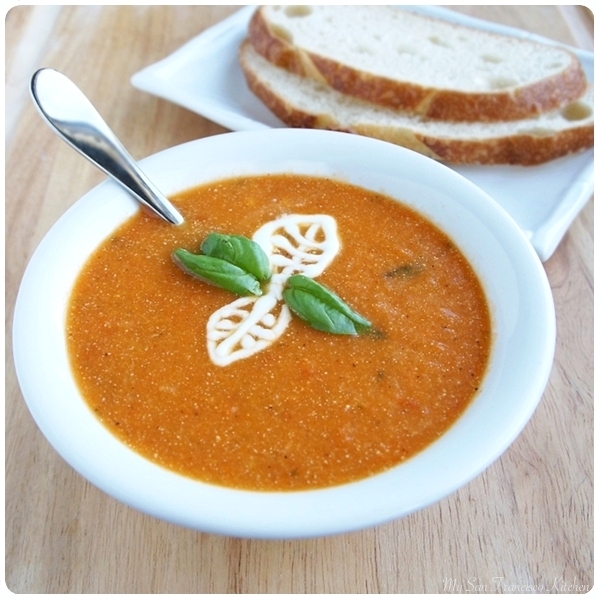 It has been so cold in the city the past few days, so I have been dying to make this fresh tomato basil cream soup. The name is a little misleading because instead of cream I substituted half-and-half to make it a lighter, healthier soup. I got to try out my new KitchenAid 5-speed hand blender, which worked like a dream-the texture of the soup was perfect! I like to leave it a little chunky for a nice texture. I almost gave up on fresh tomato soup recipes because I tried two already that were complete failures. I guess the third time is a charm! I finally found my go-to recipe for fresh tomato basil soup now-thanks to a little help from Ina Garten from the Food Network. I used her recipe as a start, and adapted it to my own style of cooking. This recipe is special to me because early in our relationship Fabi and I discovered this incredible tomato basil soup at cute little restaurant and it has brought us back there a few times since then, just for their soup! I am glad I was finally able to recreate (my best attempt, at least!) that delicious fresh tomato soup we both love.
Tomorrow is my first of 3 final exams, therapeutics. I know…why am I blogging when it is already 2pm on Sunday and the day is quickly slipping away from me? I still have to do my half-marathon training before dark too :/ I promise, I will stay away from anything food-related for the rest of the day!! Enjoy the rest of your Sunday!

Fresh Tomato Basil Cream Soup
Ingredients
2 tbsp olive oil
1 white onion
2 cloves garlic, minced
2 small carrots
2 lb vine-ripened tomatoes
1 tsp sugar
1 tsp pepper
2 tbsp chopped fresh basil leaves, plus extra for garnish
1½ cups chicken broth
⅓ cup half-and-half
Instructions
Add olive oil to a large pot and turn the heat on medium.
Add the chopped onion and carrots and sauté for 7 minutes.
Add the minced garlic and stir. Continue to sauté for a few more minutes.
In the meantime, wash and coarsely chop the tomatoes.
Add the tomatoes, basil, sugar, pepper and chicken broth and bring to a boil.
Turn the heat down to medium and simmer for 30 minutes, uncovered.
After 30 minutes or once the tomatoes are tender, puree the soup using a KitchenAid hand blender (or any immersion blender, food processor or blender).
Stir in the half-and-half and serve warm.
Garnish with cream and shredded basil leaves on top of the soup.
Recipe adapted from Ina Garten's Fresh Tomato Soup Recipe, 2008.
Disclaimer: KitchenAid provided me a 5-speed hand blender free of charge. All opinions are honest and 100% mine.
This post is sponsored by: