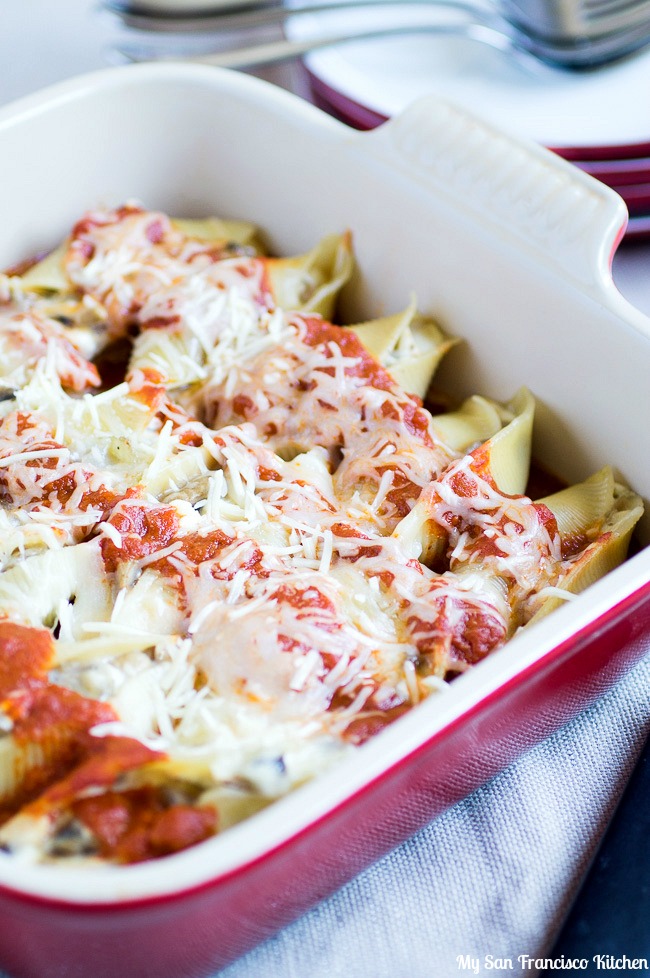 Lately, life has been moving in fast forward for us. Fabi has been working so many hours and Leila has been growing so much every day keeping me very busy. The days are passing by so quickly! Even though life can be chaotic at times, it is important to stop and take a moment to reflect and enjoy family and friends. My favorite way to do this is over good food. One of my favorite comfort dishes to make is this creamy mushroom stuffed shell recipe using Bertolli® Riserva Porcini Mushrooms & White Truffle Oil sauce. If you like mushrooms, you will love this mushroom stuffed shells dish! The mushroom and truffle oil sauce pairs so perfectly with the stuffed shells, and I just love the flavor of it. 
Bertolli® is celebrating 150 years of delicious food, friends and family, so I made this special creamy mushroom stuffed shells dish to help them celebrate. Felice Anniversario and Buono Appetito! 
Click here for a $1.50 off coupon of Bertolli® pasta sauces and over 100 Italian recipe tips.
When life gets busy, it is great to prepare some "make-ahead" dinners. You can make the filling for these stuffed giant shells in the morning and refrigerate until ready to stuff and bake in the evening. This creamy mushroom stuffed shells dish is so comforting when served warm right from the oven on a cold day.
Even though life can get chaotic, don't forget to stop once in a while and enjoy the things you love, be grateful for what you have, and do it over some good food 😉
Are you guys adjusting to the time change? I am not happy about the time change, because I don't like to run in the dark, and it gets dark so early in the day now! Looks like I will have to convert to a morning exercise person >.< Wish me luck!! Yesterday I was able to get outside for a run just before sunset, and came home to these amazing stuffed shells. There is nothing better than pasta and cheese after a good run 😉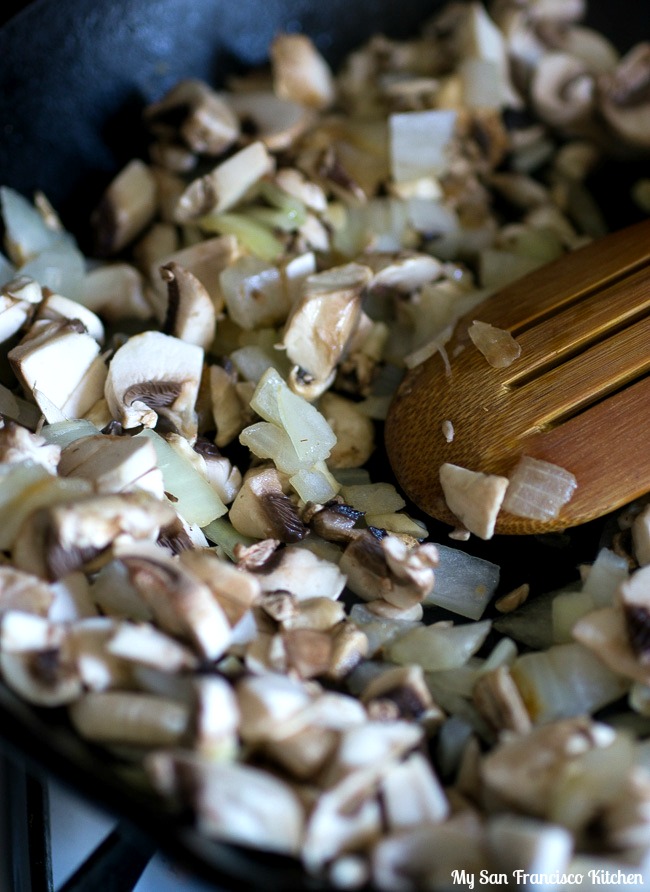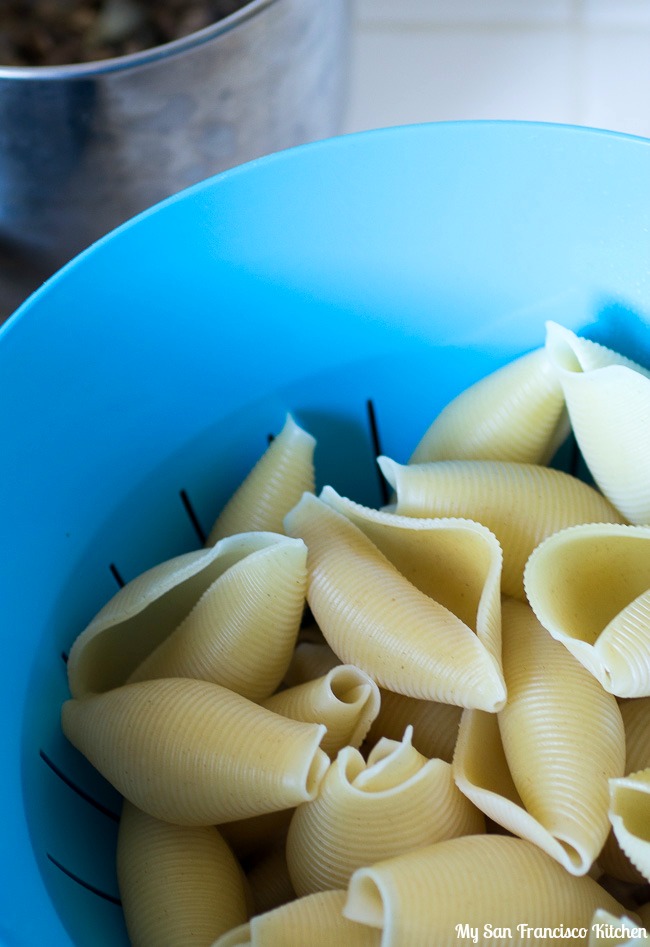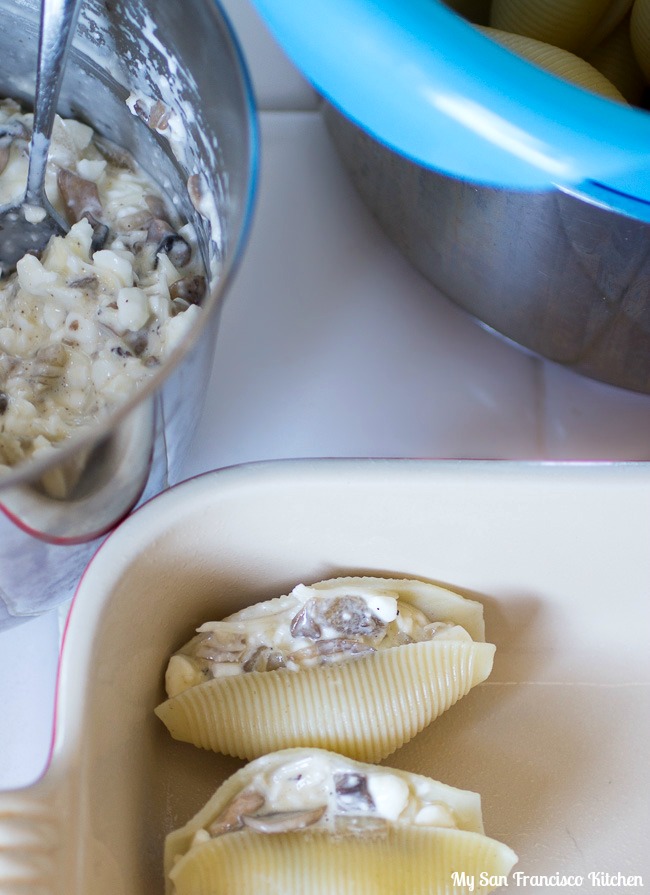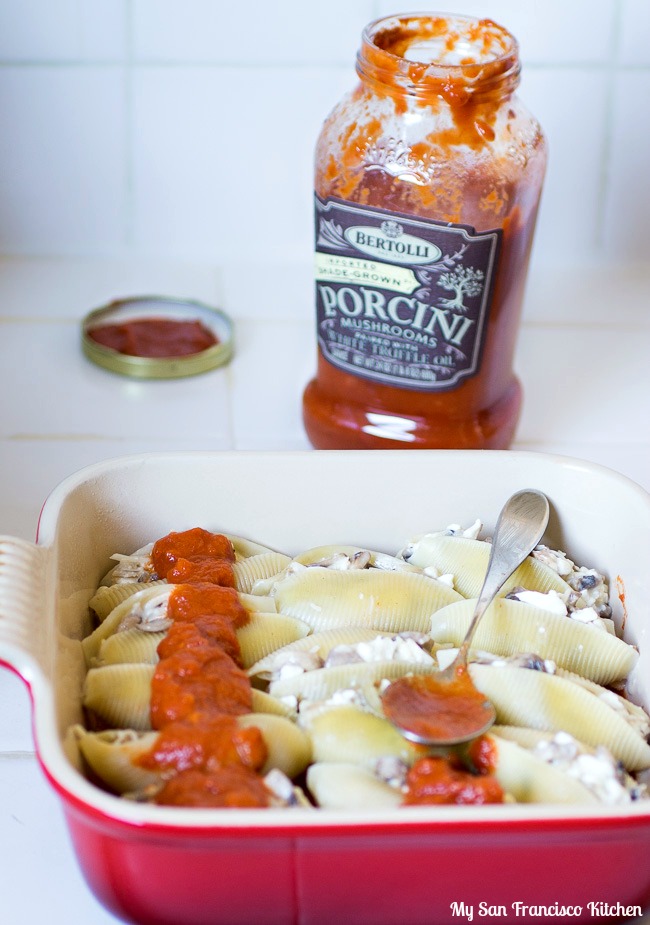 Creamy Mushroom Stuffed Shells
Ingredients
12 oz jumbo shells pasta
2 tbsp olive oil
1 yellow onion, chopped
4 cloves garlic, finely chopped
2 8 oz packages white mushrooms, chopped
2 eggs
3 cups small curd cottage cheese
1½ cups shredded Mozzarella cheese
½ cup freshly grated Parmesan cheese, divided
¼ tsp nutmeg
¼ tsp pepper
¼ tsp salt
1 jar Bertolli® Riserva Porcini Mushrooms & White Truffle Oil sauce
Instructions
Heat the olive oil in a large skillet over medium heat.
Add the onions, garlic and mushrooms and cook for 7 minutes, stirring occasionally. Remove from heat and bring to room temperature.
Bring a pot of water to a rolling boil and add the shells. Cook for about 7 minutes (al dente), then drain immediately. Toss with some olive oil and set aside.
In a mixing bowl, add the mushroom mixture, eggs, cottage cheese, 1 cup Mozzarella cheese, ¼ cup Parmesan cheese, nutmeg, pepper and salt. Stir until well combined.
Preheat the oven to 350 degrees F.
Pour the Bertolli® Riserva Porcini Mushrooms & White Truffle Oil sauce into a 9x13-inch baking dish until the bottom is just covered.
Stuff each shell with 1-2 tbsp of filling and arrange on top of the sauce in the baking dish.
Drizzle the remaining sauce over the top of the shells.
Bake for 20 minutes, then sprinkle with the remaining cheeses and place back in the oven for 10 minutes, until cheese is melted.
Makes 1 9x13-inch pan