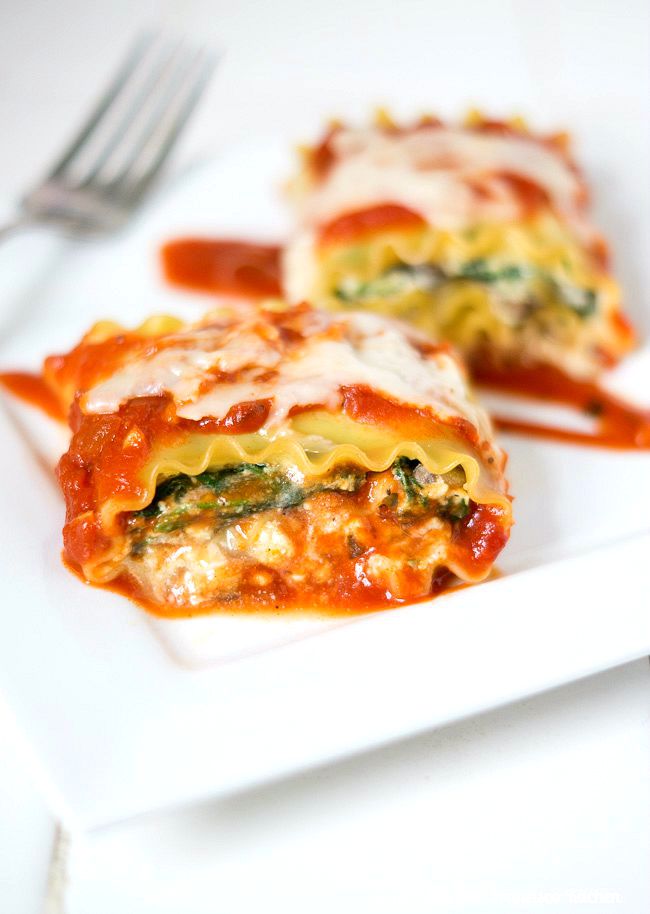 Happy Monday!
Here is an easy recipe you can add to your weeknight dinner list: vegetarian lasagna roll-ups. I love this pasta dish because you can prepare it ahead of time, so when you get home from work you can just pop it in the oven for 25 minutes. It is so nice to come home from a long day and have dinner already done. I also love the presentation. They look quite sophisticated! Don't let the vegetarian part fool you, this lasagna is a hearty pasta dish that will impress even the meat lovers in your family. My husband loves lasagna made with meat, and he loved my vegetarian lasagna version.
This vegetarian lasagna is made with organic spinach and white mushrooms for the "meat," combined with ricotta and mozzarella cheeses for the filling, and topped with a garlic spaghetti sauce and mozzarella cheese. I used store-bought pasta sauce to cut some time, but feel free to use your own homemade sauce in this lasagna roll-up recipe. You can also add Parmesan cheese, but I left it out to cut out some extra calories.
For this lasagna recipe, it is important to cook the noodles al dente. Don't cook them for the entire recommended time on the box, or they may be too soft and soggy. They should be soft enough to roll, but still firm. Don't worry, this is easier to achieve than it sounds.
This week is looking pretty uneventful so far. Sometimes it is nice to have a quiet, relaxing week! The weather in SF turned cold and foggy again, which is kind of nice after the heat wave we had last week. This weather has been perfect for curling up on the couch with a hot tea and good book!
I hope you have a great week.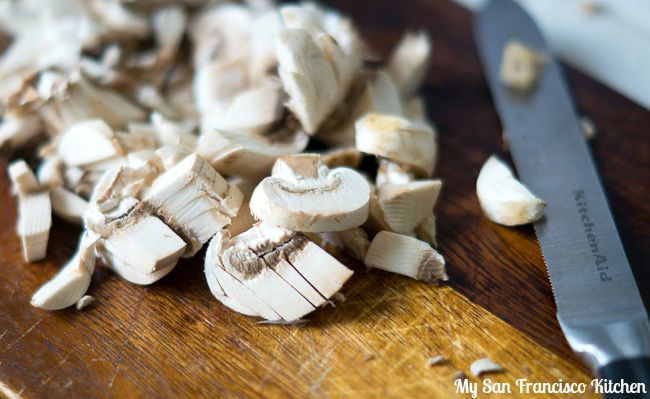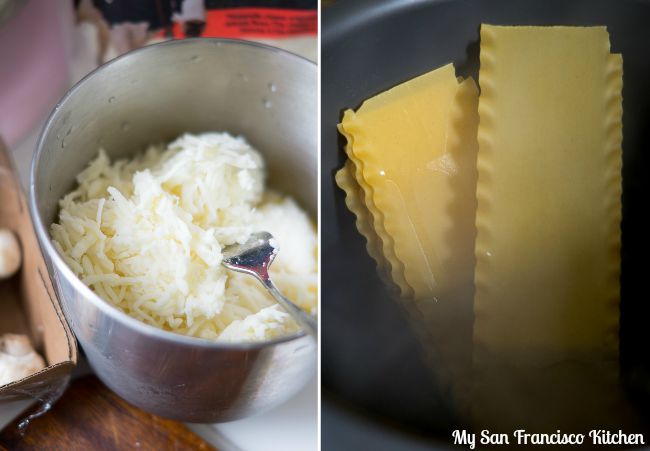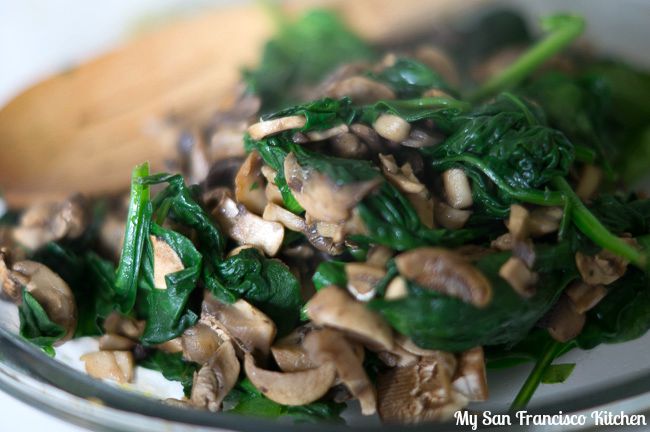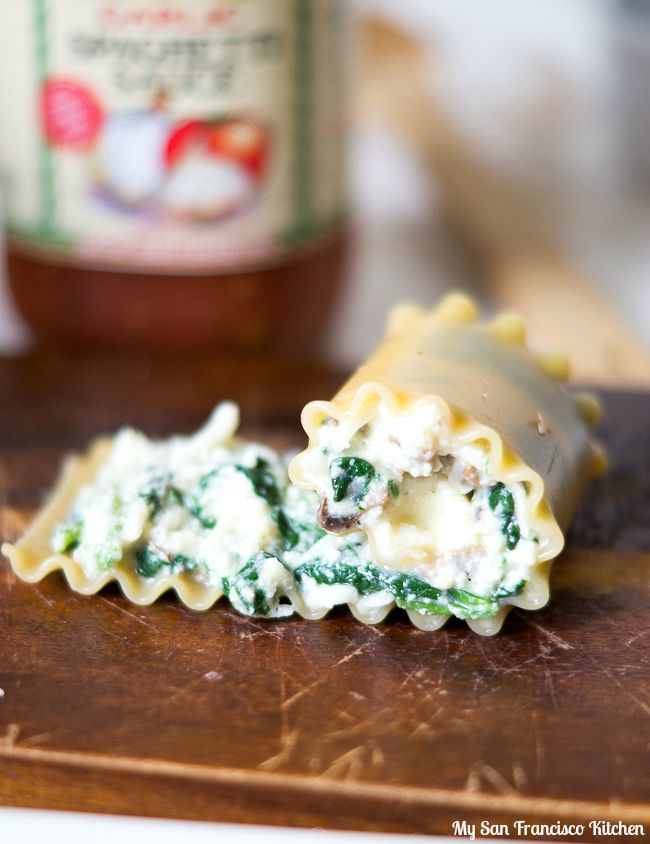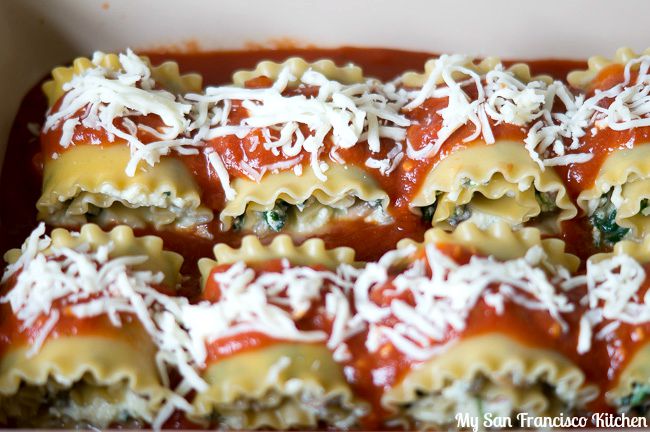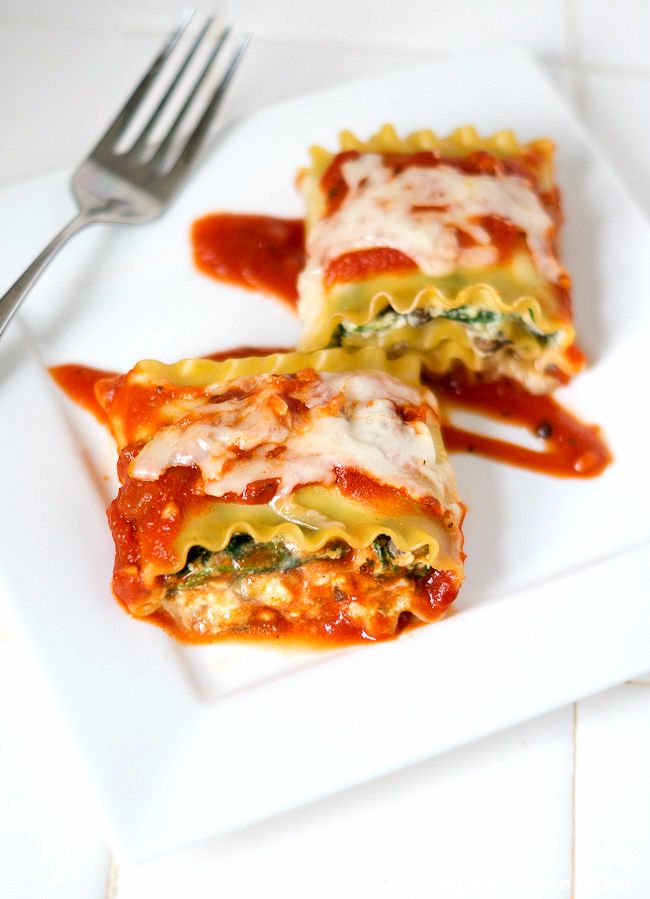 Vegetarian Lasagna Roll-ups
Ingredients
10 uncooked lasagna noodles
2 eggs, beaten
2 cups ricotta cheese
2½ cups shredded part-skim mozzarella cheese, plus more for topping
1 tbsp olive oil
1 tbsp water
1 package (6 oz) raw organic spinach
1½ cups chopped organic white mushrooms
¼ tsp ground nutmeg
⅛ tsp salt
¼ tsp pepper
1 jar spaghetti sauce
Instructions
Preheat oven to 375 degrees F.
Bring a large pot of water to boil, and cook the lasagna noodles for 5 minutes, until al dente. They should be soft enough to roll, but still firm. Drain the noodles and set aside to cool.
Heat the water in a skillet and cook the spinach until wilted. Remove and set aside to cool.
Heat the oil in a skillet and sauté the mushrooms until browned.
Add the eggs, cheeses, cooked spinach, cooked mushrooms, nutmeg, salt and pepper to a bowl and mix well.
Pour the spaghetti sauce into a 9x13-inch baking dish, reserving some for topping.
Spread ⅓ cup of the filling onto each lasagna noodle and roll up. Place into the baking dish.
Top the lasagna rolls with the extra spaghetti sauce and mozzarella cheese.
Bake for 25 minutes.
Makes 10 lasagna rolls
Did you make it? I'd love to see! Snap a pic and share via #mysanfranciscokitchen, or tag my social media sites!