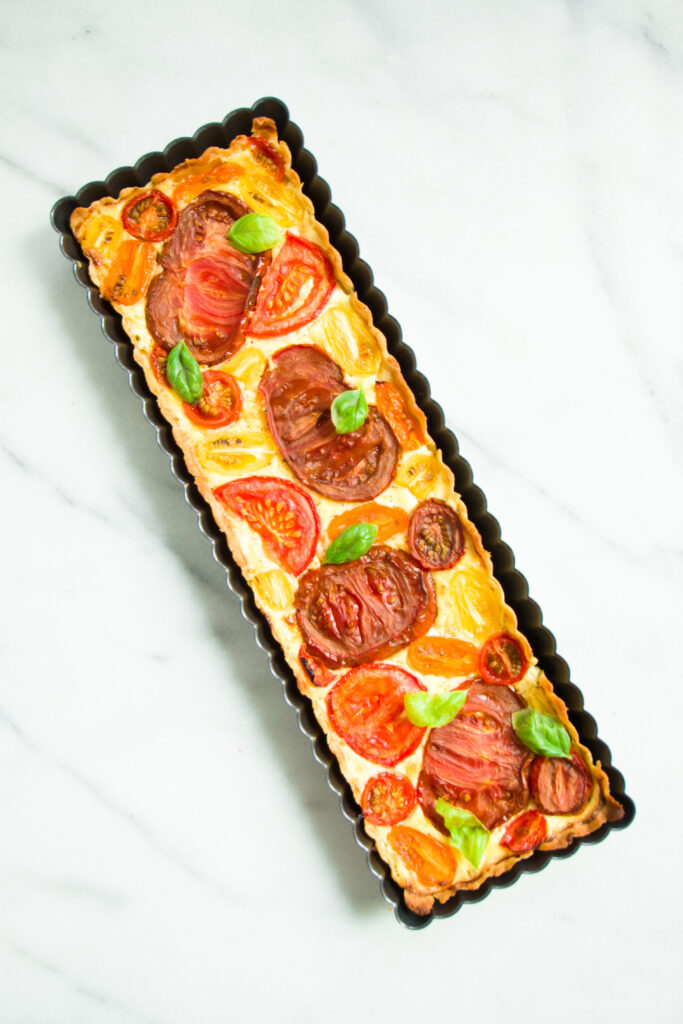 Roasted tomatoes are very flavorful, and this tart filled with crème fraîche showcases a variety of summer tomatoes perfectly. I like to use different color heirloom, roma, and cherry tomatoes to decorate this tart. The crust is a simple no yeast, olive oil-based crust that I make in my Thermomix® in just a few minutes, and then pre-bake in the oven to avoid it turning out soggy. I use this Wilton tart pan, which has a removable bottom so you get that perfect tart shape that is easy to remove from the pan every time.
This tomato tart is great when served with a salad (try balsamic vinaigrette) and is quite filling due to the crème fraîche. Sprinkle some basil on top for a final flavorful touch!
Crème Fraîche Tomato Tart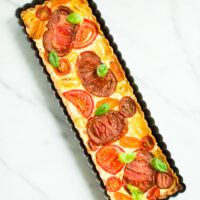 Crust
1 cup all-purpose flour
1/2 tsp salt
1/4 cup olive oil
1/4 cup water
Filling
1 8 oz package crème fraîche
1 heirloom tomato, sliced
1 roma tomato, sliced
1/2 cup variety of cherry tomatoes, sliced
Salt and pepper, to taste
1/4 cup Fresh basil, for topping
Add all of the crust ingredients to a Thermomix® and use knead mode for 2 minutes (alternatively, add to a food processor or stand mixer and mix).

Gently roll out into a rectangle shape and press into a 14-inch tart pan (see above).

Bake in the oven at 425 degrees F for 5 minutes.

Spread crème fraîche over the tart, then top with tomato slices.

Bake in the oven for 25 to 30 minutes, until tomatoes look roasted and crust is golden.

Top with salt, pepper and fresh basil.
Disclaimer: I participate in the Amazon Affiliates program.  I am a Thermomix® consultant and sell them as an independent business. "THERMOMIX," "VORWERK," "COOKKEY," and "COOKIDOO" are a registered trademark of VORWERK (or its affiliates). VORWERK does not support, authorize or endorse this site.