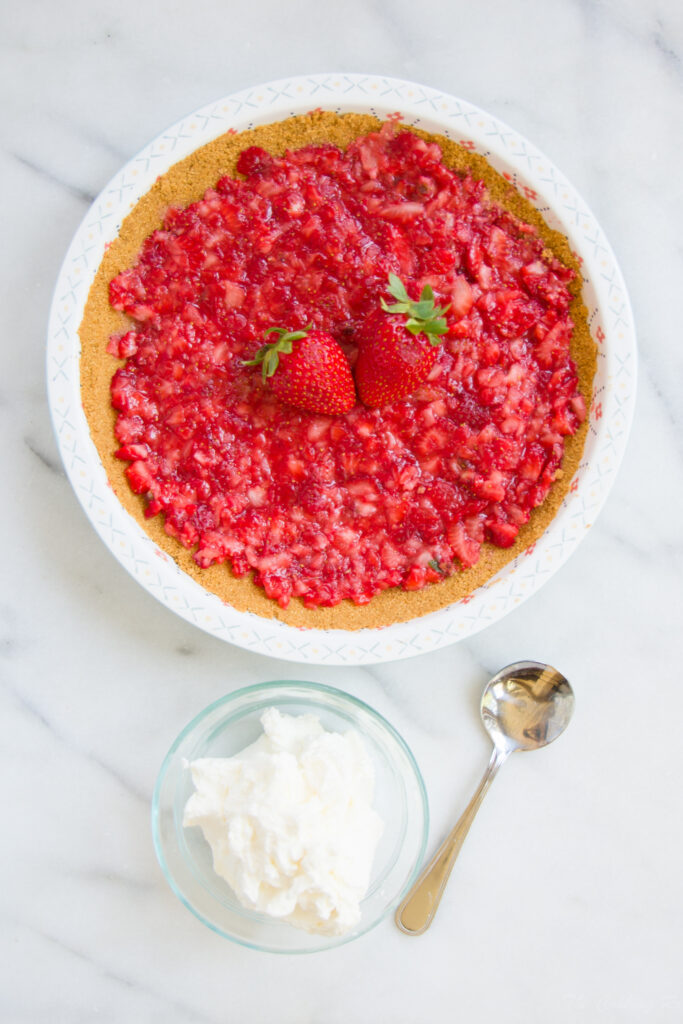 Every summer growing up, my mom would make us a strawberry pie. It never lasted more than a few hours once she finished, and that is how it is with my kids and husband at my house now! This no bake strawberry pie is so simple, using only the sweetest fresh organic strawberries and no added sugar. If you like your pie on the sweet side, I recommend adding the sugar, because the natural fruit may be tart. I like to make it without sugar, and serve it with whipped cream made from scratch in my Thermomix®. I also like not using the oven on a hot summer day to make this delicious, simple strawberry pie,
The graham cracker crust and strawberry filling are also made in my Thermomix®. First I crush the graham crackers on speed 10, then I blend the crushed graham crackers with the butter. After pressing the crust into a tart pan or pie dish, I place it in the refrigerator to chill (since this is a no bake pie). Next, I chop the strawberries and cook the strawberry filling in my Thermomix® mixing bowl until the strawberries are thick. After transferring the filling on top of the pie crust and placing it back in the refrigerator to set, I make fresh whipped cream in my Thermomix® using only heavy whipping cream and powdered sugar in about 2 minutes.
I hope you enjoy this simple strawberry pie as much as I do!
Simple Strawberry Pie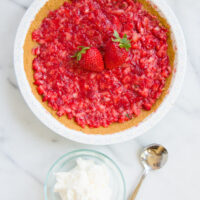 16 oz organic strawberries, rinsed and hulled
7 oz graham crackers broken up
3 oz unsalted butter, room temp
Add the graham crackers to a Thermomix® mixing bowl and crush on speed 10 for 5 seconds. Use a spatula to scrape down and repeat. Alternatively, use a food processor to crush the graham crackers into a fine powder.

Add the butter and mix on speed 5 for 5 seconds.

Press into a pie dish and chill in the refrigerator.

Add the strawberries and chop on speed 4 for 5 seconds.

Cook the strawberries on the varoma setting on speed 1 for 15 minutes using simmering basket on top instead of mixing bowl lid, then transfer to the pie and chill about 1 hour or until set.
Disclaimer: I am a Thermomix® consultant and sell them as an independent business. "THERMOMIX," "VORWERK," "COOKKEY," and "COOKIDOO" are a registered trademark of VORWERK (or its affiliates). VORWERK does not support, authorize or endorse this site.