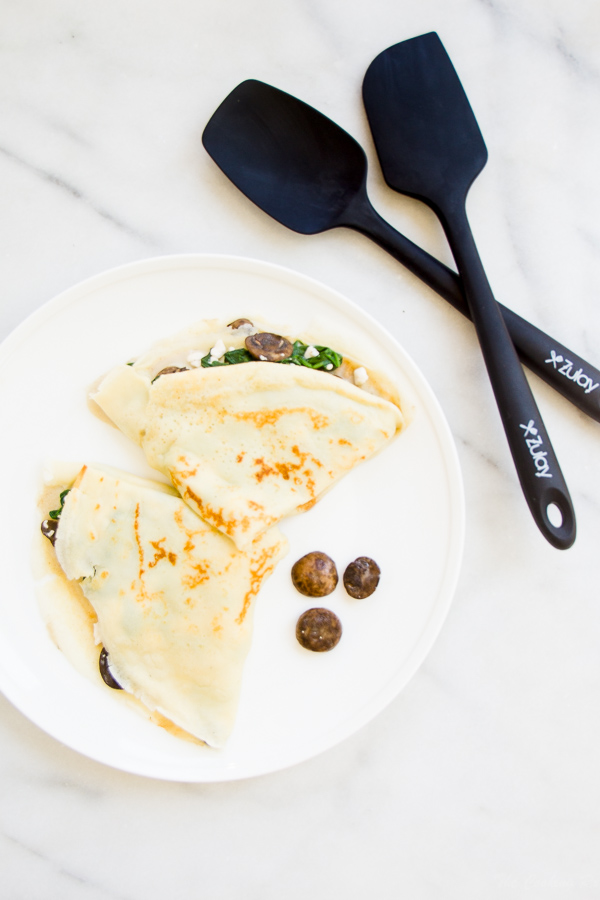 I could eat crêpes for breakfast, lunch or dinner, what about you? Do you like them sweet or savory? I love both, it just depends on my mood! I made these spinach, mushroom and cottage cheese crêpes for a late breakfast (brunch) the other day, and the family loved them! There were not any left over. I add a pinch of nutmeg to add a delicious flavor to these savory crêpes.
I made the crêpe batter and filling in my Thermomix®, and used my Zulay Kitchen heat-resistant silicone spatula set to work with the crêpes in the hot cast iron skillet. I have used bamboo, melamine, and plastic utensils in the past, and all of them have broken or warped within a year of use! These are sturdy, BPA-free, and healthy for use during cooking at higher temps. The angled spatula is perfect for turning the crêpes over, because the edge peels it from the sides of the skillet perfectly.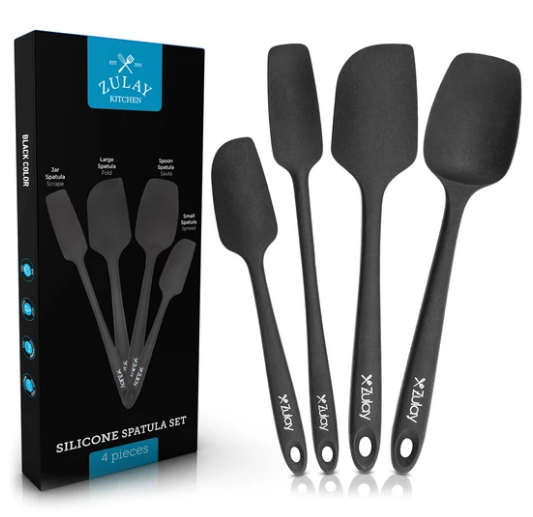 Spinach, Mushroom and Cottage Cheese Crêpes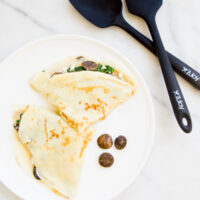 Filling
1 cup cottage cheese
2 cups fresh spinach leaves
1 package sliced crimini mushrooms (8 oz)
1 tsp nutmeg
1/4 tsp salt
1/4 tsp pepper
Crêpes
1/2 stick unsalted butter
2 cups flour
21 oz milk
4 eggs
1/8 tsp salt
Add the mushrooms to simmering basket of Thermomix® and fill the mixing bowl with 2 oz water. Steam on varoma setting for 4 minutes, then transfer to the mixing bowl after emptying the water and sauté on varoma setting for 4 minutes.

Add the spinach and cook for 2 minutes on varoma setting.

Add the cottage cheese and transfer to a mixing bowl.

Add the crepe ingredients and mix on speed 4 for 30 seconds. Let batter rest for 20 minutes.

Heat a cast iron skillet on medium heat and grease with butter.

Pour about 1/3 cup batter in the middle and swirl around the pan until set.

Cook for 1 minute, until bubbles form in the middle, then turn over carefully with a heat resistant spatula.

Top with spinach, mushroom, cheese filling and fold over twice.

Serve hot.
Disclaimer: I received the Zulay Kitchen silicone spatula set to review in this post – all opinions are my own. I participate in the Zulay Kitchen affiliate program and will receive commission if you choose to make a purchase. I am a Thermomix® consultant and sell them as an independent business. "THERMOMIX," "VORWERK," "COOKKEY," and "COOKIDOO" are a registered trademark of VORWERK (or its affiliates). VORWERK does not support, authorize or endorse this site.