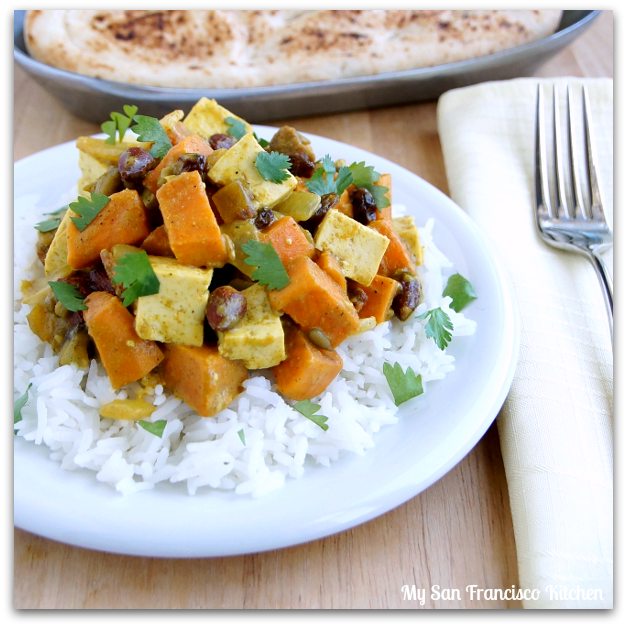 OK, I know I have been really bad about posting recipes this week, but it is my last week of my first rotation and it has kept me so busy! Tomorrow is my last day, then I have a short break before the next. I actually don't have any plans for my week off, but sometimes that is the best – to have a week of having absolutely NO PLANS! 🙂
This curried sweet potato and tofu dish is really easy to make during week nights, and perfect for "Meatless Monday" or any other time you are in the mood for a vegetarian dish. I love sweet potatoes, and I love curry, so this is one of my favorite dishes to make for lunch or dinner. It is not very spicy, but it is easy to add more spice to it if you wish. I used one NatureBox's Taj Mahal Snack Mix, which has curried nuts and raisins, to give it some more texture and flavor. You can see this recipe on the NatureBox blog here!
Are you a fan of curry? What about tofu? I used to dislike tofu, but it kind of grew on me! In fact, the other day I made some low-fat chocolate mousse made out of…you guessed it, tofu!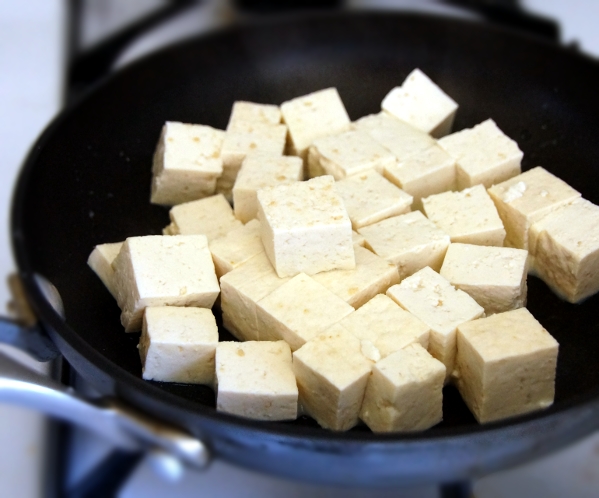 Curried Sweet Potatoes & Tofu
Ingredients
2 tbsp canola oil
½ onion, chopped
2 cloves garlic, minced
1 sweet potato, peeled and diced
½ cup NatureBox Taj Mahal Snack Mix (www.naturebox.com)
2 tbsp curry powder
¼ tsp ginger powder
1 cup light coconut milk
¼ tsp salt
¼ tsp ground black pepper
½ package (7 oz) extra-firm tofu, drained and cubed
Fresh cilantro for garnish
Instructions
Heat 1 tbsp canola oil in a large skillet over medium heat.
Add sweet potatoes, onion and garlic and simmer for 7 minutes, until onions are translucent.
Add the curry powder, ginger, pepper and coconut milk.
Stir well and simmer for 15 minutes.
In the meantime, heat 1 tbsp oil in a separate skillet over medium heat.
Add tofu and sprinkle salt on top. Stir occasionally while cooking for 4 minutes.
Remove from heat and set aside.
After the curry is done simmering (after about 15 minutes), potatoes should be tender.
Once done, add the tofu and Taj Mahal Snack Mix and stir well.
Serve immediately over jasmine rice and sprinkle freshly chopped cilantro over the top for garnish.
Serves 2