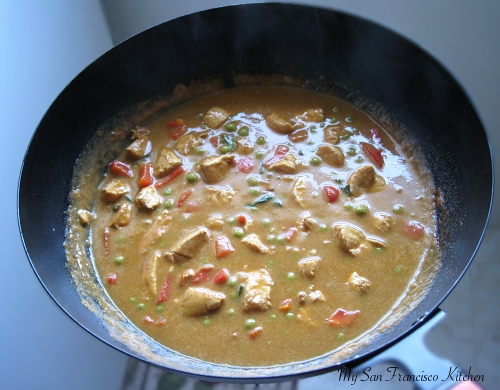 Happy Tuesday! What is everyone up to today? I have to work at the pharmacy today and then catch up on studying for the rest of the night when I get home. The other night I was experimenting with a new homemade Thai red curry recipe and it came out really flavorful and delicious. The only thing about curry recipes is that the ingredient list is always never-ending! Hopefully you have everything in your cupboard already, but if not write some of the ingredients you don't have down on your shopping list for next week. This red curry is made with chicken and vegetables like red bell pepper, carrots and peas. There is something so comforting about a warm meal at the end of the day. I LOVE Indian food. My doctor told me I am not supposed to eat it because it can cause eczema flare ups, but I can't cut it out of my life completely. I guess its the same with people who are lactose intolerant and being told they can't eat ice cream anymore…ummmm ya ok! Does anyone have a recipe for homemade Naan bread?? That is on my to-make list in the very near future, because Naan bread is also one of my favorite sides. Have a great week friends! XoXo

Ingredients
Red Curry Sauce
1 can light coconut milk
1 shallot
1 tsp ginger
4 cloves garlic
1 tsp cayenne pepper
2 tbsp ketchup
2 tbsp chili powder
½ tsp ground cumin powder
1 tbsp brown sugar
1 tbsp lime juice
2 tbsp minced fresh lemongrass (optional)
Red Thai Curry Ingredients
3 boneless, skinned chicken breasts, cubed
1 red bell pepper, chopped
1 carrot, peeled and chopped
⅔ cup peas
1 tomato, diced
½ cup plain yogurt
¼ tsp cinnamon
3-4 fresh basil leaves, chopped
Instructions
To make the red curry sauce, add all listed ingredients to a blender and purée.
Add to a wok or large skillet and heat over medium heat.
Add chicken and cinnamon and bring to a gentle boil then lower the heat and simmer for 20 minutes.
Add vegetables and simmer for 10 minutes.
Stir in yogurt and heat over low for 2 minutes while stirring.
Taste and add more brown sugar or spices (cayenne pepper, chili powder, cinnamon, ginger...) for desired flavor (more sweet or spicy depending on your taste!).
Serve hot over jasmine rice and top with fresh chopped basil leaves.
This post is sponsored by: