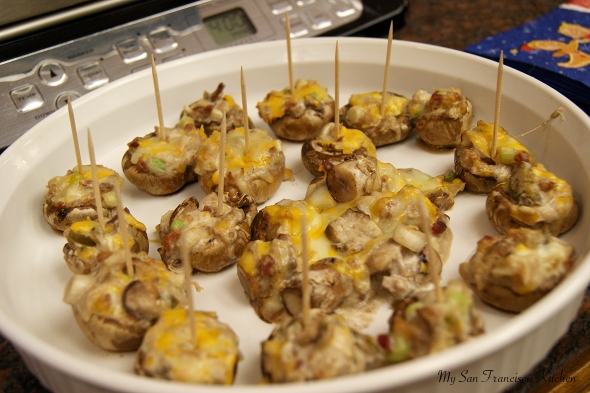 When I went home for the holidays, my Dad made these incredible stuffed mushrooms for New Year's Eve. I myself am not a huge mushroom fan, but these make a wonderful appetizer. Thanks for the secret recipe, Dad 🙂

Ingredients
16 large white mushrooms, stemmed
5 mushroom stems, chopped
¼ cup green onions, chopped
¼ cup jalapeños, chopped
¼ cup cooked bacon, chopped (or Real Bacon Bits)
1 8oz package of cream cheese
1 tbsp sherry wine
¼ cup shredded jack, cheddar, mozzarella mix
Instructions
Preheat oven to 350 ºF.
Cook bacon in a skillet and chop (if not using Real Bacon Bits).
Place green onions, jalapeños, bacon bits, mushroom stems, and cream cheese in a medium-sized bowl.
Microwave 20 seconds to soften.
Mix all ingredients together with a fork.
Place mushrooms on a baking sheet about ½ inch apart.
Sprinkle a few drops of sherry into each mushroom.
Spoon ingredients from bowl into each mushroom.
Sprinkle shredded cheese mixture on top of each mushroom.
Bake at 350 ºF for 25 minutes. Mushrooms should be cooked through.
Serve with toothpicks in the center of each mushroom.
Makes 16 stuffed mushrooms
This post is sponsored by: