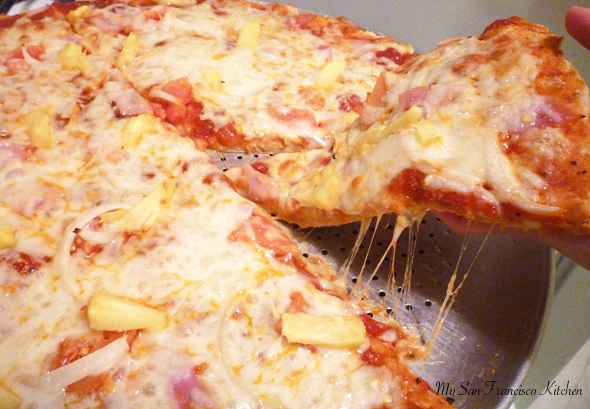 I realized I haven't made one of my favorite foods and all-time guilty pleasures since I started this blog, and couldn't believe it has been so long! No wonder I was craving some pineapple pizza the other night. No matter how starving I am, I can never come even close to finishing a whole pizza pie by myself, but I always make a whole pizza because I will always enjoy the leftovers for the next 2 days…
This whole wheat, homemade Hawaiian pizza is made from scratch with whole wheat flour, a touch of olive oil, chunky tomato sauce, onions (not traditional, but I am an onion lover), fresh pineapple chunks, healthy ham from Trader Joes, and mozzarella cheese.

Whole Wheat Hawaiian Pizza
Ingredients
Crust
1½ cups whole wheat flour
1 cup all purpose flour
2¼ tsp rapid rise yeast
1 cup warm water
½ tsp sugar
½ tsp salt
2 tbsp olive oil
Toppings
1½ cups pizza sauce
2 cups mozzarella cheese, shredded
½ cup fresh chopped pineapple
½ cup diced healthy ham
¼ cup sliced onions
Instructions
Crust
In a large bowl, add yeast, sugar, and warm water. Let stand 7 minutes.
Add salt, olive oil and 1 cup of flour and stir with a fork.
Add remaining flour in portions, stirring in between.
Knead dough with floured hands on a floured surface for 10 minutes.
Place back in bowl and cover with a damp towel. Let rest for 45 minutes.
Punch down and let rest 30 minutes.
Preheat oven to 435 ºF.
Roll dough as thin as desired on a floured surface, and carefully transfer to a greased pizza pan.
Quickly pour a small amount of olive oil over dough, and spread around with hands or brush to cover with a very thin coat.
Pour pizza sauce (sometimes I used pasta sauce and add oregano and basil) over dough and spread with a spoon.
Add onions and ham.
Cover with mozzarella cheese.
Top with pineapples.
Bake for 20 minutes at 435 ºF. Check at 15 minutes for browning. Crust should be very firm, and the cheese should just START to brown a little.
This post is sponsored by: