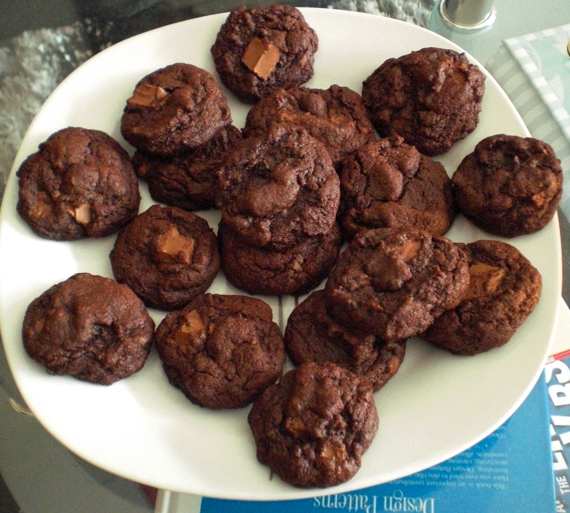 This one is for all of my chocolate lovers out there! This cookie recipe is one of the fastest and most delicious I have ever tried. You can use either semi-sweet chocolate chips, or break up your favorite chocolate bar into small, bite-sized pieces to mix into the batter at the end. You can half the recipe to make less.

Ingredients
1 cup butter (2 sticks, room temperature)
1¼ cups white sugar
2 eggs
2 tsp vanilla
2 cups all-purpose flour
⅔ cup unsweetened cocoa powder
¾ tsp baking soda
¼ tsp salt
2 cups semi-sweet chocolate chips (or chopped up chocolate bar)
Instructions
Preheat oven to 350° F (175° C). In a mixing bowl, beat room temperature butter, sugar, eggs, and vanilla until creamed together. In a separate bowl, mix flour, cocoa, baking soda, and salt with a fork.
Add flour/cocoa/baking soda/salt mixture a little at a time into butter/sugar/eggs/vanilla mixture by beating at low speed until well blended.
Mix in chocolate chips/pieces by hand without over-beating the batter. If oven is still preheating, let chill in refrigerator for a few minutes (I find this helps the cookies keep their shape).
Using a teaspoon, drop batter onto cookie sheets, leaving an inch around each cookie drop. Place into oven and bake for 8-10 minutes. Do not over-bake or cookies will be hard. Let cool 2 minutes before transferring to a cooling rack.
Makes 4 dozen small cookies
This post is sponsored by: