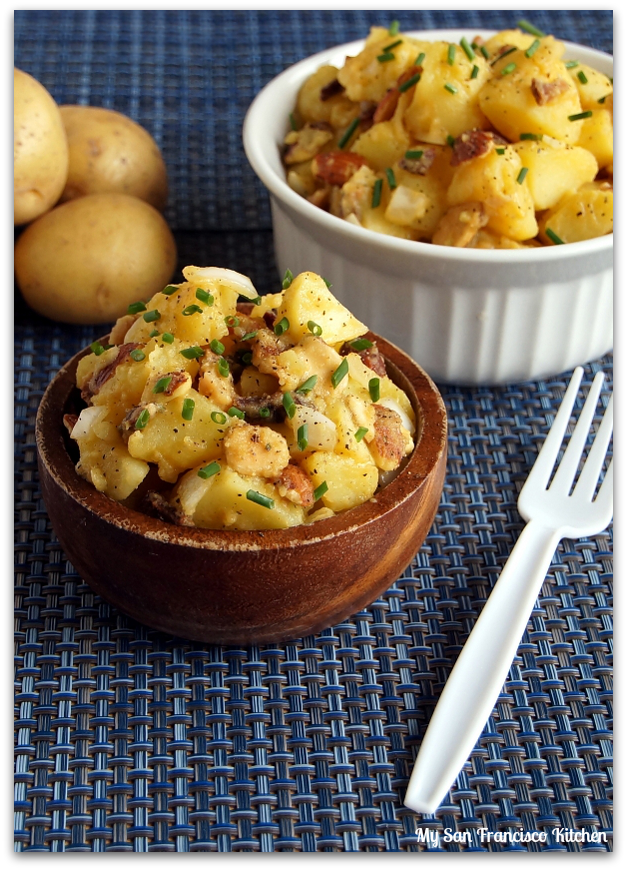 I used to love eating potato salad during summer gatherings, especially since my mom makes a mean potato salad…that is, until I found out how fattening it is! I guess potato salad is no different in that regard than everything else that tastes good. I still love it, but never let myself indulge the way I used to. I was thrilled when I found out in Southern Germany they have a potato salad recipe that doesn't use mayonnaise! Although potato salad is carb-heavy, it makes it so much less fattening without the mayo. Instead, they use a light mustard vinegar dressing, and allow the potatoes to soak up vegetable broth that gives them a great flavor. This is an authentic German potato salad recipe, thanks to my mother-in-law for the great tips! The bacon is optional. I also used sour cream and onion almonds from NatureBox to give my potato salad some crunch and extra flavor. Remember, it is important what kind of potatoes you use for potato salad – I found that Yukon gold potatoes do not fall apart very easily and worked really well for mine.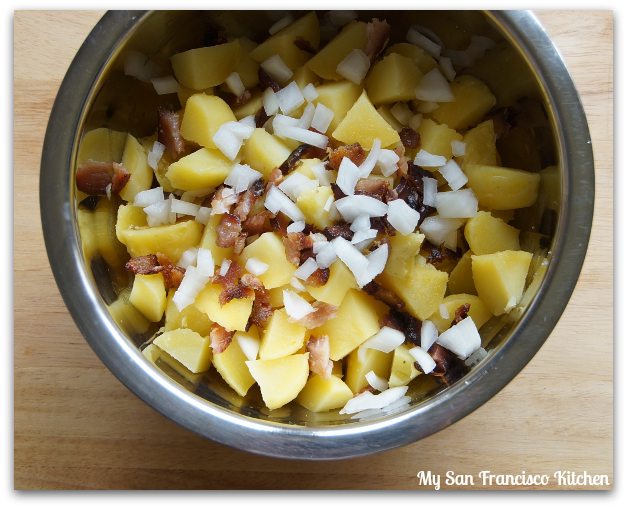 German Potato Salad
Ingredients
1.5 pounds (~10 small) Yukon Gold Potatoes
6 cups salt water
½ onion, diced
½ cup vegetable broth
1 tsp Dijon mustard
⅓ cup crumbled cooked turkey bacon
2 tbsp apple cider vinegar
3 tbsp olive oil
¼ tsp salt
½ tsp pepper
½ cup NatureBox Sour Cream & Onion Almonds www.naturebox.com
Freshly chopped chives for garnish
Instructions
Bring a large pot of salt water to boil.
Add the unpeeled potatoes and boil for about 25 minutes (a fork should pierce the potatoes easily when done).
Drain the water and let the potatoes cool for 10 minutes.
Peel and cube the potatoes, then add them to a large mixing bowl.
Heat the vegetable broth in a small pot over medium heat until it starts to boil.
Remove from heat and pour over the potatoes (they will soak up the broth).
Add the onion, mustard, bacon, vinegar, oil, salt, and pepper. Mix well.
Add the NatureBox Sour Cream & Onion Almonds and toss well.
Chill for at least 30 minutes before serving.
Garnish with freshly chopped chives.
Makes 6 cups
See this post on the
NatureBox blog
this week!