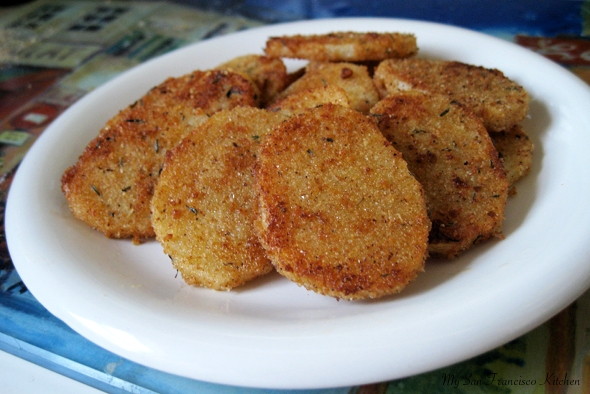 Add this crispy circle potato recipe to any meal as a side, or make them simply for a snack! Play with the seasonings, there are many variations you can try 🙂

Ingredients
1 russet potato, peeled
½ cup plain bread crumbs
1 egg
1 tbsp water
¼ tsp salt
¼ tsp pepper
¼ tsp thyme
¼ tsp garlic salt
¼ tsp paprika
¼ tsp all-seasoned salt
¼ cup vegetable oil
Instructions
Using a mandoline slicer, slice a peeled potato on 3/16 setting (if you don't have a mandoline slicer, slice in thin coins).
With a fork, beat egg and water well in a medium-sized bowl. Place potato slices in egg mixture, and let sit 5 minutes.
On a plate, mix bread crumbs with seasonings.
Add ¼ cup vegetable oil to skillet and heat on high.
Once oil is hot, coat potato slices in bread crumb mixture on each side, and toss into skillet one by one.
Turn after about 30 seconds on each side, careful not to burn.
Transfer to a plate covered with a paper towel to drain grease.
Makes about 12 slices per potato.
This post is sponsored by: