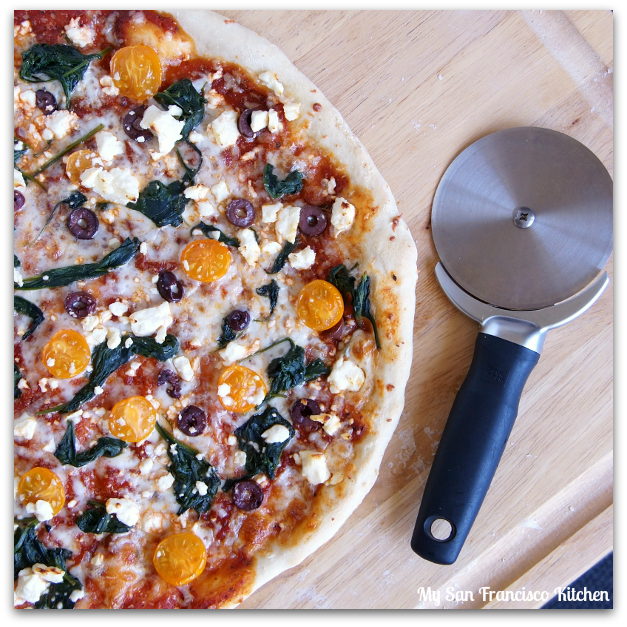 I know it is cliché to say pizza is one of my favorite foods, but it's true, homemade pizza will always be on my top 5 favorite dishes! What I love most about making pizza from scratch is that you can add almost ANYTHING to it – all of the veggies you want! This homemade Greek pizza recipe is made with spinach, feta cheese, tomatoes and olives. It makes one large pizza (16 inches), but you can double the recipe to make two. I try not to use a lot of cheese, so feel free to increase the amounts of the toppings to your preference!
For this recipe, I used my new Super Peel® to help transfer my dough from the counter to the pizza pan, and then from the pizza pan to the wood cutting board for serving (see photos). Before I had this wonderful tool, I would usually mess up the pizza during one of the two transfers (or even both!). After all of my hard work, I would end up with holes in my dough or a mess for a pizza during my attempts to transfer the whole pizza from the pan over to my cutting board. Even my husband's two hands did not help much when he was available to help me.The Super Peel® is the ultimate dough transfer tool, and perfect for us home bakers! A nonstick pastry cloth acts as a belt to easily transfer dough to and from the oven. You can use it for pizzas, pies, pastries…It only took me a few minutes to get it ready for use, and I was very surprised at how great it works. It does NOT stick to the dough at all, and keeps your creation completely intact. Here are some videos to learn more about how it works: http://www.superpeel.com/videos.html
GIVEAWAY! Our friends at Super Peel® generously offered to send one reader a free Super Peel®. All you have to do to enter is submit your email address via the Rafflecopter widget below, and leave a comment answering the question "What is your favorite pizza?" You can earn additional "entry points" by completing other tasks outlined for you on the widget below. One winner will be chosen via Random.org. The more entries you have, the better chance you have to win! You must have a U.S. shipping address to enter, sorry! Giveaway ends 10/01/13 at midnight, and the winner will be notified via email. Good luck!
Now back to this delicious pizza…
After you have prepared your dough, toss it or roll it out to the desired thickness and place the edge onto the edge of the Super Peel® (this step is not necessary – if the dough is sticky, the Super Peel® will pick it up easily just by placing it next to the dough).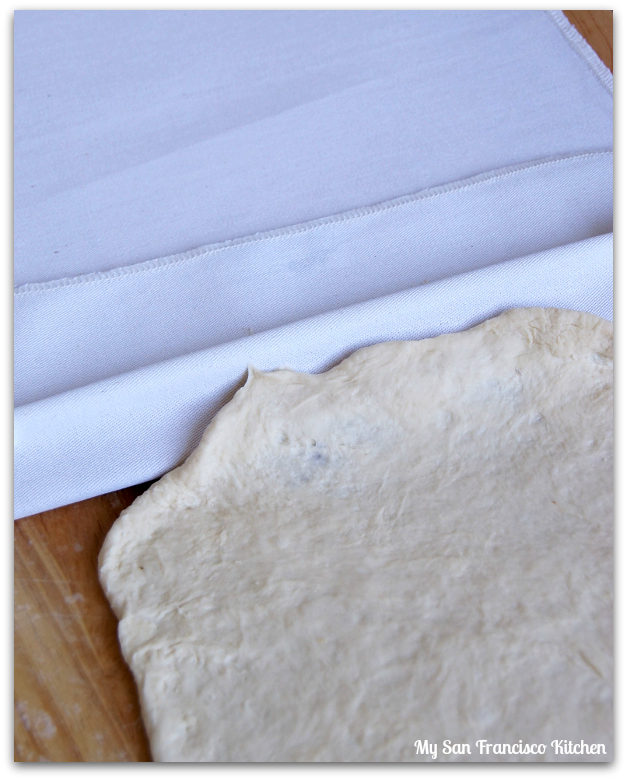 Slide the Super Peel® underneath the dough at the same time as pulling the clipped bar up to the top of the peel.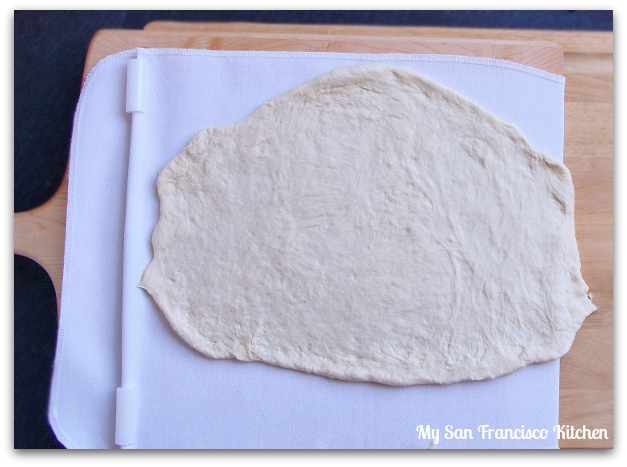 Transfer the dough onto your pan and dress it up with toppings!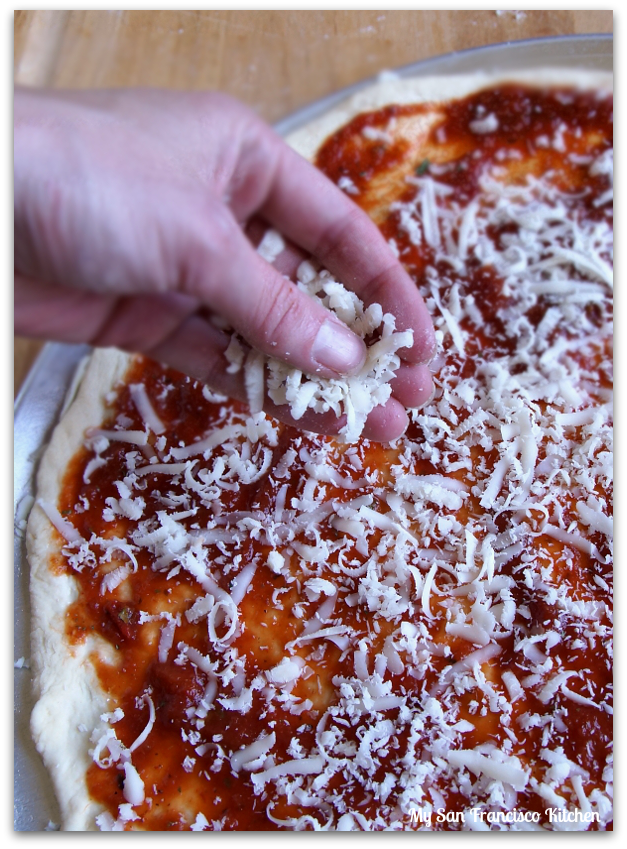 After it is done baking, place the edges of the crust onto the Super Peel® and slide the peel underneath while pulling the clipped bar up.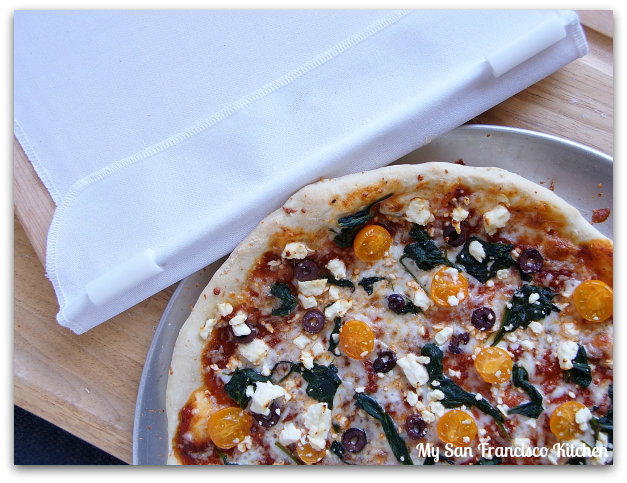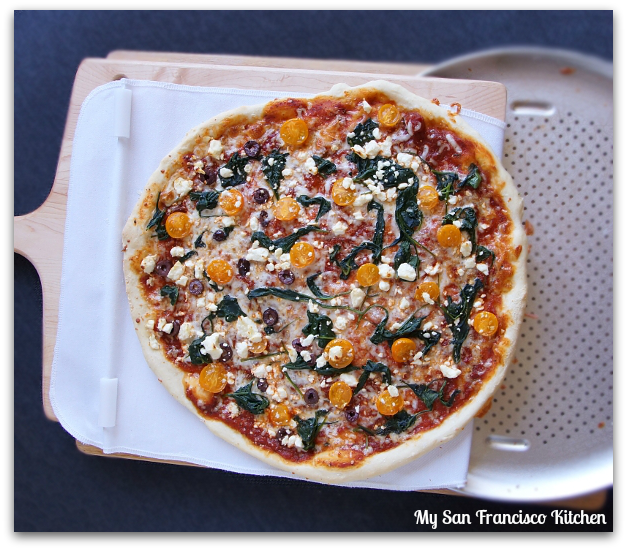 Wa-lah! You have a perfect, mess-free pizza!

Greek Pizza
Ingredients
½ cup luke warm water
1 tsp yeast
½ tsp sugar
½ tsp salt
2 tbsp olive oil
1¼ cups all-purpose flour (more as needed)
1 cup pizza sauce
1 cup shredded mozzarella cheese
12 cherry tomatoes, halved
¾ cup cooked spinach
⅔ cup feta cheese
¼ cup sliced olives
Instructions
Add water, yeast and sugar to a bowl and let stand 7 minutes to activate the yeast.
Add salt, olive oil, and half of the flour. Stir.
Add the remaining flour a little at a time while stirring. Dough should not be very sticky - add more flour until it is elastic and does not stick a lot to your hands.
Knead for 10 minutes.
Let rest for 2 hours, covered.
Preheat oven to 435 degrees F.
Roll out to desired thickness, then transfer to a greased pizza pan.
Spread the pizza sauce over the crust, then top with remaining ingredients.
Bake for 15-20 minutes, until cheese just begins to slightly brown (for a crispier crust).
Cool 3 minutes before transferring to a cutting board and serving.
Makes one 16 inch pizza
a Rafflecopter giveaway
Disclaimer: A Super Peel® was provided for review. All opinions in this review are my own.