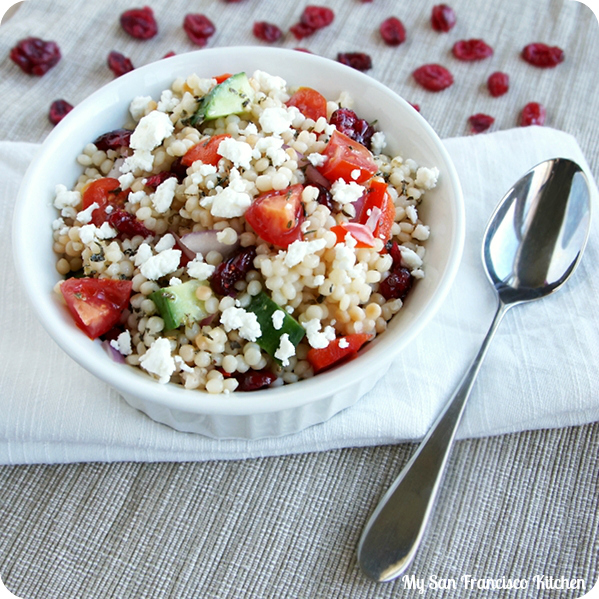 I have had a busy week studying for my one and only midterm this quarter (don't laugh, it's really hard stuff!), so this calls for a easy lunch recipe: dried cranberry couscous salad! I used to always serve couscous as a side to a main dish just plain, but after I started experimenting with adding ingredients I realized there are many possibilities to liven it up. I love the flavor the dried cranberries add to this fresh salad, and the combination of cucumber and feta cheese is delicious. This couscous salad is an easy addition to your lunch bag: just throw all of the ingredients in a tupperware and you are on your way. It is best served chilled, but room temperature is also fine. You can eat it as-is or with an herb vinaigrette.
Yesterday I finally made time to get my hair trimmed. Am I the only woman who doesn't enjoy getting my hair done? It just takes so much time! I always put it off as long as I can. Yesterday I looked in the mirror and said, "OK, I really need to get my hair cut." I have been going to the same hair stylist for 2 years and she still doesn't know my name, she just knows me as "flat iron girl." Every time I see her she scolds me for using a straightener, especially because at each visit with her I promise her I will stop using is as much (which never really happens).
Anyways, back to this delicious couscous salad:

Dried Cranberry Couscous Salad
Ingredients
2 cups Israeli couscous
2 tbsp olive oil
2⅔ cups water
½ cup crumbled light feta cheese
1 red bell pepper, chopped
¾ cup NatureBox dried cranberries (http://www.naturebox.com)
2 tbsp red onion, finely chopped
10 cherry tomatoes, sliced in halves
½ cup cucumber, chopped
Instructions
In a medium-sized saucepan, heat olive oil over medium heat.
Add couscous and stir occasionally over 5 minutes, until lightly browned.
Add water and bring to a boil.
Cover and turn down heat to low.
Simmer for 10-15 minutes, until water is absorbed.
Transfer to a large bowl and let rest 10 minutes to cool.
Stir in red bell pepper, cranberries, red onion, cherry tomatoes and cucumber.
Drizzle herb vinaigrette over the top and toss everything together.
Sprinkle crumbled feta cheese over the top, or mix in.
Serve chilled.
Nutrition Information
Serving size:
1
Calories:
594
Fat:
5.6g
Saturated fat:
3g
Sugar:
25g
Sodium:
533mg
Fiber:
8g
Protein:
11g
This post is sponsored by: