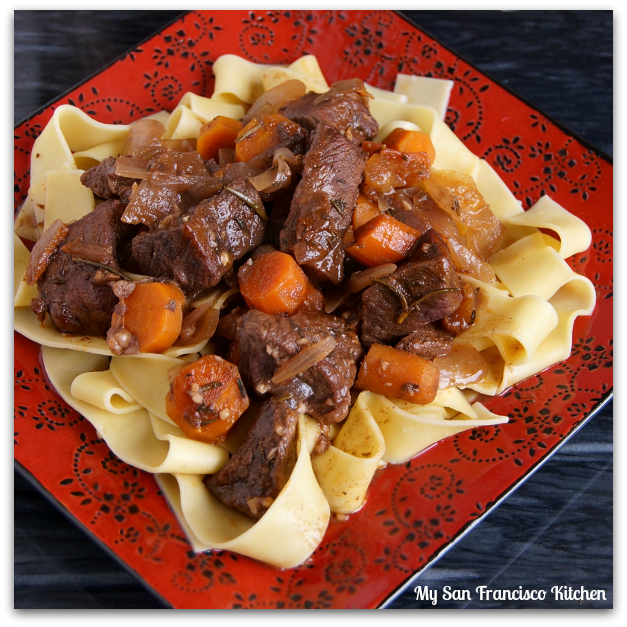 In some ways, French cooking can be intimidating. I found this Beef Daube Provençal recipe in my latest edition of Cooking Light, and the list of ingredients were very long and included many different flavors. I gave it a shot anyway, and it turned out delicious! In the end, the beef turns out very tender and flavorful. I would not change a thing to this recipe. Daube is a classic stew made with beef that originated in Provence, France. The beef is braised and cooked slowly in a dutch oven (I used my oven-proof enameled cast iron pot with a lid), but you can also use a slow-cooker for this recipe. The length of time required to cook this dish is essential for the rich flavors you get in the end.
Tomorrow is my last day of my current rotation, and Monday I start a new one. This upcoming rotation is rumored to be the hardest, with 6 days a week and 12 hour days. I don't think I will have much time to spend in my kitchen or posting recipes as often, but I know I will need a break sometimes and will find myself doing both as much as possible. I am excited because I will learn a lot, but I already know I will be tired much of the next 6 weeks! Fabi keeps telling me that it is only 6 weeks, and I will get through it.
Don't forget to enter the Super Peel® giveaway before Monday!
Ready to try this recipe?!
Step 1: Add the oil, then brown the garlic and stew meat. Add the salt and pepper.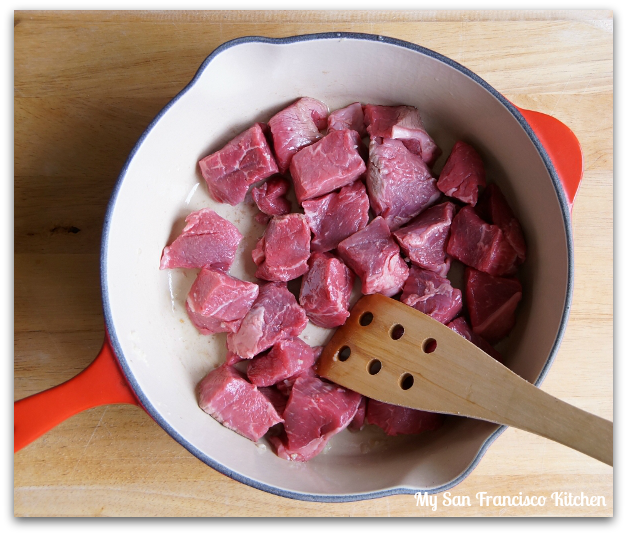 Step 2: Remove the meat, and add the wine. Bring to a boil and scrap the pan.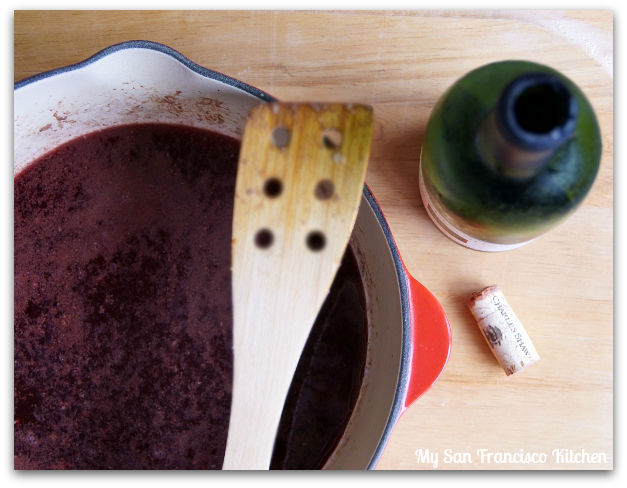 Step 3: Cut up your vegetables, and add the meat and vegetables back into the pan, along with the broth and herbs.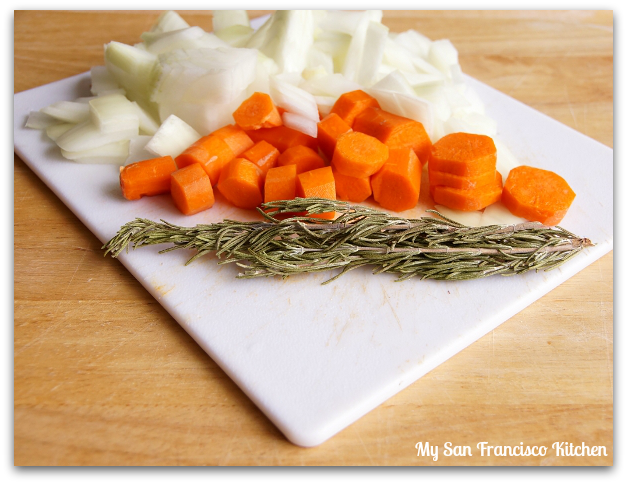 Step 4: Cover and bake for 2.5 hours.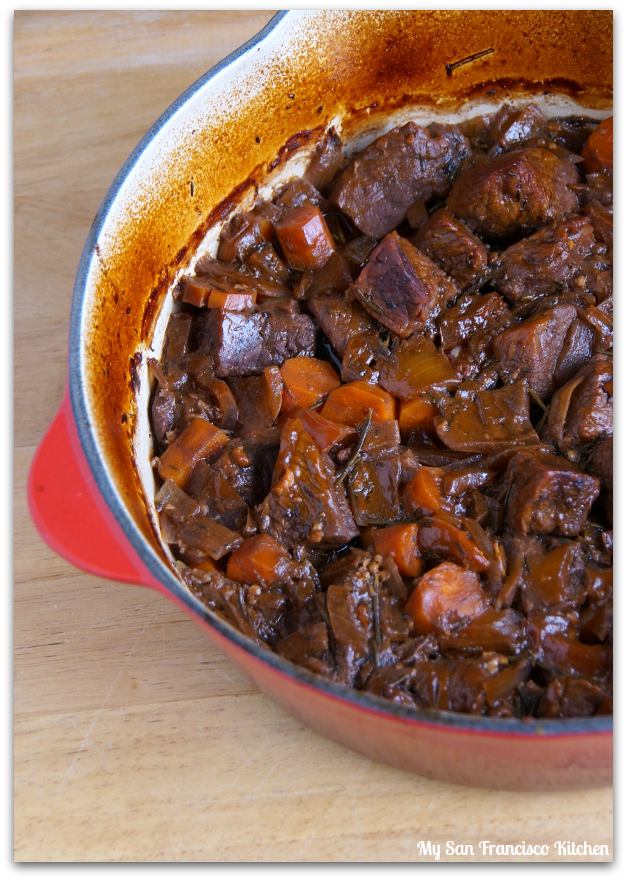 Step 5: Serve over egg noodles.
Beef Daube Provençal
Ingredients
1 tbsp canola oil
6 garlic cloves, minced
1 (2-pound) boneless chuck roast, trimmed and cubed
1 tsp salt
½ tsp freshly ground black pepper
1 cup red wine
2 cups chopped carrots
1½ cups chopped onion
½ cup lower-sodium beef broth
1 tbsp tomato paste
1 tsp chopped fresh rosemary
1 tsp chopped fresh thyme
1 tomato, diced
1 bay leaf
Instructions
Preheat oven to 300 degrees F.
Heat a Dutch oven (or oven-proof cast iron pan with a lid) over low heat.
Add olive oil and garlic, and cook for 5 minutes.
Transfer the garlic to a medium-sized bowl (you will need for beef later on) and add the beef to the pan.
Sprinkle the salt and pepper over the meat, and brown all sides.
Remove the beef and add the wine.
Bring to a boil and scrap the pan.
Add the garlic, beef and remaining ingredients.
Bring to a boil and cover.
Bake in the oven for 2 and ½ hours.
Discard the bay leaf and serve over cooked egg noodles.
Note: To cook in a slow-cooker, cook on HIGH for 5 hours.
 Recipe adapted from Cooking Light, featured October 2013