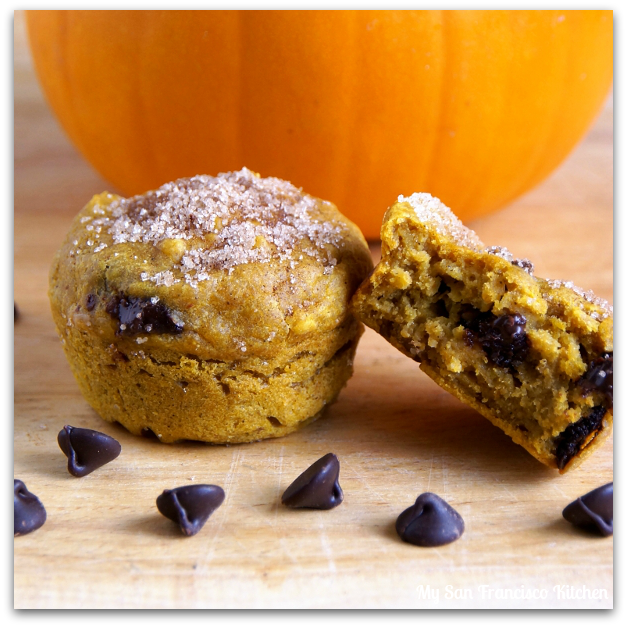 Fall is here!
Yesterday I went to the grocery store and when I came home, I burst through the door with a few pumpkins and ran to show Fabi what I found. To my disappointment, he only responded that he thought something actually exciting happened, but hey, I was excited! When pumpkins hit the grocery stores, fall is official. Let the pumpkin treats begin! Here is my first one for you – Chocolate Chip Pumpkin Muffins. These moist pumpkin muffins are spiced with cinnamon and ginger. I added chocolate chips and walnuts, but you can add other nuts or just enjoy them plain. They aren't too sweet, so they go great with morning coffee or afternoon tea. I ate 4 once they were finished – oops.
What is your fall bucket list? Here is mine:
1) Buy some cute new boots … and sweaters … and jeans … and scarves!
2) Experiment with baking and cooking new pumpkin recipes until I never want to hear the word "pumpkin" again
3) Pumpkin patch & carving (I haven't done that since I was little!)
4) Decorate for Halloween & find a costume
5) Go for a Fall hike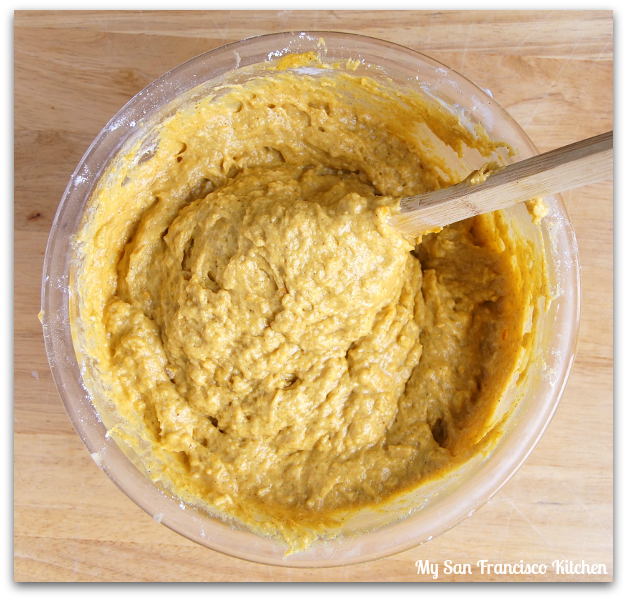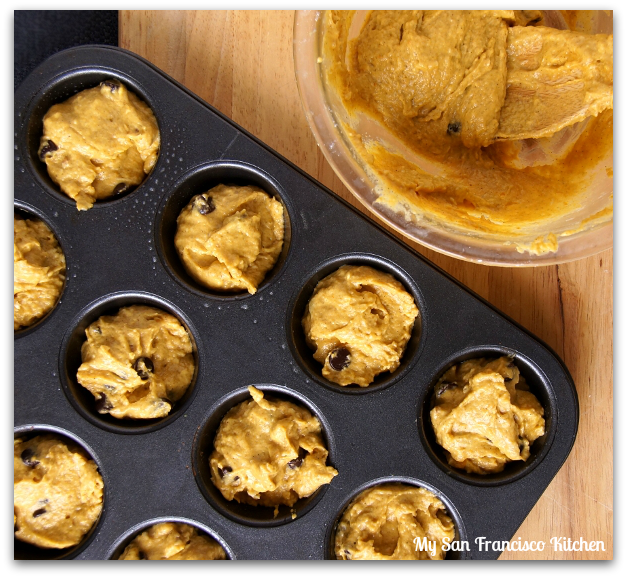 Chocolate Chip Pumpkin Muffins
Ingredients
1 can organic pumpkin (or 1½ cups pumpkin purée)
2 eggs
½ cup sour cream
½ cup brown sugar
¼ cup granulated sugar
5 tbsp butter, melted
¼ cup milk
2 cups all-purpose flour
1 tbsp baking powder
½ tsp salt
1 and ½ tbsp cinnamon
1 tsp all-spice (optional)
½ tbsp ground ginger
½ cup chopped walnuts
½ cup semi-sweet chocolate chips
Instructions
Preheat oven to 350 degrees F.
Add pumpkin, eggs, sour cream, sugars, and butter to a mixing bowl and stir well.
In a separate bowl, whisk together the flour, baking powder, salt, and spices.
Stir in the dry ingredients to the pumpkin batter a little at a time, then add the milk.
Stir in the chocolate chips and walnuts.
Spoon the batter into a greased muffin pan.
Bake for 30 minutes, until a toothpick comes out clean.
Remove from oven and sprinkle with cinnamon sugar. Let cool 5 minutes, then transfer to a wire cooling rack.
Makes 16 muffins