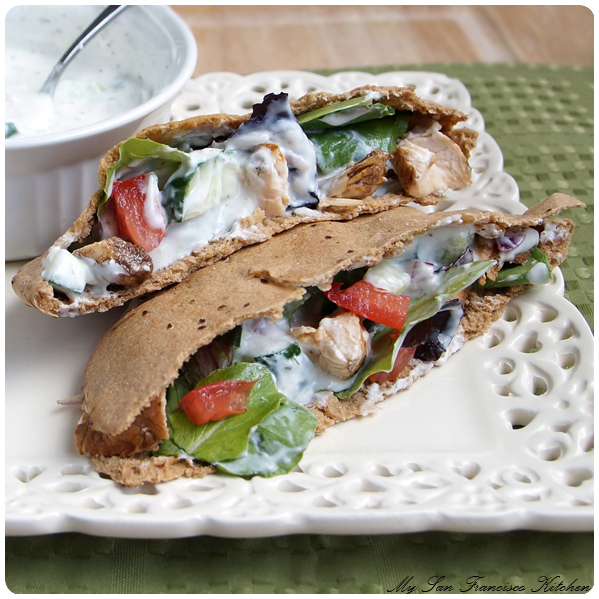 In college there was this awesome little restaurant called "Pita Pit" close to my apartment … think Subway, but just with pitas! This is my favorite chicken pita recipe because it is super easy and packed with fresh flavor. I don't have a grill, so I use my George Foreman grill to make the chicken. The yogurt dressing is made with organic plain yogurt, fresh cucumber, lemon juice, dill and red onion. Chill it in the refrigerator for a while before serving over the chicken pitas.
I am so happy it is Friday! Last night Fabi and I went out to eat (Thai food – yummm) since we have both been sick and neither of us felt like cooking. I have had this annoying cold for the past few days, and not only has getting to class early in the morning been quite the effort, but trying to catch up with all of the material and study in the afternoons after class has been even worse. I find myself staring at one lecture slide for several minutes before realizing I'm zoning out and falling asleep at my desk. We have already been getting slammed with so much material this quarter because we are learning antibiotics and mental health diseases.
Have a great weekend! We are planning on watching the air show since it is "Fleet Week" in San Francisco!
Grilled Chicken Pita with Cucumber Yogurt Dressing
Ingredients
Marinade
2 organic, free range chicken breasts
¼ cup olive oil
¼ cup balsamic vinegar
Cucumber Yogurt Dressing
1 cup organic plain low-fat yogurt
½ cup chopped organic cucumber
1 tbsp finely chopped red onion
1 tbsp freshly squeezed lemon juice
¼ tsp pepper
½ tbsp fresh or dried dill
Other
Organic romaine lettuce
Chopped organic tomatoes
Whole wheat pita bread
Instructions
Add chicken breasts, olive oil and balsamic vinegar to a large plastic ziplock bag and shake well.
Chill in the refrigerator for at least 30 minutes.
Add yogurt, dill, chopped cucumber, chopped red onion, lemon juice and pepper to a bowl and mix well. Chill in the refrigerator until ready to serve.
Heat up the pitas in an oven (350 degrees F for 5 minutes).
Grill the chicken breasts (indoor or outdoor) and slice into strips or small pieces.
Add pre-washed romaine lettuce to a bowl and toss with yogurt dressing.
Stuff pitas with the salad and add chopped tomatoes and chicken on top (or mix in with the dressing and salad first before stuffing the pitas if you prefer!).
Makes about 4 pitas
This post is sponsored by: