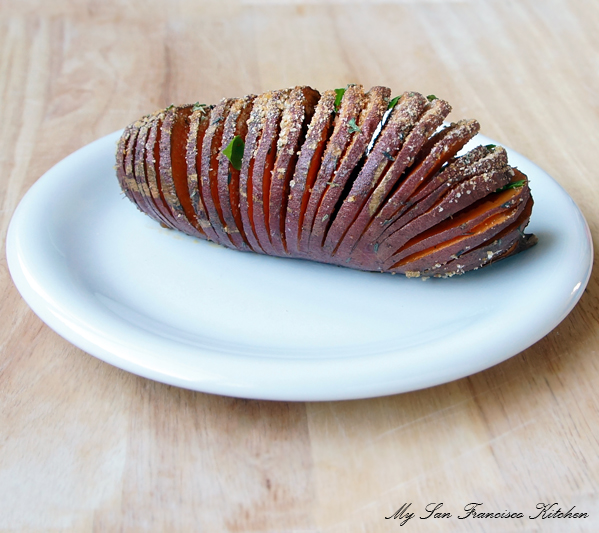 The other night my husband found this article on some news website about the top healthiest foods, and after discovering that he doesn't like almost all of them (or so he claims), I challenged him to try them again! So I went to Safeway and bought black beans, lentils, sweet potatoes and other foods on the list to make him try. I have to admit, I have never tried to cook sweet potatoes. I am a huge fan of sweet potato fries, but since this was the only time Fabi tried them and says he didn't like them, I felt like trying something different with the sweet potatoes. OK – Is there anyone Swedish out there? Ever since I saw hasselback potatoes I became infatuated. I tried to find out the origin, but there is not much information out there on the origin of hasselback potatoes. Some claim Sweden is where they originated. Is this really the typical way potatoes are baked in Sweden? Don't they just look super fancy? Well, maybe not mine (this was my first time attempting to make them), but if you do a quick image search on Google you will find some pretty incredible looking hasselback potatoes. There are many recipes out there, but I combined a few ideas here and there to come up with my hasselback sweet potato recipe. I used my toaster oven to save energy. They almost remind me of sweet potato fries because of the crispy breadcrumbs! MMMM <3 They were husband-approved 🙂 One down, 5 to go…

Hasselback Sweet Potatoes
Ingredients
2 medium sweet potatoes
1 tbsp butter
1 tbsp olive oil
1 tsp thyme
Salt and pepper
2 tbsp bread crumbs
Fresh parsley for garnish
Instructions
Preheat oven to 425 degrees F.
Wash and dry sweet potatoes very well.
Carefully make thin slices about ⅔ down along each sweet potato.
Melt butter in microwave for 15 seconds and add olive oil, thyme, salt and pepper. Mix well.
Drizzle half of the butter over each potato, leaving half for later. Use fingers to spread all around, and get in between the slices as much as you can.
Bake for 30 minutes, then remove and sprinkle breadcrumbs over each potato, getting in between slices.
Drizzle remaining butter mixture over the potatoes and bake for another 15 minutes.
Remove from oven, garnish with fresh parsley, and serve warm.
This post is sponsored by: