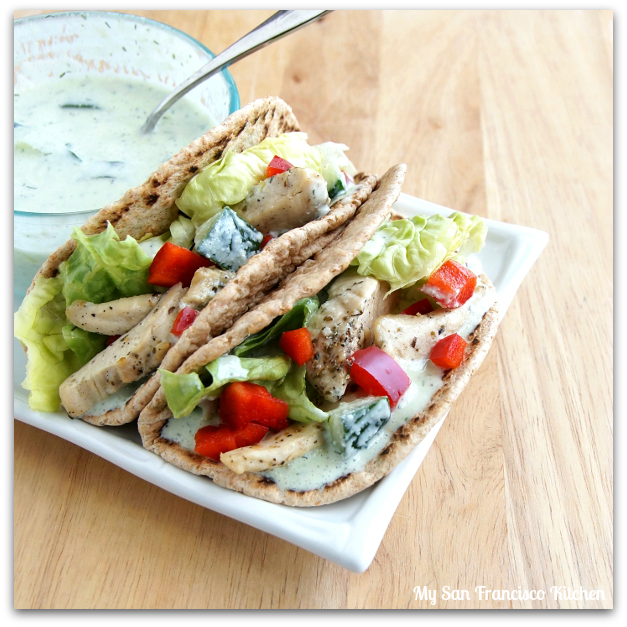 Have you ever gone to the grocery store with a mental shopping list of 4 items and you come back with almost more than you can carry in one trip up the stairs and a $100+ bill? I never learn not to go grocery shopping when I am hungry! I am still getting the hang of this full-time working thing, and some days I still miss my old student life. It takes a lot of time management to balance work with chores at home. Tonight I spent what seemed like an hour doing the dishes that have piled up in my sink for a few days (gross, I know – like I said, its only week 2 of this whole working full-time thing!!).
Gyros are one of my favorite foods! They are really easy to make at home for a healthy lunch or dinner. I made tzatziki dressing for them, which is just yogurt, garlic and cucumbers. I also chopped up some lettuce and red bell pepper and wrapped them up in whole wheat flat bread. You can also add some chopped red onion, but I hate red onion so I didn't add them! They were so light and refreshing.
I just found out from my husband's Greek friend that I have been pronouncing "gyros" incorrectly my entire life. Instead of the American way of pronouncing words just how they look like they sound, gyros is actually pronounced "YEEROS", and you say it really fast. Maybe someday you will have the pleasure of hearing a Greece native pronounce it for you – I will probably never be able to say it 100% correctly, but at least I sort of have an idea now!
Thank goodness it is the weekend. Tomorrow morning I plan on going for a nice long run, then birthday shopping for my husband downtown. Oh, and I have a really exciting event coming up that I can't wait to share with you guys next week!! Stay tuned 😀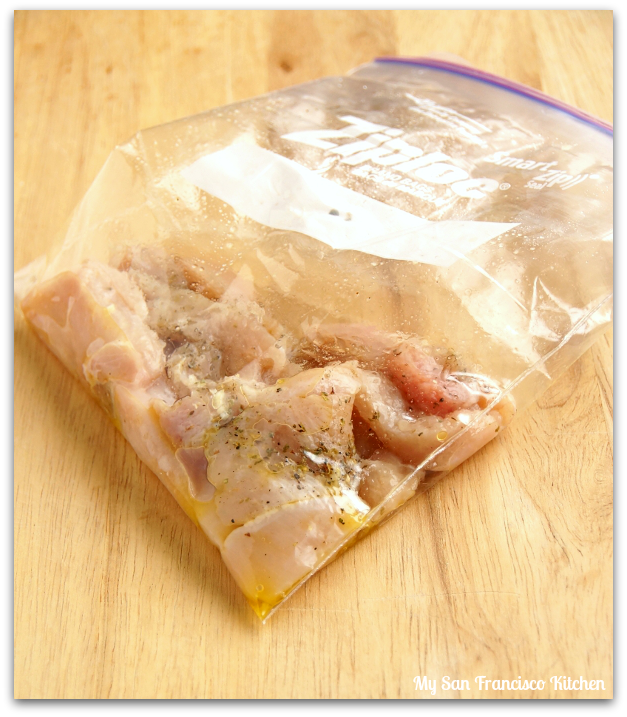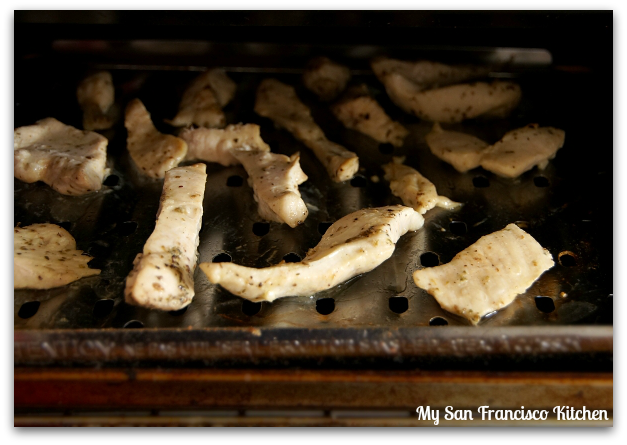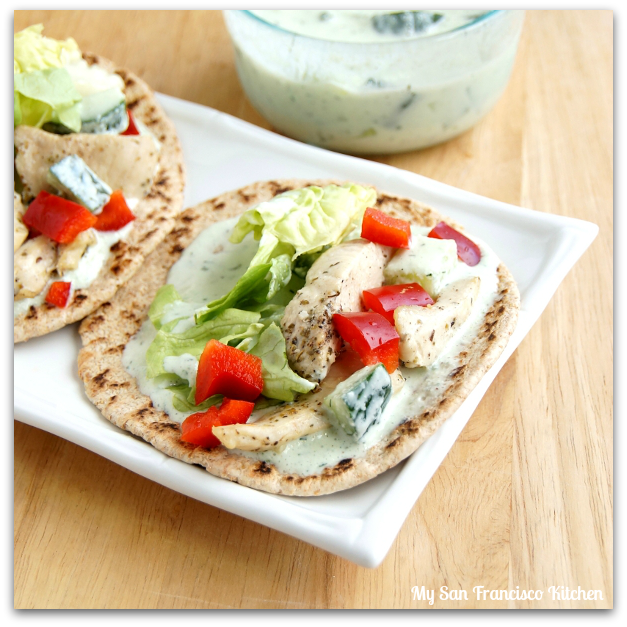 Chicken Gyros
Ingredients
Tzatziki
1 cup Greek yogurt
½ cucumber, quatertered
1 tsp dill weed
1 clove garlic, minced
½ tsp lemon juice
1 tsp red wine vinegar
½ tbsp olive oil
⅛ tsp ground black pepper
Pinch of salt
Chicken Gyros
2 organic, free-range, boneless, skinless chicken breasts
2 tbsp olive oil
3 cloves garlic, minced
1 tbsp lemon juice
1 tsp red wine vinegar
1 tbsp oregano
1 red bell pepper, seeded and chopped
1½ cups chopped iceberg lettuce
4 6-inch whole wheat flat breads
Instructions
Slice chicken breasts into thin strips,
Add chicken breast strips, olive oil, garlic, lemon juice, vinegar, and oregano to a large plastic bag and shake well. If you do not have a bag, place everything in a large bowl. Refrigerate for 1 hour.
Add all ingredients for tzatziki, except for ¼ cup of the chopped cucumber, to a blender and pulse.
Stir in reserved cucumber.
Cover and chill in a refrigerator until ready to serve.
Preheat oven to broil setting, then add chicken to a broiler pan (if you do not have one, just grease a baking sheet).
Broil the chicken for 3 minutes on each side, then remove from the oven.
Warm flat bread in a toaster oven on the light setting if desired.
Top the flat bread with lettuce, red bell pepper, and chicken strips.
Drizzle with tzatziki just before serving.
Makes 4 gyros