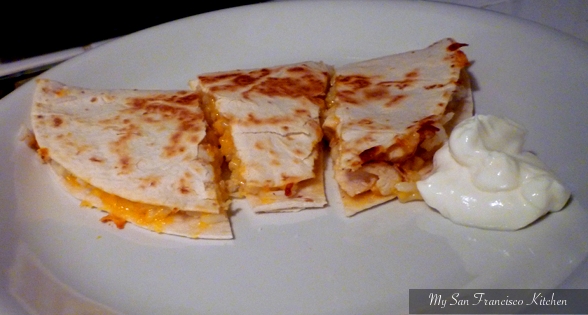 I LOVE LOVE LOVE Mexican food. Quesadillas, tacos, enchiladas, and burritos are regular meals every week. I top these grilled chicken quesadillas with lots of sour cream, guacamole and salsa. These are a really fast dinner if you already have leftover chicken prepared, and also make a great appetizer!

Grilled Chicken Quesadilla
Ingredients
1 flour tortilla
½ cup shredded Mexican cheese (jack and cheddar)
¼ cup cubed grilled chicken
3 tbsp white rice
Instructions
Marinate chicken in olive oil, garlic and paprika (best to do this a day ahead, but I never do!).
Grill chicken on a George Foreman Grill for about 7 minutes, then cube with a knife.
Heat a skillet on medium-high heat.
Place tortilla on skillet and top with cheese, rice and chicken (in that order).
Top with more cheese.
When the first layer of cheese is melted, flip over and cook until tortilla is crispy, but not burnt.
Flip and cook other side until crispy.