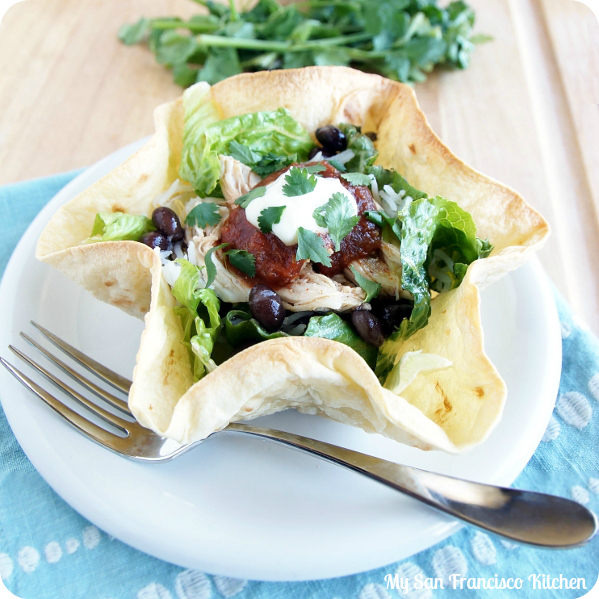 Happy Friday!! Growing up we had Mexican night almost every Friday, and it was my favorite night of the week since I love Mexican food. My mom makes the best guacamole and salsa from scratch!! She recently gave me these tostada pans so that I can bake tortillas instead of fry them when I make tostadas. Baked tostadas are so much healthier, and are surprisingly just as crunchy and delicious as fried tostadas! They are really easy to make, and perfect for a quick lunch or dinner (tip: make the chicken the day/night before and keep it in a sealed pyrex dish in the fridge!). You can get creative with the ingredients you choose to add, I kept this baked chicken tostada recipe fairly basic. Tostadas are definitely one of my top favorite Mexican dishes, and I love piling them up with sour cream, salsa and guacamole! What is your favorite Mexican dish?
p.s. If you are wondering where you can buy these tostada pans, Amazon has them for a good price here.

Baked Chicken Tostadas
Ingredients
2 boneless, skinless chicken breasts
¾ cup chicken broth
2 cloves garlic, minced
2 tsp cumin
1 tsp chili powder
¼ tsp cayenne pepper (optional)
1 tsp pepper
¼ tsp salt
4 flour tortillas
2 cups romaine lettuce
1 cup black beans
1 cup cooked white rice
Cilantro, salsa, sour cream and guacamole for topping
Instructions
Add chicken, chicken broth, garlic, cumin, chili powder, cayenne pepper, salt and pepper to a crock pot and turn to "high" for 2 hours.
Turn crockpot down to low.
Preheat oven to 325 degrees F.
Spray tostada pans with non-stick cooking spray and place the tortillas inside, pressing against the mold.
Bake for 5-10 minutes, until tortillas begin to turn golden brown. The longer you leave them in, the more crispy they will be - but careful not to burn!
Remove baked tostada shells from pans and place on a plate.
Shred the chicken using two forks.
Fill the tostada shells with lettuce, chicken, rice and black beans, then top with salsa, cilantro, sour cream and guacamole.
Makes 4 tostadas