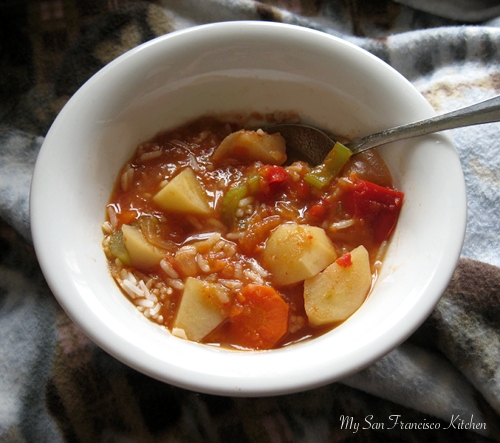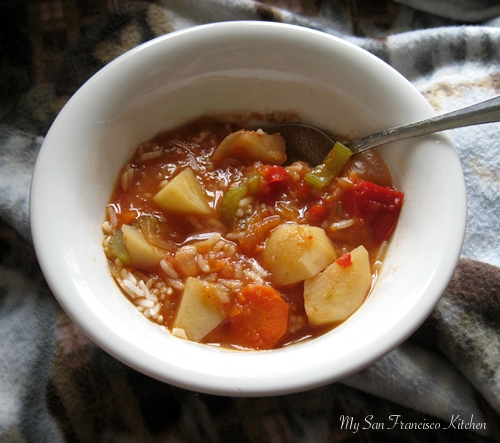 Grab a cozy blanket and warm up with a bowl of gulaschsuppe, a German goulash soup. Goulash is a stew that originated in Hungary, but is also very popular in Germany, Austria, the Netherlands, and other surrounding countries. It is especially popular during skiing season in the Alps. My favorite part of the day during my skiing trip in the Alps a few years ago was lunch because I would always look forward to a delicious hot meal of goulash to warm me up! This recipe is great because it can last a few days in the refrigerator, which comes in handy for those busy weeks. For the beef stock I used 4 cups of water with 3 beef bouillon cubes. Also, I skipped adding the meat this time (trying to go more vegetarian lately) and I didn't even miss it. Warning: this recipe is a little spicy, so if you don't like spicy foods you may want to cut down some spice!

Gulaschsuppe (German Goulash Soup)
Ingredients
1 tbsp vegetable oil
1 garlic clove, minced
1 medium onion, finely chopped
2 large potatoes, peeled and diced
1 large tomato, diced
5 tbsp ketchup or tomato purée
4 cups beef stock
½ cup red wine (Merlot)
2 carrots, diced
½ red bell pepper, diced
½ green pepper, diced
2 celery stalks, diced
2 tsp paprika
1 tsp cayenne
1 cup stew meat
Black pepper to taste
Instructions
Wash, peel, chop, and dice vegetables and set aside.
Heat the oil in a 6 quart pot and add the onion and garlic.
Simmer for 5 minutes.
Add the potatoes, tomatoes, tomato puree, beef stock, half of the stew meat, the red wine, carrots, celery, bell peppers, paprika, cayenne, and pepper.
Simmer for 15-20 minutes, until the meat and vegetables are tender.
Remove from heat and cool 5 minutes.
Purée half the soup coarsely by pulsing in a blender, and add back to soup and stir well.
Add the remaining meat and bring to a boil.
Simmer for 15 minutes.
Serve over rice or with bread.
Makes 4 large servings
This post is sponsored by: