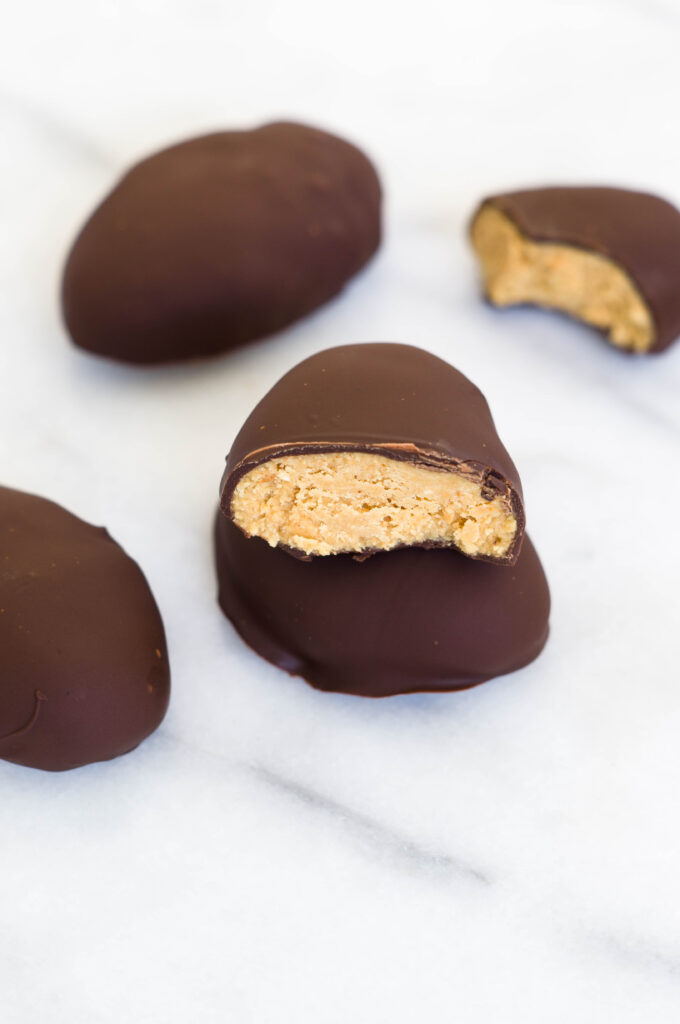 Easter is less than one month away, and I have been thinking a lot about what I am putting in my kid's Easter baskets. We all know and love the good old store-bought candy, but when it is so easy to make your own candy at home, why not? It is even easier to make these healthy vegan peanut butter eggs (Reese's® Peanut Butter Egg copycat) in the Thermomix®. Here is how to make these healthy peanut butter eggs:
First, make the peanut butter mix by adding creamy peanut butter (preferably a little salted), coconut flour to make it more "cakey", and maple syrup to sweeten to a Thermomix® mixing bowl and blend on speed 3. Shape the peanut butter mixture into eggs with your hands, and freeze for 15 minutes. In the meantime, melt the chocolate in a Thermomix® mixing bowl at 120F for 3 minutes with some coconut oil. You can also use the double boiler method, or microwave if you are careful not to burn the chocolate. Dip the eggs using a fork, and freeze again for 5 minutes so the chocolate can harden before eating.
Have you ever tried making your own peanut butter eggs at home? You can control the amount of sugar and the best part is there are no preservatives, yuck!
Let me know in the comments if you make them 🙂
Follow me on Instagram, @thecookingrx, for more recipes.
Here is a Reel I made in Instagram that shows how to make the peanut butter eggs:
Healthy Vegan Peanut Butter Eggs
Course: Dessert
Ingredients
1/2 cup creamy peanut butter

2 tbsp coconut flour

2 tbsp maple syrup

1/2 tsp coconut oil

1/2 cup semi-sweet chocolate chips
Directions
Add the peanut butter, coconut flour and maple syrup to a Thermomix mixing bowl and blend on speed 3 (or medium speed in a stand mixer).
Shape the peanut butter mix into eggs with your hands, then freeze them for 15 minutes.
Melt the chocolate and coconut oil in a Thermomix mixing bowl on speed 2 for 3 minutes at 120 F or using the double boiler method.
Dip the peanut butter eggs into the melted chocolate using 2 forks, shaking off the excess, and freeze for 5 minutes to set.
Makes 4 large eggs
Disclaimer: I am a Thermomix® consultant and sell them as an independent business. "THERMOMIX," "VORWERK," "COOKKEY," and "COOKIDOO" are a registered trademark of VORWERK (or its affiliates). VORWERK does not support, authorize or endorse this site.