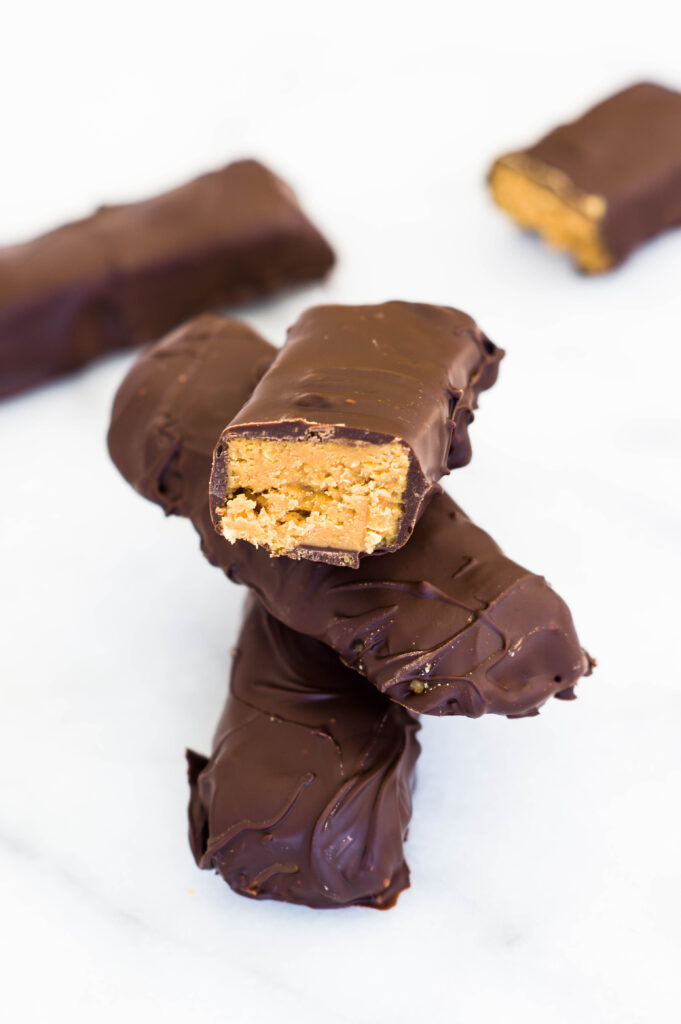 If you are looking for the most delicious, crunchy copycat Butterfinger recipe, stop right here and make these vegan Butterfingers! With only 5 ingredients, these vegan Butterfingers are really easy to make (especially in a Thermomix®), and the whole family will love them as a healthy dessert or snack. These vegan Butterfinger bars are made with maple syrup, molasses, peanut butter, corn flakes and chocolate chips.
I use my Thermomix® to bring the maple syrup and molasses to a boil by setting the temp on my Thermomix® to 240 degrees F (you don't want to burn the mixture). If you are using a stovetop, just bring it to boil then remove it from heat right away. Next, stir in the peanut butter until creamy and add the corn flakes. The Thermomix® makes it really easy to "crush" while stirring, but by hand it is also possible – you may just have to stir longer to get the right texture.
Use a parchment paper-lined loaf pan to get the right size Butterfinger bars and for easy clean-up. Store in the fridge or freezer once done for the best crunch!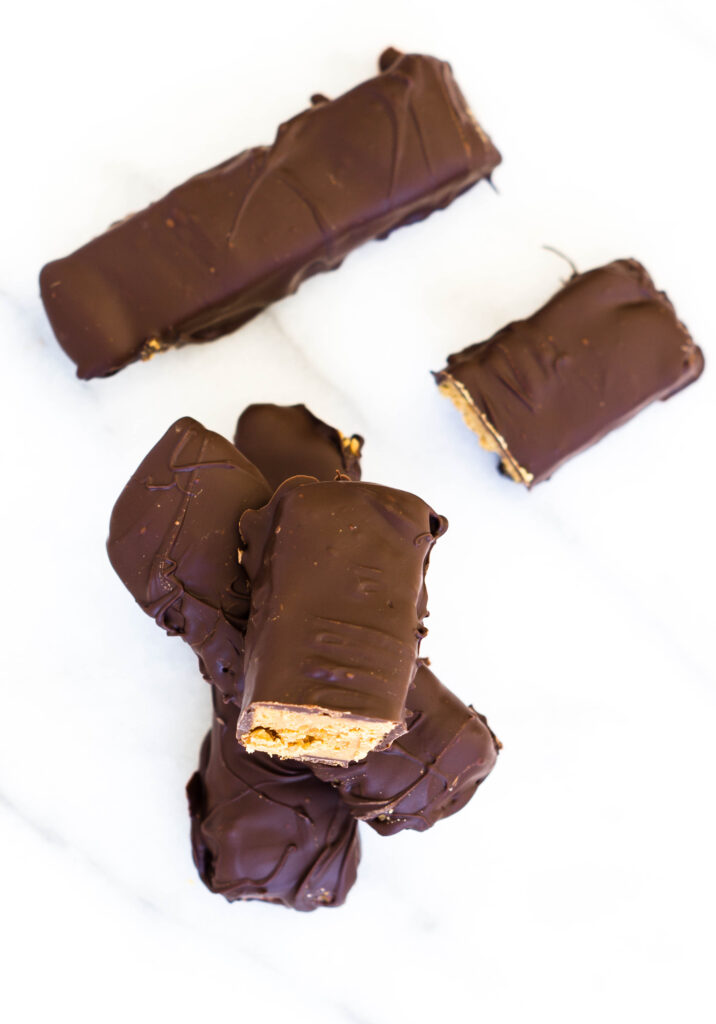 The BEST Vegan Butterfingers
Course: Dessert
Ingredients
1 tbsp molasses

1/2 cup maple syrup

1 cup salted creamy peanut butter

1 1/2 cups corn flakes

1 cup semi-sweet chocolate chips

*Pinch of salt if using unsalted peanut butter
Directions
Add the molasses and maple syrup to a Thermomix® mixing bowl (or pot if cooking on stove top) and set to 240 F for 3 minutes on speed 1. If using stove top, bring to a boil and remove from heat immediately after.
Add the peanut butter (and salt is using) and stir on speed 3 for 15 seconds until creamy.
Add the corn flakes and blend on speed 3 for 10 seconds (scrape and repeat if needed).
Press the mixture into a parchment-lined loaf pan (about 9×4 inches) and freeze for 30 minutes.
Add the chocolate chips to a clean Thermomix® mixing bowl and heat to 120 F on speed 2 for 3 minutes or until melted (or use double boiler method). Transfer to a shallow bowl for dipping.
Cut into bars and dip into chocolate using 2 forks, shaking off the excess and placing on a sheet of parchment paper on a plate.
Chill for 15 minutes.