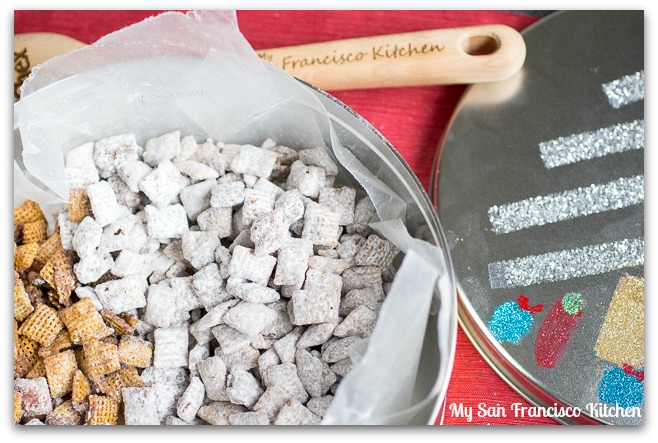 It is December, and my favorite time of year is here: Christmas!! Today I spent my morning creating Chex™ holiday party mixes, including Muddy Buddies, Pecan Pie, and my new favorite, Reindeer Chow! The event took place at the MakeShop in SF, founded by Brit Morin. I got to meet her, the lovely ladies of Chex™ and other local bloggers. The space was decorated so nicely, and we were treated to DIY hot cocoa and champagne bar stations with breakfast.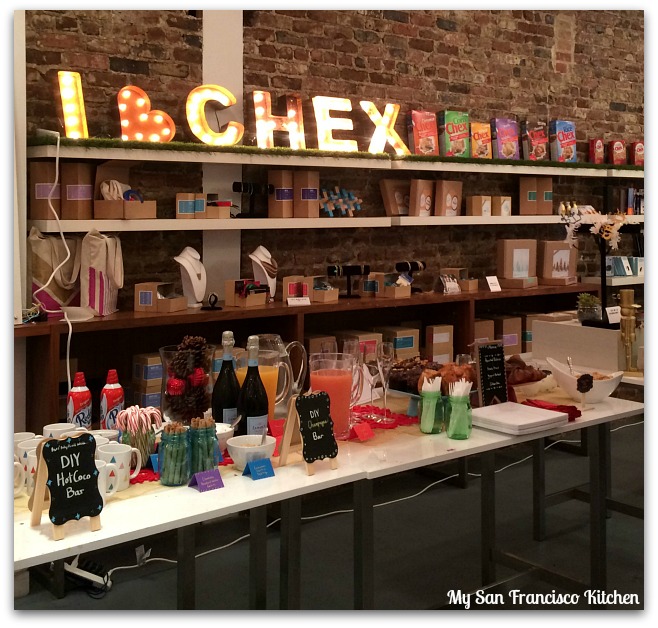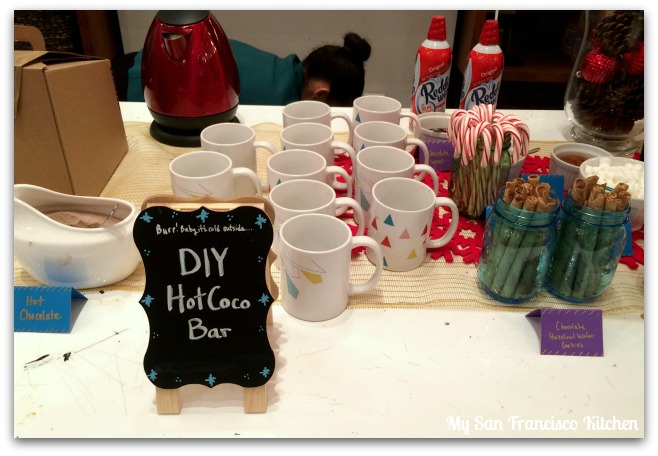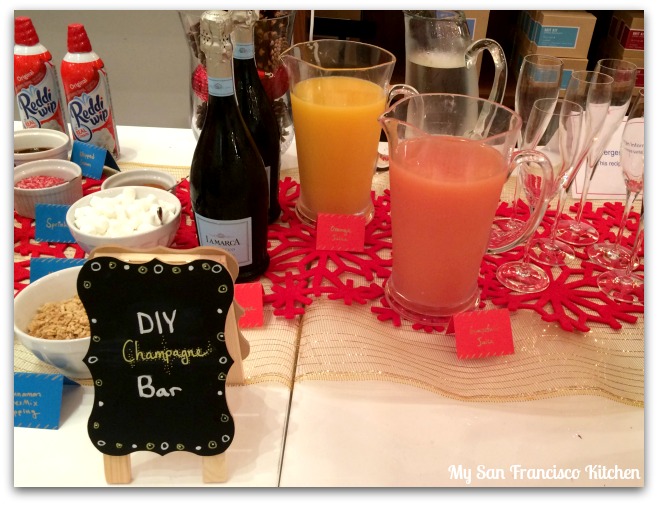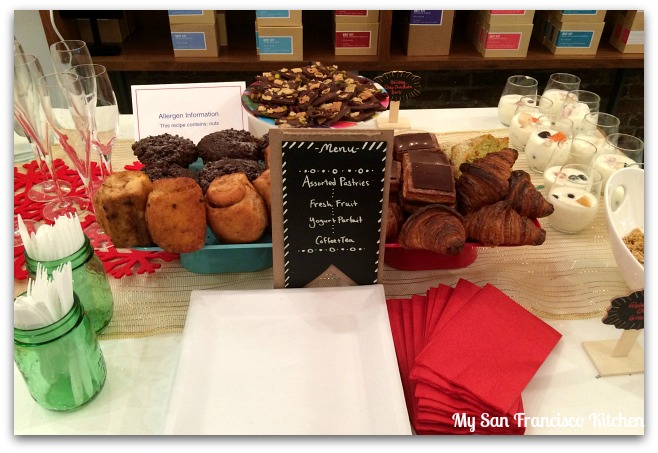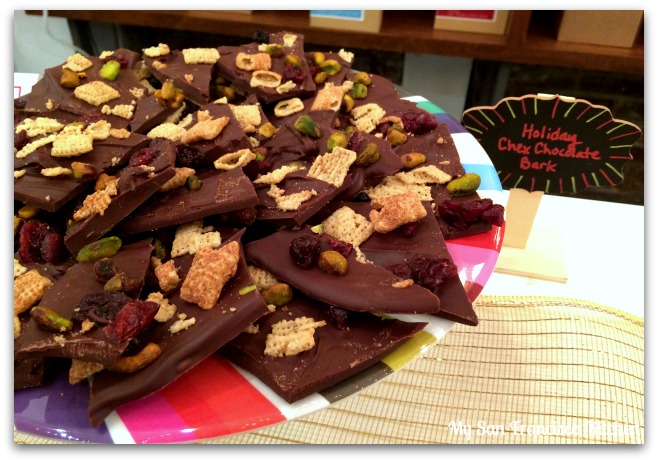 During the event, we got to rotate through various stations. At the first station, we got to create the different Chex™ party mixes I mentioned above. I included the recipe for my favorite one, Reindeer Chow, below. It is a combination of Chex™ cereal, chocolate, candy cane white chocolate, vanilla and powdered sugar. It smells and tastes so good! I brought some home with me (in photo above) just plain, but you can decorate yours prettier with crushed candy canes and drizzled chocolate over the top.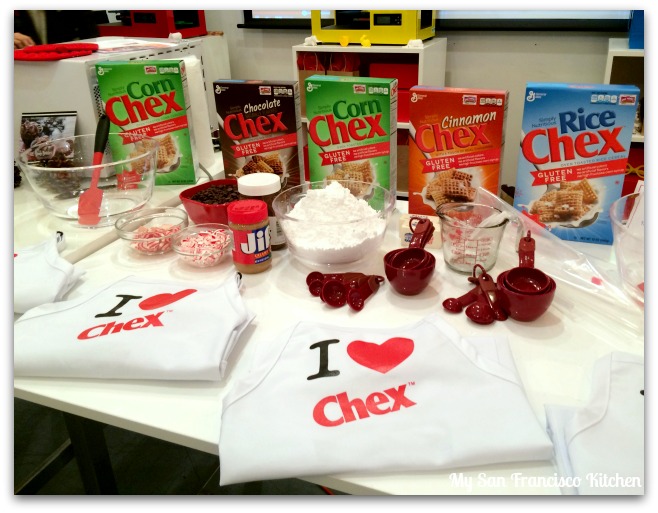 At the next station, we got to create our own tins to store our Chex™ mix inside and chat with Brit Morin, the founder of MakeShop. Glitter was flying everywhere! It was so much fun. My tin is the one with the silver tree on it – I am not the most artistic person, so be kind!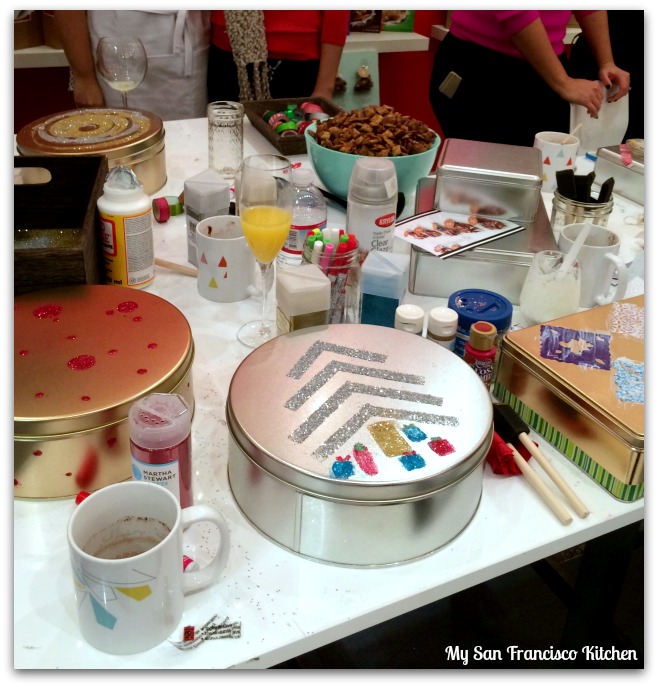 Lastly, we had a photography lesson for iPhone and DSLR, which was really useful. Afterwards, we dressed up with some fun Christmas accessories and took photos by the tree.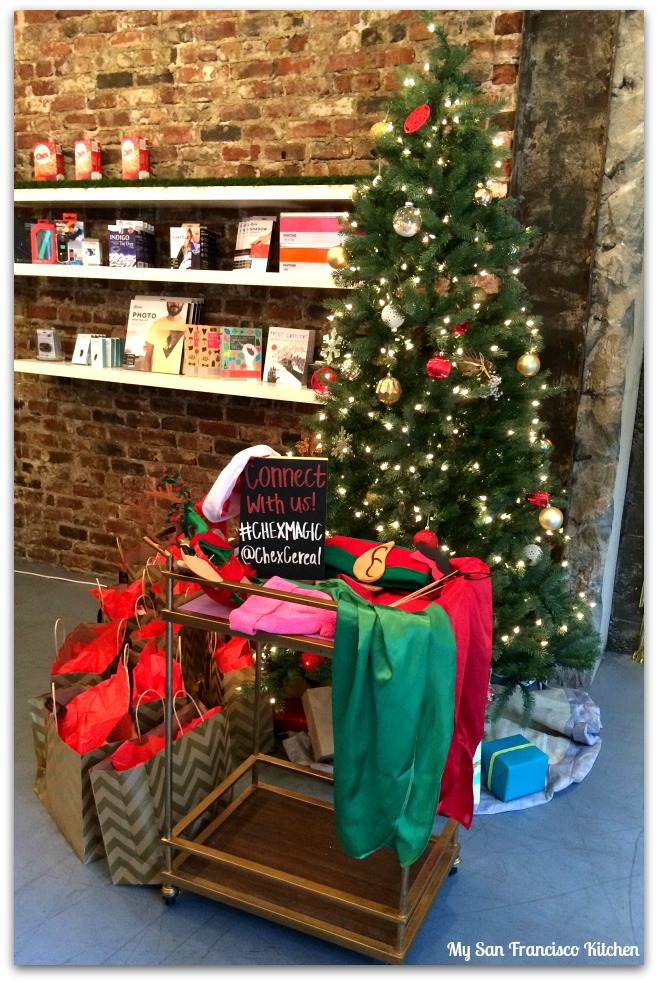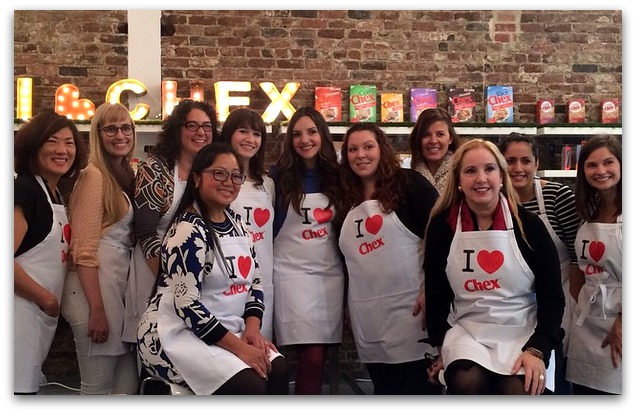 Chex™ party mixes are very easy to make, and always a crowd pleaser. This year, you have to try a batch of this Reindeer Chow!

Reindeer Chow
Ingredients
9 cups Chex™ Corn Cereal (1 box)
1 cup semi-sweet chocolate chips
½ cup Hershey's Candy Cane Kisses
¼ cup butter
1 tsp vanilla
1½ cups powdered sugar
Crushed candy cane pieces for topping (optional)
Instructions
In a 1-quart microwavable bowl, melt the chocolate chips, candy cane kisses, and butter together. Stir well, then stir in vanilla.
Pour the cereal into a large bowl, and stir the melted chocolate mixture into the cereal with a wooden spoon until completely coated.
Transfer the coated cereal to a large plastic ziplock bag and add the powdered sugar.
Seal the bag and shake well.
Spread onto wax paper to cool, then store in an airtight container.
A big thank you to Chex™ for hosting this fun event to kickstart the holiday season!