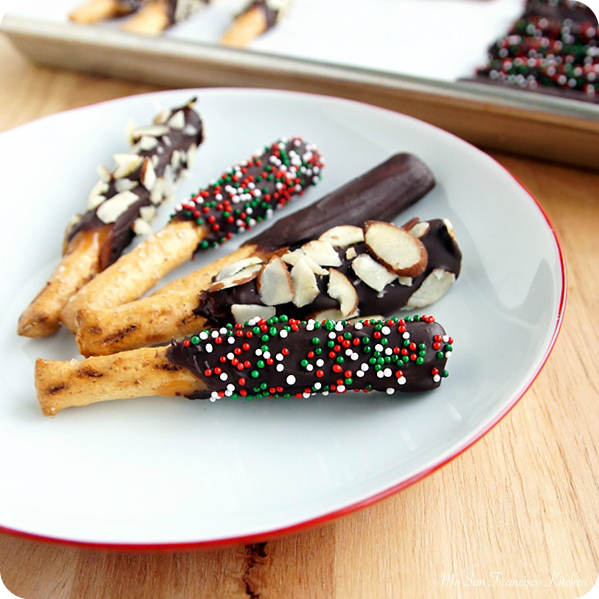 I am supposed to be on my way to the airport, but this morning I woke up to an email saying our flight to Germany was delayed 5 hours (it is rainy and cloudy here in San Francisco). My first reaction was frustration, but then I realized it is kind of nice to have some time to relax. I am so tired today. Once again we found ourselves up late last night packing for the trip, even though I started packing a few days ago. There are just always things you think about up to the minute you leave I guess! It took me pretty much all day yesterday to pack, but my husband packed for a grand total of 20 minutes. How is this even possible? Guys are so much simpler. He is always puzzled as to why I have to pack so much for the amount of time that we are going somewhere, and I tell him: a girl just has to have options! Anyways, I am glad I have extra time this morning so I can share these delicious chocolate caramel pretzels with you! These are really easy to make, and you don't need any fancy equipment. I find it easier to use a Little Dipper to melt the chocolate, but you can just use a stainless steel or glass bowl over a small pot filled halfway with boiling water. For the caramel, just melt the little squares you can buy at the grocery store over low heat in a small non-stick pot. These set very quickly too, the whole process only takes not much more than an hour. The best part is that you can decorate the chocolate covered pretzels with pretty much anything – nuts, coconut, sprinkles, mini chocolate chips – the possibilities are endless! How would you decorate yours?
Assuming my flight will leave at some point in the next 24 hours, this is the last recipe I will post for a while. Wherever you will be for the holidays, I hope you can enjoy time with your loved ones and all of the delicious food and desserts over the holidays! Auf Wiedersehen!!

Chocolate Caramel Pretzels
Ingredients
24 pretzel sticks
12 caramel squares
½ cup semi-sweet chocolate chips
Christmas sprinkles, nuts, or other decoration
Instructions
Line a baking sheet with parchment paper.
Unwrap and add the caramel squares to a small, non-stick pot and heat over low heat. Stir occasionally.
Once melted, use one pretzel to spread the caramel over half of the rest of the pretzels, and set carefully on the parchment paper.

Refrigerate for 15 minutes.
In the meantime, melt the chocolate chips in a little dipper or in a glass/stainless steel bowl over a small pot filled halfway with boiling water.
Dip the pretzels and use a spoon or butterknife to help spread the chocolate to completely cover the caramel.
Immediately sprinkle with sprinkles, nuts or any decoration you choose.
Carefully set on the parchment paper. Once all are finished, place in the refrigerator and set for 40 minutes.
Makes 24 pretzels
This post is sponsored by: