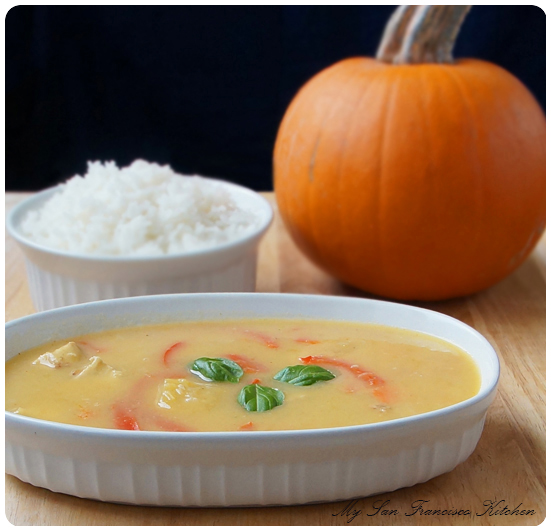 BOO!
Did I scare you??
Happy Halloween! Are you guys sick of pumpkin recipes yet?? Personally, I think it would take a while before I got sick of them. I have been seeing so many delicious recipes all over the web for pumpkin pies, cookies, breads – oh my!!! Well, as we bid the month of October farewell I thought I would make one last pumpkin dish: Thai pumpkin curry. I made this pumpkin curry with chicken, but you can change it to vegetarian easily. It is best served with hot jasmine rice as a side.
On my run tonight I saw so many cute Halloween decorations up so I had to share some! My favorite is the witch who crashed into the tree-how cute is that? It also seems like huge spiders are a big theme in my neighborhood this year – eeeek!!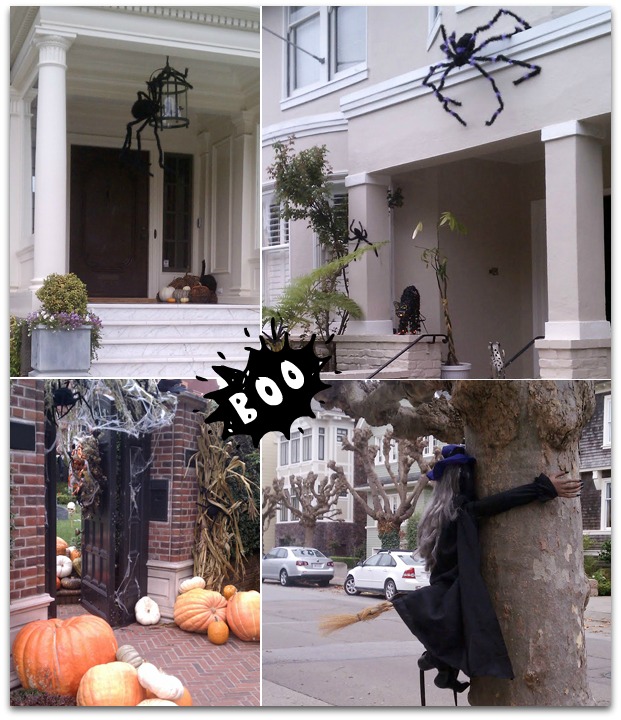 Have a safe night everyone! XoXo

Pumpkin Curry
Ingredients
2 boneless, skinless, organic chicken breasts
2 tbsp vegetable oil, divided
1 onion, chopped
2 cloves garlic, minced
2 carrots, peeled and chopped
1 red bell pepper, sliced
2 cups chicken broth
4 cups freshly chopped pumpkin
1 cup coconut milk
1 tbsp sugar
2 tbsp Thai red curry paste
⅛ tsp cayenne pepper (if you like it very spicy)
Pinch of ground ginger
Fresh basil leaves for garnish
Instructions
Heat vegetable oil in a large heavy bottom pot over medium heat.
Chop onion and add to pot.
Add minced garlic, then turn heat down to low. Simmer until translucent (about 7 minutes). Stir occasionally.
Skin pumpkin (YouTube a video for the "easiest" way, but be patient…), then slice in half and use an ice cream scooper to remove the pulp and seeds (keep the seeds for later use, yum!).
Chop the pumpkin until you reach 4 cups, then add to the pot.
Add chicken broth, sugar, cayenne pepper, red curry paste and ginger, then stir.
Cover and bring to a boil, then turn down heat the medium and let boil for about 20 minutes (pumpkin should be soft).
Remove from heat and let cool 5 minutes, then transfer half to a blender using a ladle and puree. Pulse the second portion to give it a little more texture.
Return back to the pot and add red bell pepper and carrots.
Stir in coconut milk and let the curry simmer on low heat.
In the meantime, coat 2 chicken breasts in salt, pepper, chili powder, and red cayenne pepper.
Heat 1 tbsp oil in a skillet and add chicken breasts. Cook each side about 2 minutes, until both sides are just browned (the chicken should not be fully cooked).
Cube chicken and add to curry.
Simmer for 15-20 minutes, until chicken is cooked and tender.
Taste the curry and if it needs more of a kick you can add more red cayenne pepper.
Serve over jasmine rice and top with fresh basil leaves.
Makes 4 servings
This post is sponsored by: