Today went by so fast, I felt like my head was spinning. Mondays are usually really busy for me after a lazy weekend, but today seemed to be worse than usual. I had to get up really early to read about the new patients that came in over the weekend, and didn't have time to eat breakfast. I barely had time to eat a little lunch in-between meetings. I came home to an inbox filled with emails awaiting replies, dishes piled up in the kitchen sink, two large bags full of laundry sitting by the door, and an apartment that was supposed to be cleaned over the weekend… It seems like so far this week in the battle of "work-life balance" work is definitely winning :/ Check out my latest recipe on the NatureBox blog, Lemon Pistachio Stuffed Artichokes. I used their Lemon Pucker Pistachios, which I am totally addicted too. Artichokes are really healthy, and contrary to what most people think, they are very easy to prepare! You can boil the or bake them in the oven, but in this recipe I "stuffed" the leaves with minced garlic, lemon and crushed pistachios and roasted them in the oven until nice and tender. I used a lemon, garlic, olive oil dipping sauce – yum!
Do you have a favorite artichoke recipe?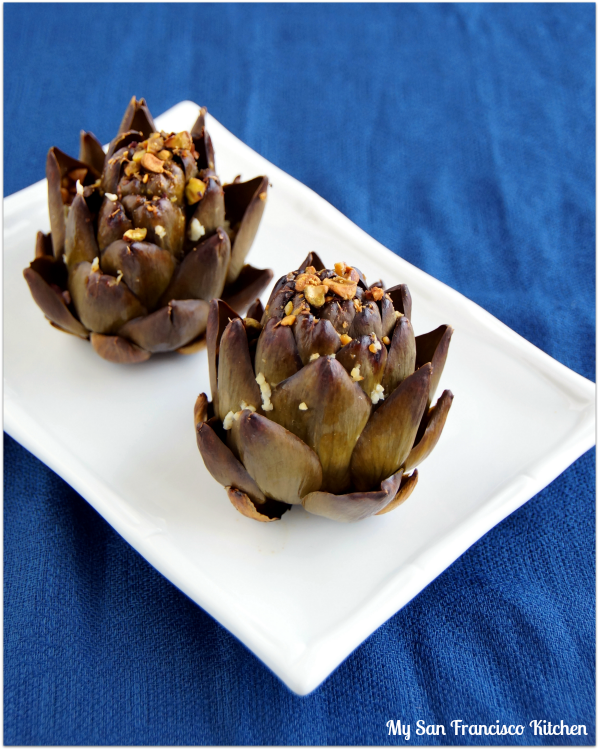 Lemon Pistachio Stuffed Artichokes
Ingredients
4 artichokes
1 lemon
4 cloves garlic, minced
¼ cup olive oil
⅓ cup NatureBox Lemon Pucker Pistachios, shelled www.naturebox.com
Instructions
Preheat oven to 425 degrees F.
Trim stems off of the artichokes, and set stem-side down onto a baking pan.
In a small bowl, squeeze all of the juice out of the lemon and add the minced garlic cloves. Stir.
Add the shelled Lemon Pucker Pistachios to a food processor and coarsely grind.
Use your fingers to gently pull apart the artichoke leaves.
Spoon the lemon juice mixture over the artichokes, making sure to get in-between the leaves. Leave a little extra in the bowl for a dipping sauce later.
Drizzle olive oil over the artichokes, getting in-between the leaves.
Sprinkle the coarsely ground pistachios over the artichokes and in-between the leaves.
Wrap each artichoke in aluminum foil, and bake in the oven for 1 hour.
Add remaining olive oil to the lemon-garlic mixture left in the bowl and use as a dipping sauce.
Makes 4 artichokes