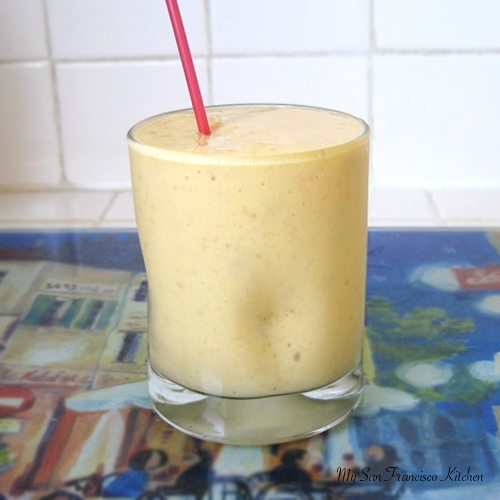 After a long day at school today, I got home and realized I didn't have any fruit all day…in fact, all I had was sweets since my class had a bake sale fundraiser this morning. I recently discovered these mango chunks at Trader Joes in the freezer section, and thought they would make a great smoothie. You can probably use fresh, ripe mango as well with some ice for the slushy effect. I always add freshly grounded flax seeds for my omega-3 (thanks for the tip, Mom!). I also never use yogurt that is high in sugar (like vanilla, etc.). Instead I use low-fat plain yogurt, and find the fruits give it enough flavor. I used my Magic Bullet to make this smoothie (I use the thing almost everyday…it was a Christmas present from my brother!). You can probably find them pretty cheap on Amazon or Ebay. This mango banana smoothie is a perfect summery drink…now where is the sunshine San Francisco?!
What's your favorite smoothie recipe?
XoXo

Ingredients
1 cup chopped mango (frozen)
1 banana
1 tbsp freshly ground flax seeds
½ cup plain yogurt
¾ cup orange juice
Instructions
Get all ingredients out and ready to use.
Add all ingredients to a magic bullet or blender and blend together well.
This post is sponsored by: